Top 6 Most Favorite 5-Star Ha Long Cruises in 2022
Have you ever thought that there is a luxury hotel with European standards from the sea view room system with countless five-star service facilities, whether dawn or dusk you can watch the sky at every best moment. The restaurant on the sea serves Asian - European dishes, along with the bar facilities, golf course, gym, spa ... bring you a whole new travel experience. Halong Cruise is a great choice for you. In this article, recommend 6 most luxurious 5-star cruises. Save it for your next trip!
Heritage Cruise Binh Chuan Cat Ba
Heritage Cruises Binh Chuan Designed with inspiration from the ancient cruise of the "king of ships" Bach Thai Buoi, Heritage Cruises Binh Chuan has the traditional classical beauty of Indochine style. The cruise offers classy rooms with sophisticated interiors, a mini bar and airy private balconies. The room is decorated with antique paintings and shimmering lights. Regal and Captain room classes also have priority to reserve a dining table at the balcony or cellar.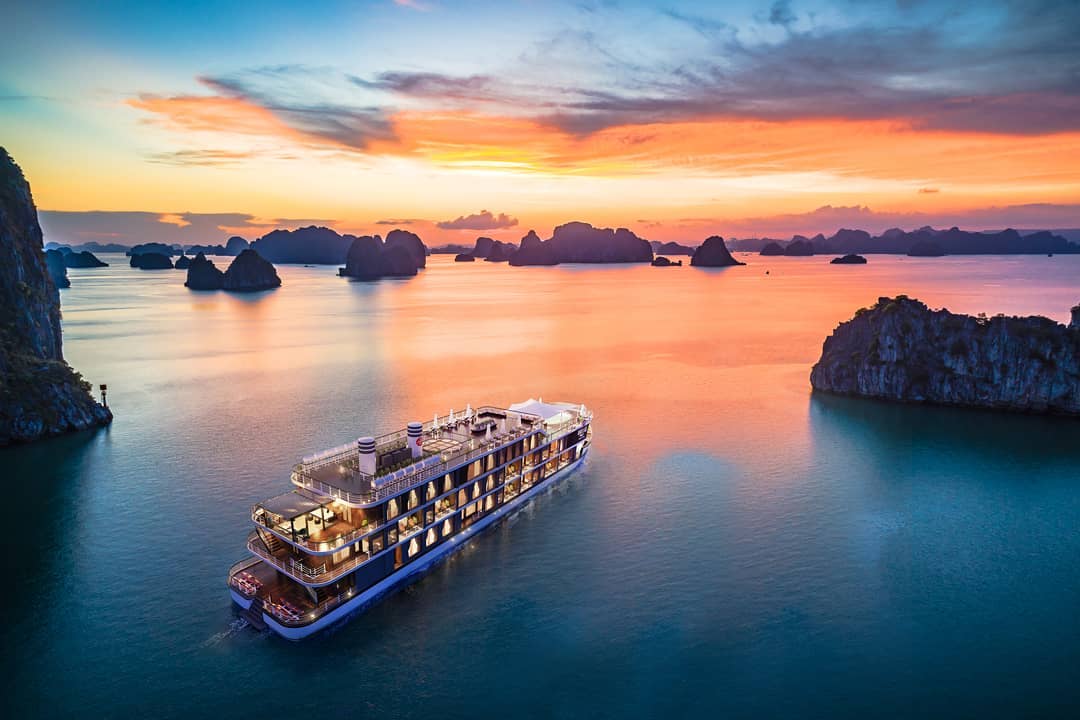 Heritage Cruise Binh Chuan Cat Ba - Photo: @heritagecruises
Detail: https://www.cruisehalongbay.com/cruise/du-thuyen-heritage-binh-chuan-cat-ba
Ambassador Cruise Ha Long
Ambassador Cruise is one of the top luxury cruises on Ha Long Bay with the largest number of cabins up to 46 cabins. Cabins on board are spacious with large windows, private balconies or terraces with beautiful views of the bay. The restaurant serves more than 40 Michelin-starred Asian and European dishes. In addition, guests will be immersed in the outdoor Jacuzzi, experience modern massage services, and sunbathe on 2 airy terraces. 
Ambassador Cruise Ha Long - Photo: @ambassadorcruises
Detail : https://www.cruisehalongbay.com/cruise/ambassador-cruises-halong
Scarlet Pearl Cruise
The 5-star Scarlet Pearl cruise has a dynamic Catamaran design and new interior. The cruise has 23 cabins divided into 4 room classes: Silver Pearl, Golden Pearl, Onyx and Scarlet Pearl. Each room is very spacious, with its own balcony/terrace, bathroom bathtub, mini bar and large windows running from the ceiling to the floor. Wake up in a comfy bed and you can watch the bay unfold right in front of you.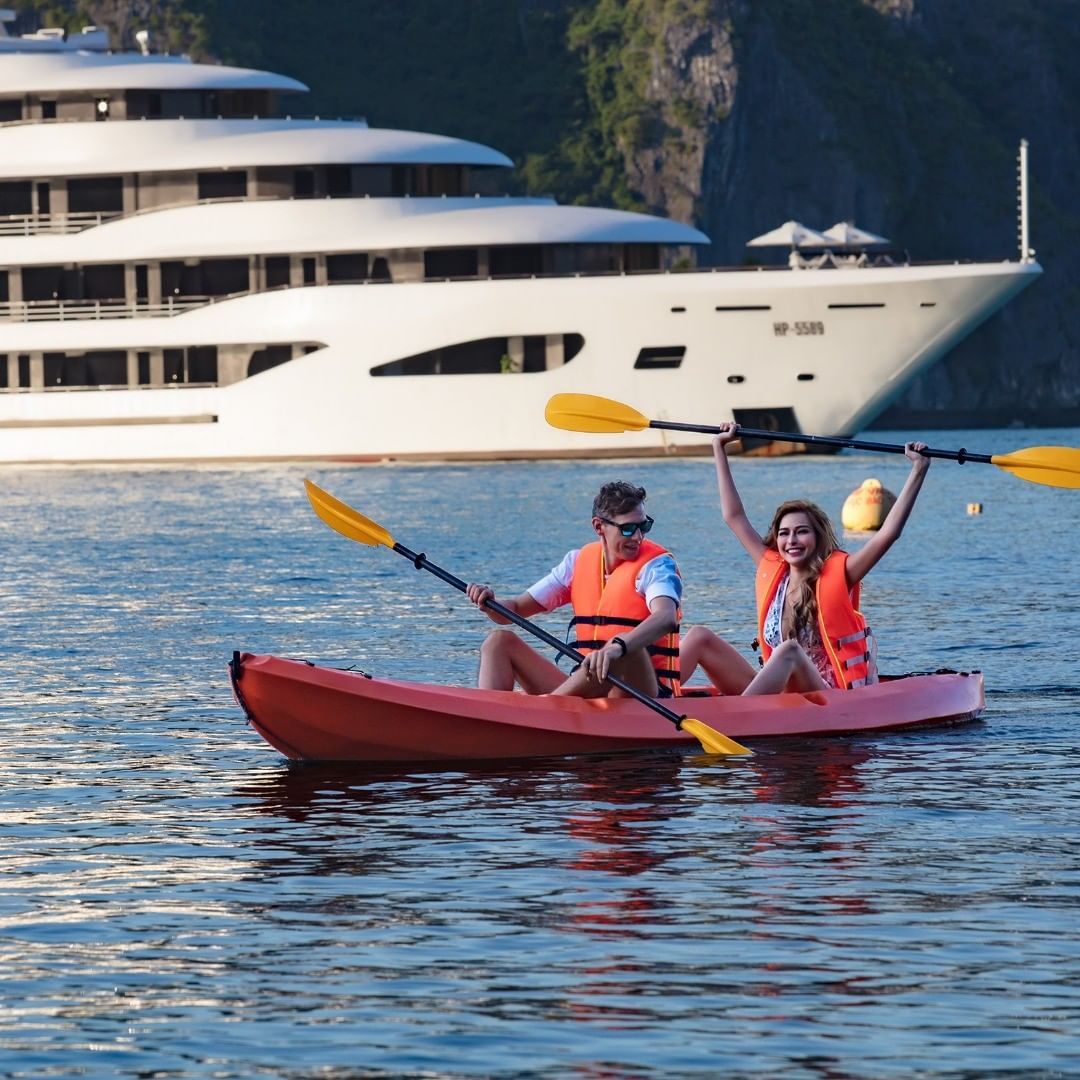 Scarlet Pearl Cruise - Photo: @duthuyenscarletpearl
Coming to Scarlet Pearl cruise, visitors not only have wonderful moments of rest but also experience many high-class services for the elite. Tahiti restaurant on the 3rd floor serves Vietnamese specialties and European dishes. After dining, you can head to the bar area to sip a cocktail or more than 50 different wines. Relax with facilities such as gym, spa and Jacuzzi on the sundeck area.
Detail: https://www.cruisehalongbay.com/cruise/scarlet-pearl-cruises
Stellar of the Seas Cruise
Stellar of the Seas belongs to the Aclass luxury cruise line and has been put into operation since 2018. The cruise impresses with its modern and elegant steel shell design, 22 airy rooms and 5-star interior. From the large balcony, you can enjoy a view of the jade-green bay and majestic limestone mountains.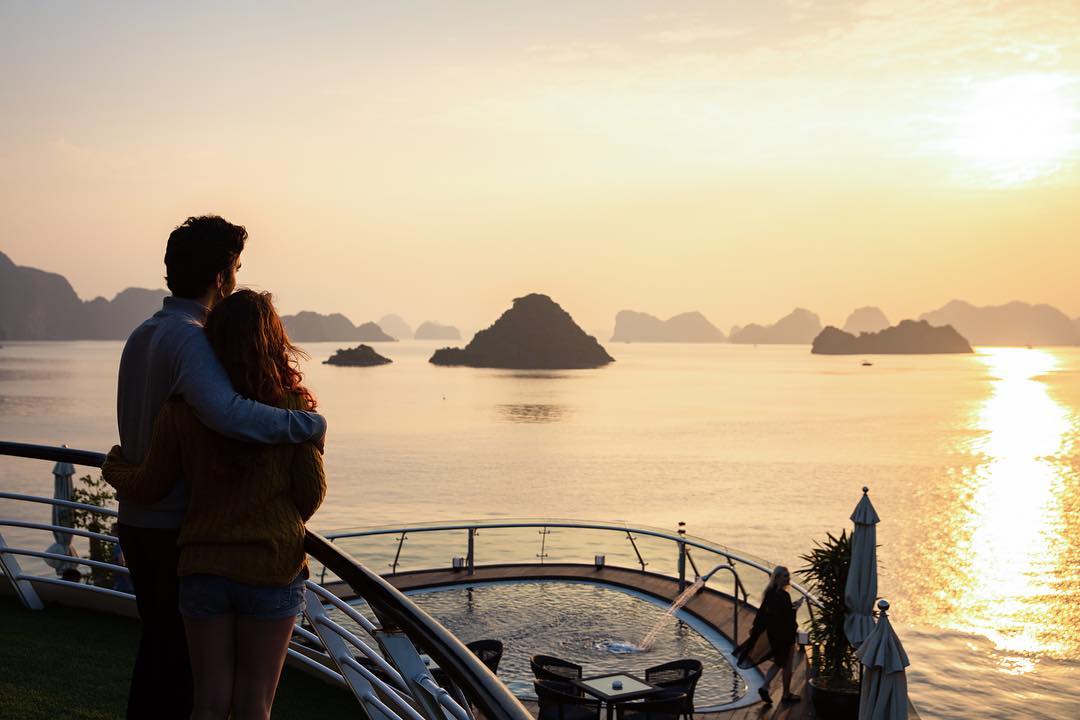 Stellar of the Seas Cruise - Photo: @stellaroftheseas
In addition, guests also experience the most advanced facilities such as a 50m2 outdoor swimming pool, mini golf course, wine cellar and spa.
See more: https://www.cruisehalongbay.com/cruise/stellar-of-the-seas-cruise
Capella Cruise
 Capella Cruise is one of the top 5-star floating hotels on the bay. The cruise features modern Western and ancient Indochinese style, with 30 rooms fully equipped with amenities, plus large glass windows, private balcony and bath tub with sea view, bringing an airy space. and maximum relaxation.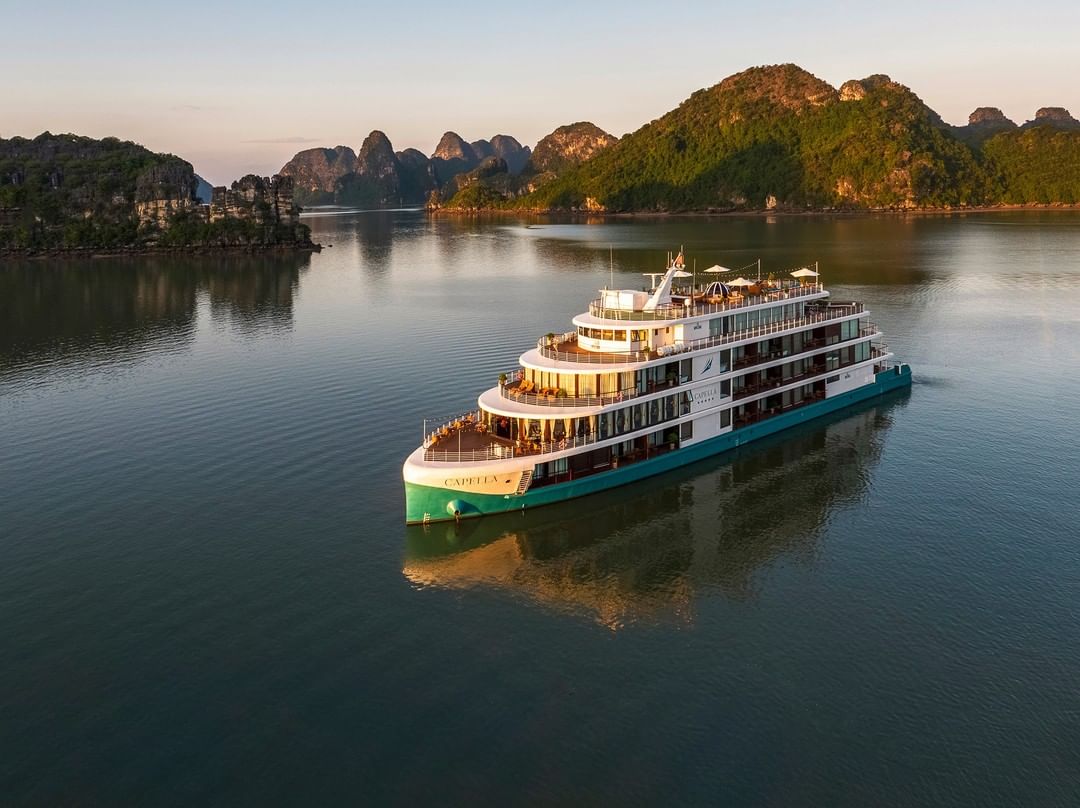 Capella Cruise - Photo: @capella_cruise_official
See more: https://www.cruisehalongbay.com/cruise/du-thuyen-capella
Orchid Cruise Ha Long
5-star Orchid cruise with 3 sails with a characteristic orchid shape, the interior exudes a modern and elegant look with the main colors white and brown. With a modest number of cabins but fully equipped, guests will feel absolute privacy on board. Each cabin has a private balcony with tables and chairs.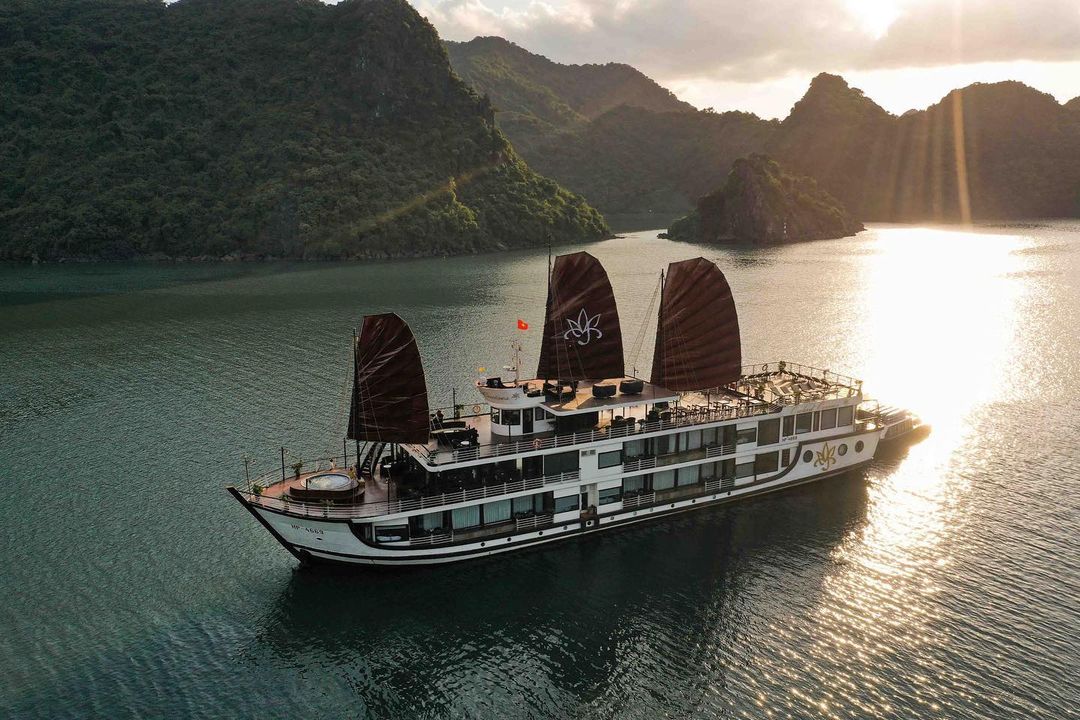 Orchid Cruise Ha Long - Photo: @orchidcruises.halongbay
Orchid Cruise offers a luxury vacation. Along with that, visitors looking for new experiences will be able to enjoy playing on the clean sea area, cycling to explore the fishing village, take a bath or try their hand at night squid fishing on the boat.
See more: https://www.cruisehalongbay.com/cruise/orchid-ha-long-cruise
General regulations on a Halong bay cruise
Check-in time: Check-in time is from 12:15-12:30. If you are traveling by yourself, please be at the pier no later than 11:45 am to check in before boarding.
Check-out time: Check-out time is from 10:00 to 11:00, depending on the schedule of each ship. After checking out, you will be served lunch on board before the ship docked.
Regulations on registration for overnight procedures on the Bay: Please send a photo of the passenger's ID card or birth certificate at least 5 days before the tour departs and bring these identification documents when checking in.
Cancellation: Promotional rates are generally non-refundable/cancellable and are subject to change of date. In case you want to change the date, please contact us for more details.
Cancellation due to weather conditions: Trip cancellation due to weather conditions will be specified directly by the Bay Management. Please refer to Halong Cruise's delay/cancellation policy due to weather conditions.
Regulations on Food and drink policy and policy of bringing personal drinks on board: If you are vegetarian, have a diet, are allergic to seafood (specifically the names of inedible seafood), please inform us. right before the date of departure. About bringing alcohol, all kinds of alcoholic drinks on the Cruise are charged, the fee is different for the cruise, please inform us as soon as you register the tour.
You can go directly to the office at: 26 Au Trieu, Hoan Kiem, Hanoi to see a consultant for details of itinerary and services, or contact via Hotline : (+84) 987 24 6600 for detailed advice on cruises
Meet Our Experts
Request a quote
Please make sure your email is correct.