Ambassador Cruise Ha Long
Halong International Cruise Port, Ha Long, Quang Ninh
Show map
Price from: 5,750,000đ (Save 31%)
3,940,000 đ/pax
Booked 6 times in the last 24 hours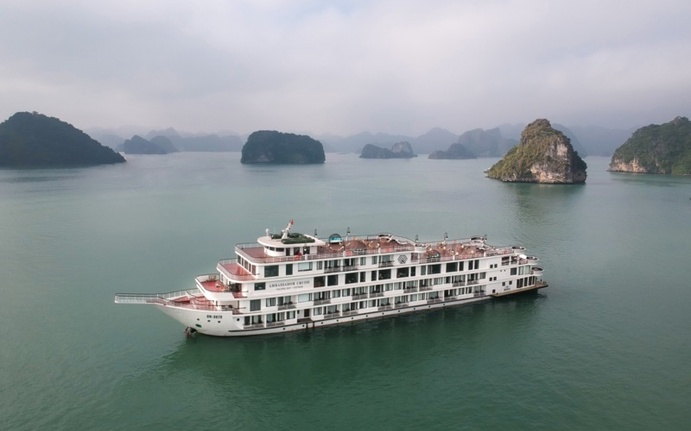 View all 44 photos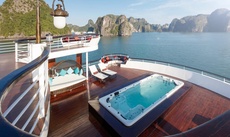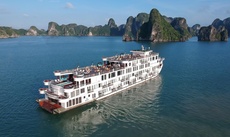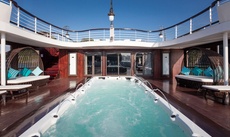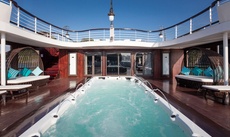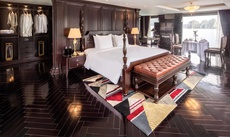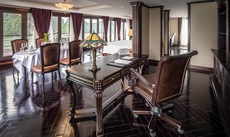 Famous as one of the largest and most luxurious yachts in Ha Long Bay, Ambassador Cruise is like a wonder in the middle of the bay. This is also the only yacht with an elevator.
Guests will be overwhelmed by the sophisticated and modern design of 46 cabins on board, suitable for all types of guests.
The resort cannot be complete without luxurious services such as soaking in the open-air Jacuzzi, relaxing massages and enjoying Michelin-starred Asian-European cuisine.
Cruises running on a traditional route take you to famous places that make Ha Long Bay famous such as Sung Sot cave, Titop island.
Rooms & rates
Select date and package options
Clear all
Accommodation Type
Deluxe Balcony - 2 Days 1 Night
30 m², Max:
Premium Balcony - 2 Days 1 Night
30 m², Max:
Suites Balcony - 2 Days 1 Night
38 m², Max:
Captain Suites Balcony - 2 Days 1 Night
38 m², Max:
Complete all required fields to continue
(Child Policy & Extra Bed Charge) )
About Ambassador Cruise Ha Long
Ambassador Cruise is among the top luxury cruises on Ha Long Bay with the biggest number of cabins on the bay. Possessing up to 46 spacious cabins, Ambassador Cruise is ideal for not only couples but also families and big groups.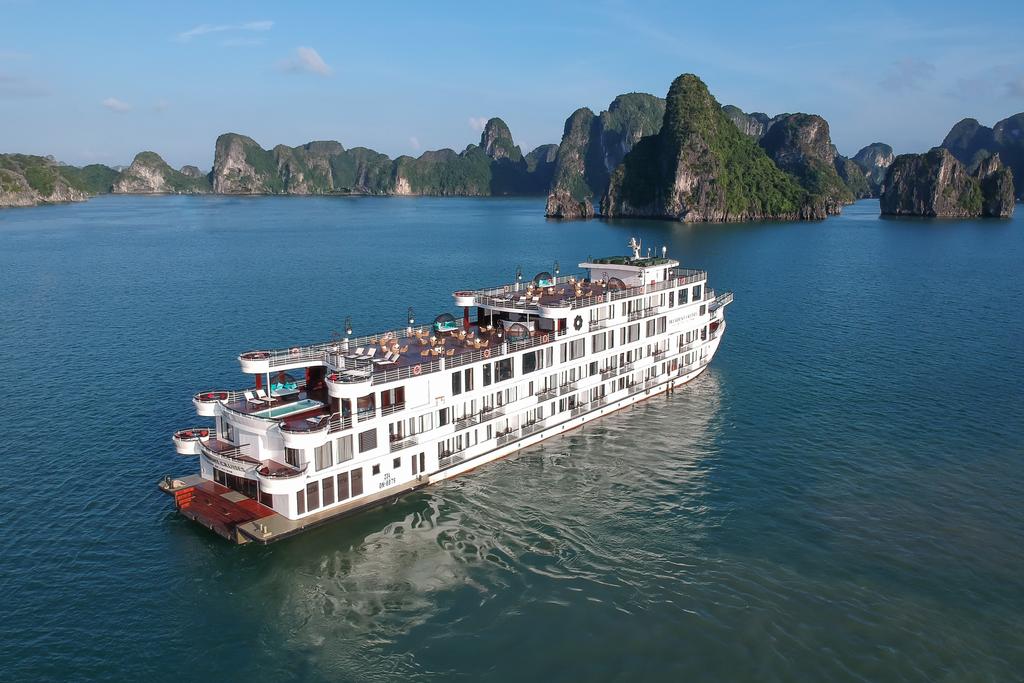 Luxury Ambassador Yacht
Cabins on Ambassador Cruise are spacious with large windows, private balconies or terraces with beautiful views of the bay. The restaurant serves more than 40 Michelin-starred Asian and European dishes. In addition, guests can immerse in the outdoor Jacuzzi, experience massage services, and sunbathe on 2 airy terraces.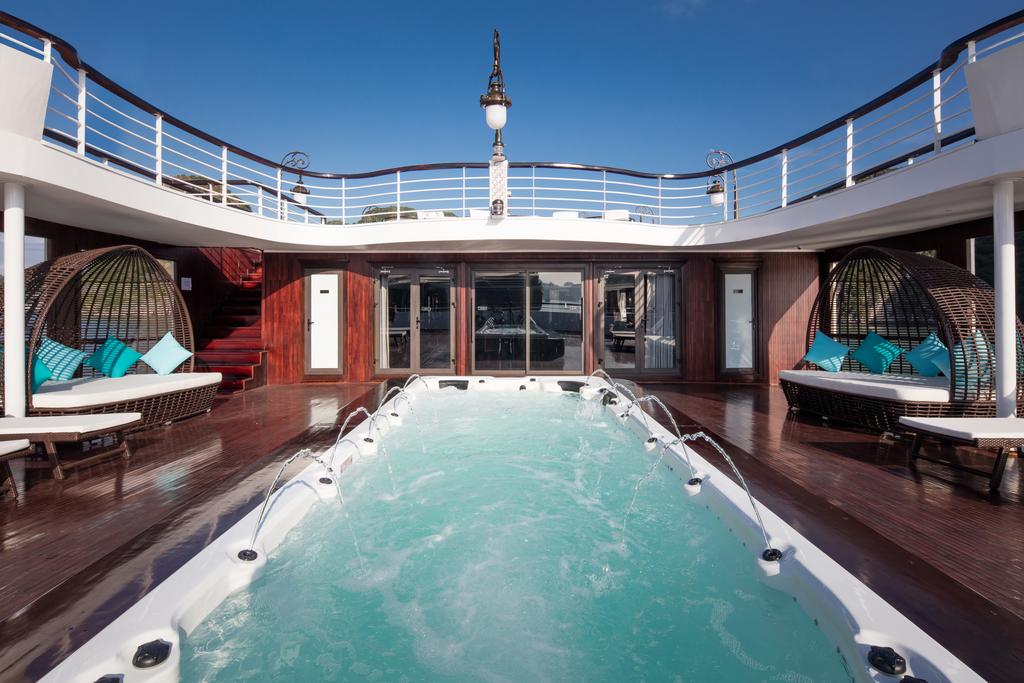 Outdoor Jacuzzi on Ambassador yacht
Start cruising around Ha Long Bay to Sung Sot Cave, Ti Top Island, and Tung Sau Pearl Farm, you will enjoy the dreamlike scenery as well as participate in many exciting activities such as kayaking and swimming.
Things to know
Check-in time
Check-in time is from 12:15-12:30. If you are traveling by yourself, please be at the pier no later than 11:45 am to check in before boarding.
Check-out time
Check out time is from 9:30am to 10:30am depending on the schedule of each cruise. After check-out, you will be served lunch on board before the ship docked.
Check-in policy
Please send a photo of the passenger's ID card or birth certificate at least 5 days before the tour departure and bring these identification documents when checking in.
Rates include
2-day itinerary aboard the luxurious 5-star Ambassador Cruise.
1 Night in luxurious room with air-conditioner, private bathroom.
Meals include: 1 Breakfast / 1 Lunch / 1 Dinner.
Two complimentary bottles of water per day in the room.
Cooking class, Tai Chi class and afternoon tea.
Taxes and service charges.
Sightseeing fee
Price not included
Transportation
Hotels staying on the mainland
Spa services
Beverages on board and cigarettes
Tips and other expenses not included in the inclusions
Kayaking service
Children, extra bed and weekend surcharge
Each cruise has its own rules regarding child surcharges and weekend surcharges. Please refer to the child surcharge information in the room rate section.
Cancellation of reservation
The above prices are subject to general conditions of non-refundable/cancellation and date change is allowed. In case you want to change the date, please refer to the regulations on changing the date.
Cancellation due to weather conditions
The cancellation of trip due to weather conditions will be specified directly by the Bay Management Board. Please refer to Halong Cruise's delay/cancellation policy due to weather conditions.
Frequently asked questions
Which room types does Ambassador Cruises have?
Ambassador Cruise has 4 main room types which are Deluxe, Premium, Suite, and Captain Suite.
What are the highlights of the Captain Suite?
Captain Suite is the most luxurious room on the Ambassador cruise. Rooms have an area of up to 90m2, with large windows, sun terrace and a modern Jacuzzi.
Does Ambassador Cruises have smoking cabins?
All the cabins on board are non-smoking. You can smoke in the balcony, outside of the restaurant or on the top deck.
Is there wifi on board?
Yes. Wifi is available on board but the signal on board will be unstable when passing through some areas.
Does Ambassador Cruises have a shuttle service?
Ambassador Cruises provides a round trip transfer service from Hanoi to Ha Long by Limousine. Travel time on the highway is 2 hours.
Can children use the hot tub on board?
The outdoor Jacuzzi is free of charge for all passengers. However, the deepest part of the pool is about 1.5m, so parents need to watch while their kids use the jacuzzi.
Is there a surcharge for going on weekends?
Ambassador Cruises offers one rate all weekdays and no weekend surcharge.
Does the swimming pool have warm water for winter use?
Yes. The swimming pool on the cruise is a four-season one, so warm water will be provided in winter for your comfort.
Maps and Itineraries
Ambassador Cruise departs from Private Pier at Ha Long International Cruise Port (Sun Group Port), Ha Long, Quang Ninh
You can see the detailed 2 day 1 night itinerary here.
Reviews (36)
| | | |
| --- | --- | --- |
| 5 star | | 29 reviews |
| 4 star | | 6 reviews |
| 3 star | | 1 reviews |
| 2 star | | 0 reviews |
| 1 star | | 0 reviews |
Kyung Hyun
5-star cruise with an interesting program. Good service. Yummy food!
helpful (7)
1 year, 6 months ago
Kathryn
Although just nearly 24 hours on Ambassador Cruise, we did have a great trip ever. The room was nice with bay view balcony. The food was mouthwatering and eyecatching. A big thanks to the crew for their dedicated service.
helpful (5)
1 year, 6 months ago
Hải Hà
The cruise is huge and luxurious, the sundeck is the best place to watch the bay. Halong bay was gorgeous
helpful (4)
1 year, 6 months ago
Thanh Thúy
Very satisfied after experiencing the service of Ambassador cruise. Love the decoration style, food and the service, can't find anything to criticize.
helpful (5)
1 year, 6 months ago
Charles Huston
Had a great experience! A beautiful cruise, polite and professional staff, delicious food, 5-star standard. Will come back next time.
helpful (5)
1 year, 6 months ago
Thu Hà
Beautiful ship, beautiful scenery. If you like caves, Surprising cave should not be missed. Seafood on board was unbeaten, very fresh and flavorful.
helpful (6)
1 year, 6 months ago
Alejandro
This is the second time on this cruise. One time before the pandemic. The cruise is well maintained and clean. The cabin is very well-equipped. What made our trip more enjoyable must be the friendliness, kindness and hospitality service of the crew. Highly suggested.
helpful (3)
1 year, 6 months ago
Phương Linh
Ambassador Cruise is very suitable for the whole family on vacation because the cruise is beautiful, and has many amenities and activities for everyone. Especially all meals on board are yummy. I will definitely recommend Ambassador to my friends.
helpful (5)
1 year, 6 months ago
Schultz
A wonderful 2 days 1 night cruise on Ha Long Bay with Ambassador Cruise. The food is delicious and can't find a single complaint, the staff is extremely professional and friendly. The chef performed a great lobster party, literally a culinary feast, not an ordinary meal. Extremely satisfied.
helpful (4)
1 year, 6 months ago
Nancy
A great trip. Every space on the Ambassador cruise is absolutely wonderful. Food was excellent. The Titop beach was very crowded. We chose to hike to the top of the island and relax on the beach only.
helpful (3)
1 year, 6 months ago
Tuyết Tâm
Ambassador Cruise was large. The boat itself looks nice. Its furniture and facilities are modern. Our cabin has a nice balcony and we love sitting there when the ship moves on the bay.
helpful (4)
3 years, 5 months ago
Trúc Ðào
I had a memorable experience on this cruise, from the room, the restaurant, the bar or the staff, the food… Everything was great. I am impressed by the friendliness, friendliness and professionalism of the staff on board.
helpful (2)
3 years, 4 months ago
Cao Sơn
Seeing a lot of advertising and also being recommended by many people, I booked President cruise for families with small children and I was not disappointed when I chose this ship. Our group was able to arrange the ships next to each other, the room was large and beautiful, the balcony and large windows were satisfying to watch Ha Long Bay. The children are very excited about the swimming pool on the boat and the mothers also have extremely virtual check-in photos here. The schedule is not too hasty but still ensures to visit enough spots. The food has many choices and is very tasty. If we have a chance to go to Ha Long next time, we will definitely go 3 days 2 nights
helpful (2)
3 years, 5 months ago
Wow Girl
President is a great 5-star ship product. The ship manager and staff are very enthusiastic and always ready to serve. The tour program is reasonably arranged, the tour guide is lively and funny. The food and drinks are delicious and lots of choices. I like kayaking the most but it was raining the day I went, so it was a bit difficult to paddle
helpful (2)
3 years, 7 months ago
Thúy Mai
I thought that going by sea would be seasick and dangerous, but the recent trip has changed my opinion. The cruise is big, runs smoothly, there are fire alarm and rescue equipment on board and modern designed facilities, so it definitely feels very safe. I had a perfect trip.
helpful (1)
3 years, 4 months ago
Janie Nguyen
If anyone wants to visit Ha Long Bay, President Cruise is always the number one choice because of its luxury. In addition, the food and service on board are also factors that attract customers. Our group really had the best time experiencing the best service, but the best tour activity. I rate this ship all 5 stars.
helpful (2)
3 years, 2 months ago
Văn Tùng
I booked a 2 days 1 night tour on President cruise with a bit high price but it's really worth the money. The ship is big with many types of rooms with different areas and characteristics, but every room is beautiful, you can also enjoy the panoramic view of the bay, if you choose a room on the 2nd floor, you can see the bay wider and more airy. Delicious food and enthusiastic service staff, always willing to help guests 24/24. There are many interesting tour activities such as cooking class, cave visit, pearl village visit, boating…. The ship also has a swimming pool, so it is very suitable for families with children.
helpful (3)
3 years, 3 months ago
Long-Linh
My husband and I booked a Cabinet room on the President ship, a large room, a bathtub right next to the window and a large sundeck. That's all, I felt great, but the staff on the cruise made me even more excited with their dedicated service, meticulous instructions and brought us interesting activities, seeing a lot. Beautiful scenery of Ha Long Bay. I will definitely save money so I can book the Presidential room next time and see what's different
helpful (2)
3 years, 4 months ago
Tiến Long
The ship is a 5-star standard because of its luxurious design, standard service, professional and friendly service attitude, nutritious food and food safety. Only drinks on board are a bit expensive.
helpful (4)
3 years, 6 months ago
Thương Nga
I like the architecture of this ship, everything is arranged very logically. The ship is fully equipped with protective equipment, fire alarms and medicine cabinets, so I feel very secure. There is a shuttle bus from Hanoi at a reasonable price. However, kayaking is the most enjoyable activity but is not included in the price. Overall the tour has nothing to criticize
helpful (2)
3 years, 5 months ago
Thu Hà
Staff are professionally cruiseed, I see that they always try their best to bring customers the best services. The tour guide is funny, handles situations well and takes care of guests. I like the food of this ship, it is very tasty, especially when I know that I am allergic to mushrooms, so the chef made another dish for me.
helpful (3)
3 years, 6 months ago
Bùi Thanh Tâm
Thanks to a friend, I had the opportunity to experience the 5-star cruise service. The first morning the car picked up a bit late because there was a problem on the road, but the driver called to apologize in advance. The car has wifi, drinking water and comfortable seats. Arriving at the wharf, the staff welcomed us warmly, we sat in the lobby of Paradise hotel to wait for check-in, then we were guided to move on board. Wow!! Everything was great from the room, staff, food and tour schedule. And the weather is also pleasing, so I had extremely virtual check-in photos.
helpful (2)
3 years, 7 months ago
Công Duy
New ship, room is very large and comfortable. There are many relaxing activities after the evening, diverse food with Asian-European fusion. The staff is polite and professional, I see that some guests are quite difficult and often cause trouble, but they always smile and calmly explain to the guests. I think this is the reason why the cruise attracts many guests and is always full even though there are 46 rooms.
helpful (2)
3 years, 6 months ago
Thanh Hiếu
My husband secretly booked Ha Long tour as a birthday present for me. The cruise is big, beautiful, everything looks shimmering, very luxurious, especially at night when the lights are on, the group's entertainment activities and serving drinks at the bar of the cruise make me imagine being in a boat. on a cruise in Europe. The staff was also nice to celebrate my birthday and give me a cake. The food must be said to be excellent. This will be the most unforgettable trip ever.
helpful (2)
3 years, 7 months ago
Thái Vân
I booked 2 days tour on President cruise with shuttle bus from Hanoi. The car came to pick me up on time, polite driver and helped me carry my luggage. The cruise room is new, beautifully decorated and fortunately the day I went on the tour was on my birthday, so the staff celebrated my birthday on the cruise. The food is really delicious. Thank you for everything.
helpful (2)
3 years, 6 months ago
Sông Hương
New ship, with swimming pool on board. Delicious and fresh food with lots of options. Staff are always happy to serve. The tour schedule is flexible and useful. While waiting for the car to pick me up and the rest of the group, I was also served pho.
helpful (2)
3 years, 6 months ago
Lê Tuấn Anh
Everything on board is great. I am very impressed with the service of the staff here, they take care of guests very attentively and politely. Our group visited many beautiful places, but Sung Sot cave was quite crowded.
helpful (2)
3 years, 3 months ago
Quỳnh Dung
A useful summer vacation for my children on board the President ship. We were placed in 2 connecting rooms with private balconies, the furniture in the room was neatly arranged and didn't take up much space. Since my son can't eat spicy food, I asked the staff to make his own food and they didn't hesitate. The boat has a swimming pool so my children can have fun here so that my wife and I can participate in all tour activities. Thank you to the fleet for what you have brought
helpful (2)
3 years, 5 months ago
Bảo Khoa
Our bedroom is very spacious, the mattress and pillow are soft, so there is no back pain or neck pain. We were taken by a funny guide to visit many beautiful places, I like to go to Ngoc Trai village. The shuttle bus is on time, the seats are comfortable, but the cruise disembarks early, so it takes a long time to wait for the car in the afternoon
helpful (2)
3 years, 5 months ago
Phương Uyên
First time experiencing a 5-star cruise on the President ship. New and luxurious ship, professional service attitude, dedicated. The food is delicious and varied, I really like to eat seafood. Useful tour activities but kayaking is the best activity is not included in the price, I have to add 460,000 VND for this activity.
helpful (2)
3 years, 5 months ago
Như Ý
I booked a tour that included a shuttle bus from Hanoi, the driver arrived on time, was polite and drove carefully. The ship is big and beautiful, the rooms have large windows that can enjoy the panoramic view of the bay. The highlight of this cruise is that the food is really good but there is a meal of clam soup that is a bit gritty.
helpful (2)
3 years, 3 months ago
Nhật Ánh
My family just returned from the President cruise and it was really a meaningful trip. I booked 2 rooms with a large sunbathing yard, so I don't need to go to the deck to still be able to sunbathe and watch the sunset right in the room. The staff helped their parents a lot because their age was also old, so walking and eating were a bit slow. I will definitely recommend this cruise to friends and acquaintances
helpful (2)
3 years, 6 months ago
Minh Dương
I booked the Ambassador room on the 1st floor of the ship, beautiful room, large window and private balcony, with bathtub next to the window creating a more relaxing feeling. I like everything about this boat but there was a small issue with our room as the toilet was a bit smelly but was promptly handled by the staff.
helpful (2)
3 years, 3 months ago
Nguyễn Ngọc Quế
The ship is quite new and big with many different types of rooms. Our group was taken to visit famous spots of Ha Long Bay such as Sung Sot cave, Ti Top island and participated in interesting activities such as boating, swimming, cooking class, squid fishing.... The food is really delicious and the service attitude of the staff is also very professional.
helpful (2)
3 years, 7 months ago
Ngọc Loan
My family drove to the pier by themselves and got free parking at Paradise Suite Ha Long hotel. I was really overwhelmed by the massiveness of the ship and the layout and design of the rooms and other areas, it was like a 5-star hotel on the sea. Service can be said to be more than 5 stars. It is true that one has to know that the advertisement of Vouchers.com.vn agents is not exaggerated.
helpful (2)
3 years, 6 months ago
Mạnh
A trip must be said, we were picked up from Hanoi in a luxury Limousine. Big ship, with swimming pool on board and nice room, modern interior. Delicious food decorated with eye bowls. The tour schedule is interesting and more special than my wife has had the check-in photos of her life. It's just a pity that the ship disembarked a bit early
helpful (4)
3 years, 4 months ago
View all reviews
0 Comments
Be the first to comment on this page
Cruise information
Itinerary:
Ha Long Bay - Surprise Cave - Tung Sau Farm - Titop Island
Operator:
Su Tu Asia Service and Trading Joint Stock Company
Meet Our Experts
Request a quote
Please make sure your email is correct.
Why choose us?
Better price than walk-in booking
Best price guaranteed
Highly experienced travel consultant
More than 80 cruises on offer
Exclusive seasonal deals
Easy and safe payment
Customer reviews

I am very satisfied with this trip. Thank you cruisehalongbay.com for booking the tour, helping me have a happy and …
Tuyet Bui

Thu Huong advises very enthusiastic and thoughtful, I am very satisfied with you and cruisehalongbay.com company. The quality of the …
Tran Trung

Great experience and beautiful surroundings. Beautiful train, professional staff, very attentive.
An Nhiên
You might also like...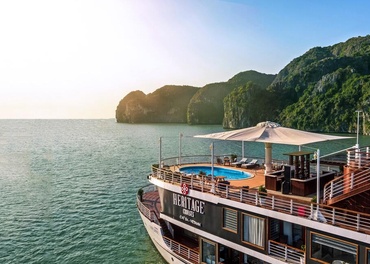 23% OFF
Lan Ha Bay
Launched 2019 - Metal ship - 20 cabins
Top cruise brand
Outdoor swimming pool
Free kayaking
Summer offer 2022
Booked 4 times in the last 24 hours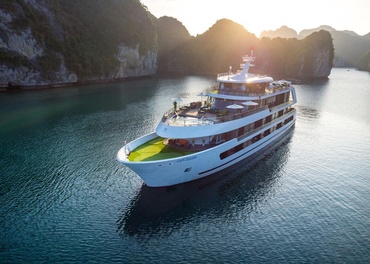 18% OFF
Lan Ha Bay
Launched 2018 - Metal ship - 22 cabins
Top brand cruise
Summer offer 2022
Outdoor swimming pool
Free shuttle bus
Booked 2 times in the last 24 hours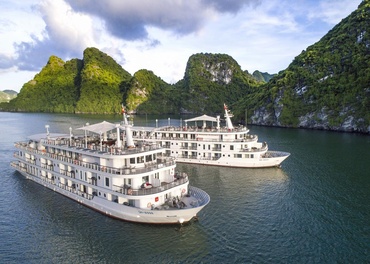 29% OFF
Ha Long Bay
Launching 2016 - Metal Vessel - 31 rooms
Top 5 star cruise
Special cuisine
No weekend surcharge
Booked 3 times in the last 24 hours