Capella Cruise
Tuan Chau Port, Ha Long, Quang Ninh, Vietnam
Show map
Price from: 5,500,000đ (Save 26%)
4,060,000 đ/pax
Booked 10 times in the last 24 hours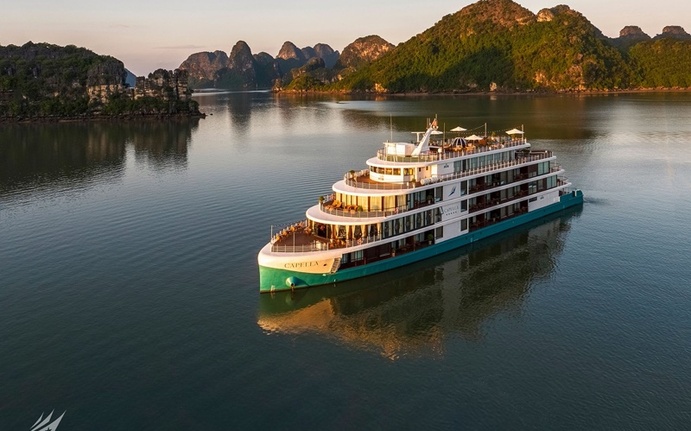 View all 44 photos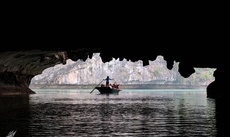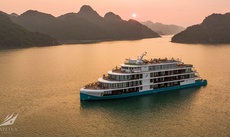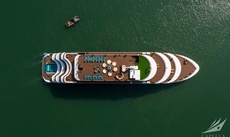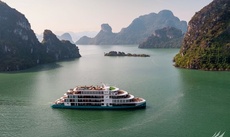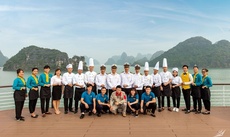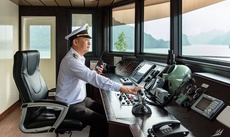 A modern style combined with classic Indochina, bringing a luxurious but intimate space.
All rooms have private balconies with bathtubs overlooking the bay, enhancing the private experience at the natural heritage site.
5-storey design with numerous facilities and activities: four-season swimming pool, steam slide, Cigar & Poker club, Fitness room, spa, Sea Melody theater, mini golf course.
Asian-European fusion cuisine, ranging from a la carte menu to buffet, room service or outdoor barbecue upon request.
Rooms & rates
Select date and package options
Clear all
Accommodation Type
Oasis Suite - 2 Days 1 Night
32 m², Max:
Harmony Suite - 2 Days 1 Night
32 m², Max:
Sky Suite - 2 Days 1 Night
32 m², Max:
Sky Terrace Suite - 2 Days 1 Night
45 m², Max:
La Suite De Capella - 2 Days 1 Night
48 m², Max:
Owner Suite 2 Days 1 Night
92 m², Max:
Complete all required fields to continue
(Child Policy & Extra Bed Charge) )
About Capella Cruise
Launched in August 2020, Capella Cruise temps to travelers with its unique design and a myriad of distinct activities. Featuring modern Western and antique Indochine styles, 30 rooms in Capella Cruise are fully equipped with modern amenities, adding large glass windows, private balconies and bathtubs with sea views, providing maximum open space and relaxation.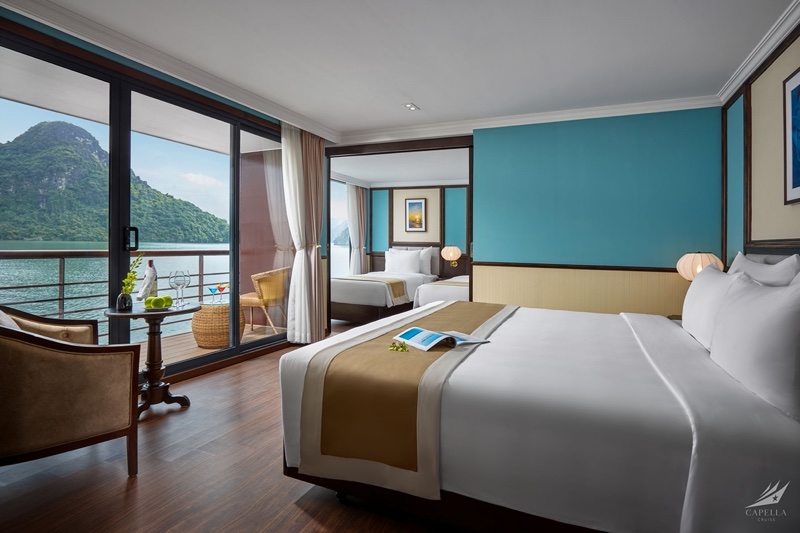 Luxury room on Capella yacht
Stepping out of the luxurious private room, guests are invited to join an Asian and European culinary journey in a luxurious restaurant, and enjoy featured cocktails while watching the alluring sunset on the bay. Besides kayaking or swimming as usual, travelers on Capella can experience inflatable slides, a floating swimming pool in the sea, a four-season pool, Cigar & Poker club, a state-of-the-art gym, Sea Melody Karaoke room, night squid fishing, or mini-golf course.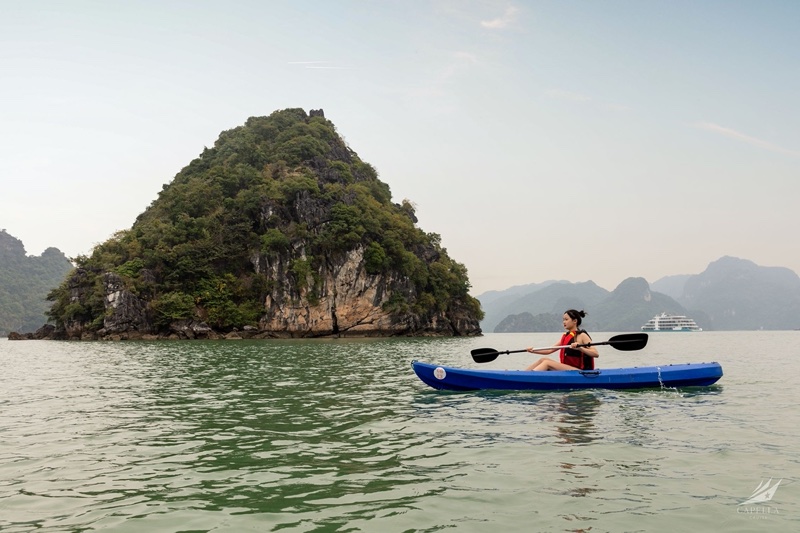 Kayaking on the bay
The journey to discover the wild and poetic Lan Ha Bay 2 days 1 night will take Visitors to explore the peaceful waters of Frog Pond, experience kayaking in the middle of the bay, or relax on a bamboo boat to see Bright Dark Cave with mysterious stalactites.
Things to know
Check-in time
Check-in time is from 12:15-12:30. If you are traveling by yourself, please be at the pier no later than 11:45 am to check in before boarding.
Check-out time
Check out time is from 9:30am to 10:30am depending on the schedule of each cruise. After check-out, you will be served lunch on board before the ship docked.
Check-in policy
Please send a photo of the passenger's ID card or birth certificate at least 5 days before the tour departure and bring these identification documents with you when checking in.
Rates include:
Luxury en-suite cabin (all featured with private balcony/terrace and ocean-view bathtub)

All dining experiences on-board

Sunset party with refreshment in happy hours (17:30 - 19:00)

Free access to the cruise recreation facilities: Oasis Pool & Jacuzzi; the floating Ocean pool; Inflatable water slide; Mini-golf course; Cigar & Poker Club.

Various activities: morning Tai Chi class, cave visiting by rowing boat, squid fishing, swimming, and kayaking

English-speaking guide onboard

All entrance fee & sightseeing fee
Price does not include:
Round trip transfer Hanoi - Tuan Chau:

$35/person (adults and children round trip). Pick up point: at hotel in Hanoi Old Quarter or in front of Hanoi Opera House

Drinks, Spa and Laundry service

Stand-up paddleboard

The Sea Melody Mini-theatre room

Personal expense and gratuities

VAT
Children, extra bed and weekend surcharge
Each cruise has its own rules regarding child surcharges and weekend surcharges. Please refer to the child surcharge information in the room rate section.
Cancellation of reservation
The above prices are subject to general conditions of non-refundable/cancellation and date change is allowed. In case you want to change the date, please refer to the regulations on changing the date.
Cancellation due to weather conditions
The cancellation of trip due to weather conditions will be specified directly by the Bay Management Board. Please refer to Halong Cruise's delay/cancellation policy due to weather conditions.
Frequently asked questions
How many room types are there in Capella Cruise?
Capella Cruise has 8 room types including Oasis Suite, Harmony Suite, Harmony Family Suite, Sky Suite, Sky Terrace Suite, Sky Family Suite, La Suite De Capella, Owner Suite.
Is there any smoking cabins onboard?
All the cabins on Capella Cruise are all non-smoking. You still can smoke in the outdoor public area.
Can one room accommodate 5 adults?
Yes, Capella has a Harmony Family Suite with 1 double bed and 3 single beds that can accommodate 5 adults.
Is there drinking water in the room?
Each room is provided with 2 complimentary bottles of water per day.
Is there a bathtub in the room?
All rooms on Capella cruise ship have a bathtub with sea view.
Does Capella Cruise have event services?
Yes. Birthday events, weddings, gala dinners, team building, conferences, seminars can all be held on board.
Does Capella Cruise have a shuttle service?
Capella Cruises provides a round trip transfer service from Hanoi to Ha Long by Limousine. Travel time on the highway is 3 hours. Pick up time is 8:30am – 9:00am.
Does the swimming pool have warm water for winter use?
Yes, Capella Cruise with swimming pool and hot tub Oasis Pool is located on the 1st floor.
Where do yachts come from?
Capella Cruise departs at Lot 27, Tuan Chau International Passenger Port, Ha Long City, Quang Ninh.
Maps and Itineraries
Capella Cruise departs from Tuan Chau Pier, Halong, Quang Ninh
You can see the itinerary for 2 days 1 night here
Reviews (15)
| | | |
| --- | --- | --- |
| 5 star | | 11 reviews |
| 4 star | | 4 reviews |
| 3 star | | 0 reviews |
| 2 star | | 0 reviews |
| 1 star | | 0 reviews |
Nhung Trần
Attentive and enthusiastic crew. Beautiful landscape. Luxurious space from cabins, restaurant to sundeck. The floating pool and slide is very fun. Best for families with kids.
helpful (1)
1 year, 2 months ago
Minho Kim
Thank you Capella Cruise for giving me a meaningful 2 days and 1 night experience. Thank you for the enthusiastic and attentive staff, we will definitely come back.
helpful (1)
1 year, 2 months ago
Miao Xing
First time taking a five-star cruise. Capella cruise looks elegant and different from others. There are so many interesting facilities on the boat. Our group like the water slide and kayaking. The staff was welcoming.
helpful (2)
1 year, 2 months ago
Minh Hòa
Tàu Capella rất mới và hiện đại. Gia đình tôi có nhiều trẻ con nên đã thích tàu này ngay từ đầu vì có rất nhiều hoạt động. Bể bơi và cầu trượt nước rất thú vị nhưng nên có người lớn giám sát. Kayaking tham quan vịnh cũng khá hay. Chuyến đi thú vị và thư giãn dành cho các gia đình!
helpful (2)
1 year, 2 months ago
Mạnh Trường
Capella Cruise is beautiful, the staff is dedicated and friendly. The lunch was better than dinner.
helpful (1)
1 year, 2 months ago
Jimmy Ng.
Tau dep, phuc vu tot. Highly recommended!
helpful (3)
1 year, 2 months ago
Gary
We got 2 days 1 night on Capella. Everything went smooth from the check-in on the harbor until we leave the boat. Staff is always welcoming and ready to help. Thanks so much!
helpful (2)
1 year, 3 months ago
Frank
A wonderful vacation on Capella Cruise!
helpful (2)
1 year, 1 month ago
Celia
Like a floating luxurious hotel on the sea. We found anything we need in our cabin. The chef cooked wonderful meals and served us too much. We really renjoyed it. Would love to come back one day!
helpful (3)
1 year, 2 months ago
Châu Anh
Welcome 40 years old with a sweet trip with Capella cruise. The staff is so perfect, extremely enthusiastic and attentive. The tour guide is very enthusiastic and friendly.
helpful (1)
1 year, 2 months ago
Trường Giang
Capella Cruise is beautiful, polite and very clean. The staff are exceptionally friendly and always ready to help.
helpful (2)
1 year, 2 months ago
Trung Anh
I was really impressed when I experienced the 3 days 2 nights tour on this ship! I feel proud of the efforts and vision of the team that made this resort! Not only helping us - Vietnamese people, but also helping friends around the world see how beautiful and majestic this wonder is. Left in us are not delicious food, luxurious amenities, but spiritual dishes that are hard to describe in words! Will definitely be back
helpful (5)
1 year, 2 months ago
Thu Thủy
Excellent and excellent, beautiful cruise, beautiful bay view, beautiful room. Staff were friendly and enthusiastic. Will be back
helpful (2)
1 year, 1 month ago
Đức Hòa
A peaceful day on the 5* Capella Cruise
helpful (0)
1 year, 2 months ago
Kim Ngọc
Very complete facilities, beautiful interior. Serving great Asian and Western meals. Staff is very professional, considerate and attentive.
helpful (3)
1 year, 1 month ago
View all reviews
0 Comments
Be the first to comment on this page
Cruise information
Itinerary:
Lan Ha Bay – Frog Pond – Bright Cave
Operator:
Viet Star Cruise Investment Joint Stock Company
Meet Our Experts
Request a quote
Please make sure your email is correct.
Why choose us?
Better price than walk-in booking
Best price guaranteed
Highly experienced travel consultant
More than 80 cruises on offer
Exclusive seasonal deals
Easy and safe payment
Customer reviews

I am very satisfied with this trip. Thank you cruisehalongbay.com for booking the tour, helping me have a happy and …
Tuyet Bui

Thu Huong advises very enthusiastic and thoughtful, I am very satisfied with you and cruisehalongbay.com company. The quality of the …
Tran Trung

Great experience and beautiful surroundings. Beautiful train, professional staff, very attentive.
An Nhiên
You might also like...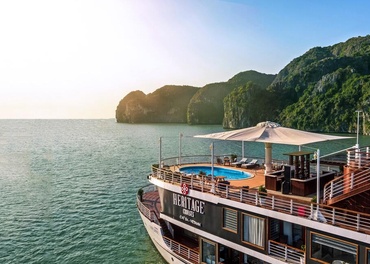 23% OFF
Lan Ha Bay
Launched 2019 - Metal ship - 20 cabins
Top cruise brand
Outdoor swimming pool
Free kayaking
Summer offer 2022
Booked 4 times in the last 24 hours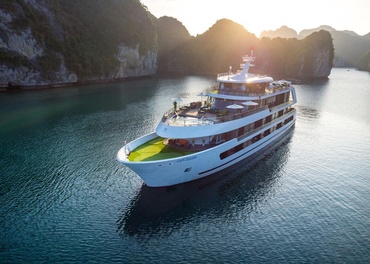 18% OFF
Lan Ha Bay
Launched 2018 - Metal ship - 22 cabins
Top brand cruise
Summer offer 2022
Outdoor swimming pool
Free shuttle bus
Booked 2 times in the last 24 hours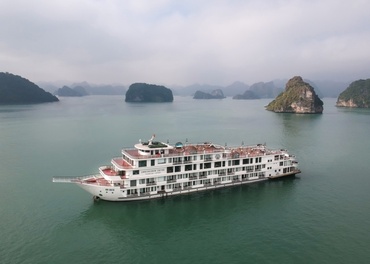 31% OFF
Ha Long Bay
Launching 2018 - Metal ship - 46 cabins
6 star cruise
Outdoor swimming pool
The only cruise with elevator
Lobster dinner
Booked 6 times in the last 24 hours