Top 12 Halong bay cruises for different types of traveler - Which one are you?
You want to experience visiting Ha Long Bay on a luxurious 5-star cruise, but are wondering which cruise is both beautiful, has a lemon-lime swimming pool, and has a very reasonable price. Your choice will become easier when you refer to the top 12 Ha Long cruises for each group of guests below. Surely you will have new, different, interesting and very unique experiences in your journey to refresh yourself after stressful and tiring working days.
Cruises for groups of guests who like to eat delicious food
Ambassador Cruises
Located in the top luxury cruise on Ha Long Bay with the largest number of cabins up to 46 cabins and is the only cruise with an elevator. The cabins on the cruise all have a private balcony or terrace with a super beautiful bay view, divided into 5 different room classes: Ambassador, Premier, Cabinet Suites, Treasury Suites, Presidential Suites. The cruise is spaciously designed with many separate spaces for visitors, you can completely find your own corners to freely check-in with many impressive shooting angles.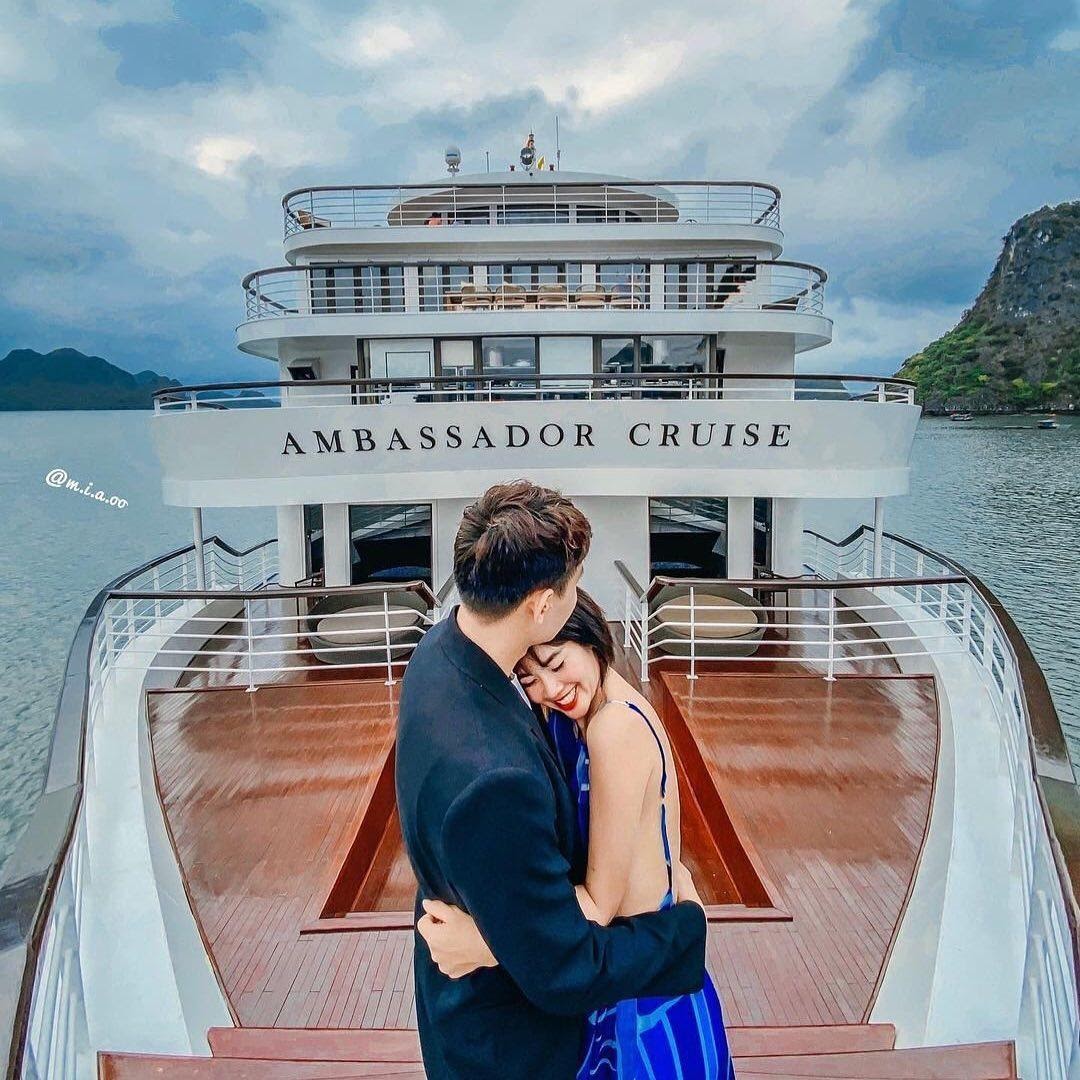 Photo: @@m.i.a.oo
The most special thing of Ambassador is that the menu of the cruise is very suitable for the group of customers who like to eat well with the British super chef Michellin John Burton- Race, serving more than 40 dishes of Asian, European, and fusion. between cuisines will surely make you satisfied. With a rich menu with a variety of unique dishes, it will be the highlight of your journey to conquer Ha Long Bay.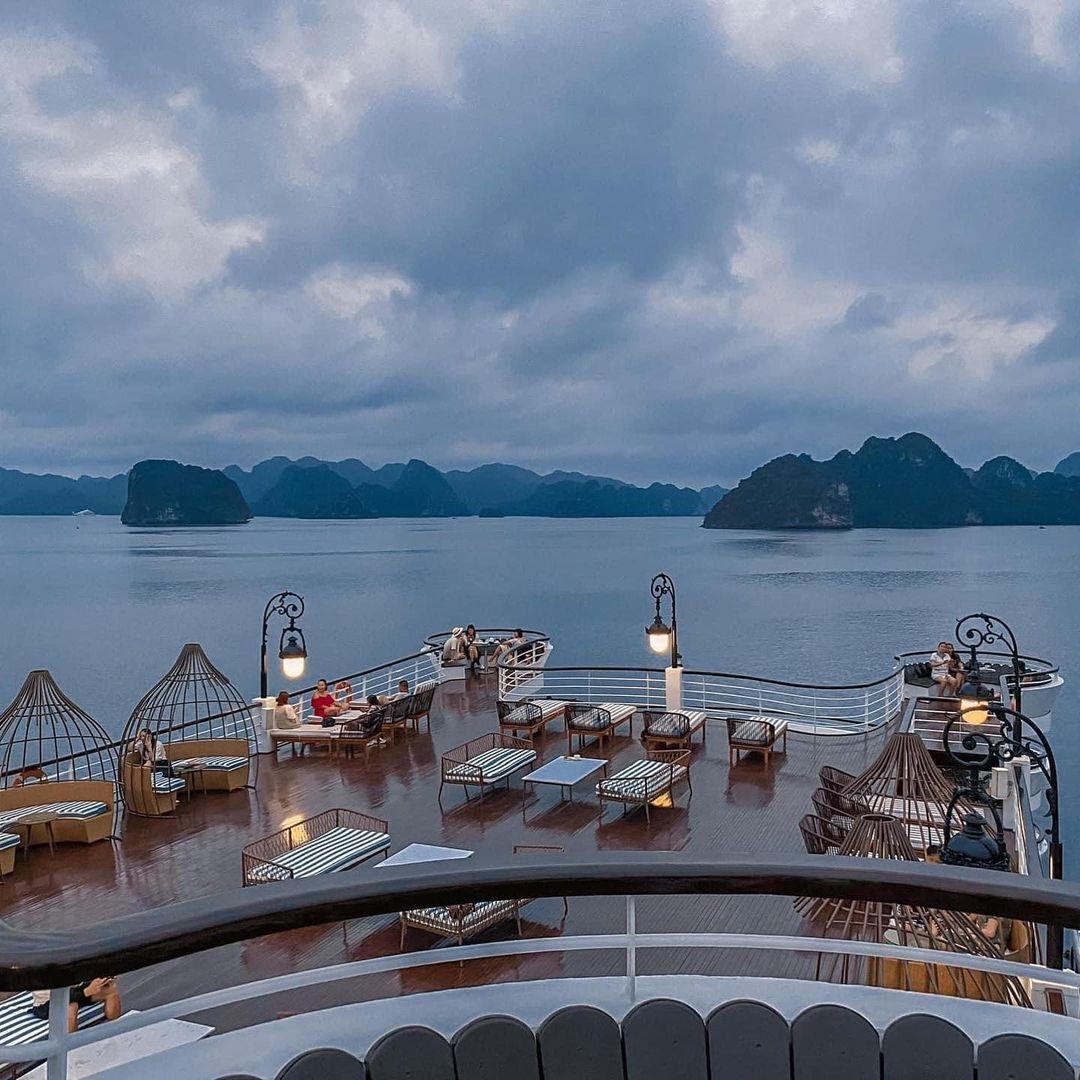 Photo: @trangkin
In addition, guests will experience relaxation with outdoor Jacuzzi, modern massage service and sunbathing on 2 airy terraces. Along the beautiful scenery of Ha Long Bay to Sung Sot cave, pearl fishing village, kayaking, visit Cua Van fishing village... Ambassador will be a perfect choice for travelers looking for quality service, high-class cuisine. Impressive and the most luxurious accommodation space.
The group likes beautiful swimming pools
Paradise Elegance Cruise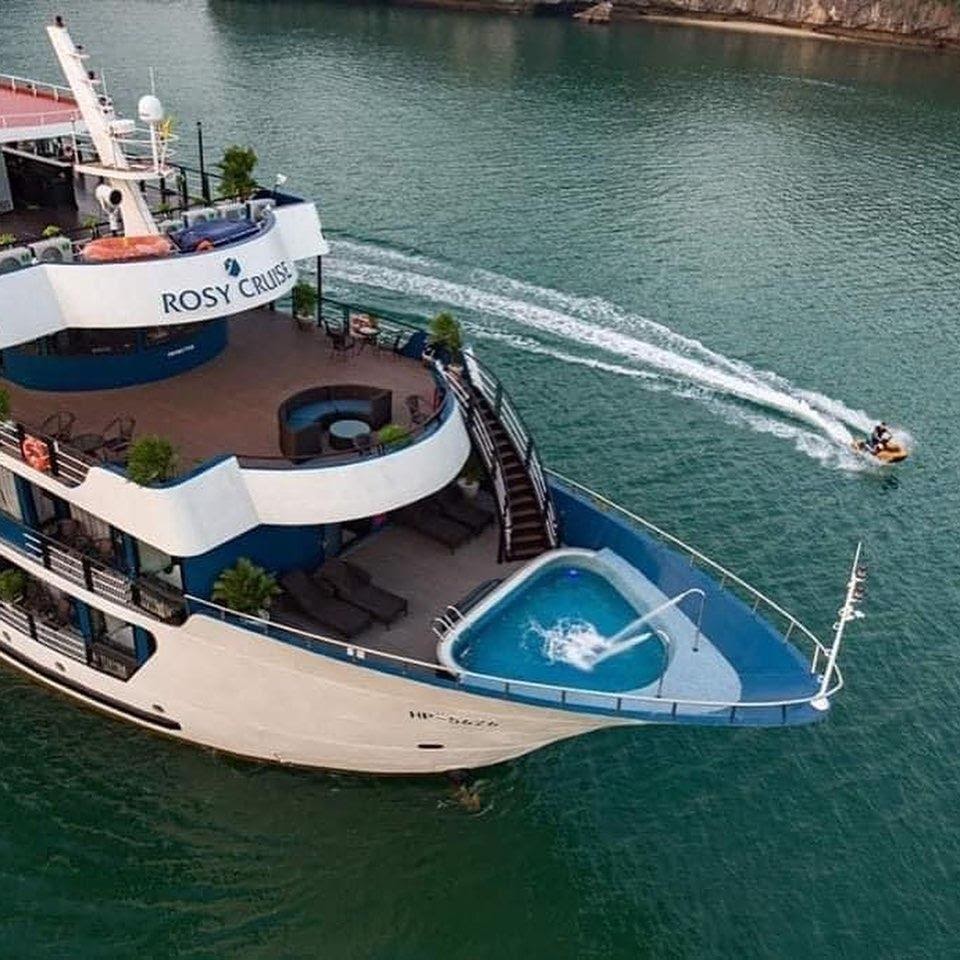 Photo: @_dithoinao_
Rosy Cruise with 22 fully-equipped rooms will bring visitors to experience sublime emotions on a cruise between Ha Long Bay - Lan Ha Bay. Guests will be able to admire the natural beauty, relax, soak in warm water and have a gentle massage at the triangular 4-season Jacuzzi in front of the 3rd floor's bow, where you can enjoy the panoramic view of the ocean. world Heritage.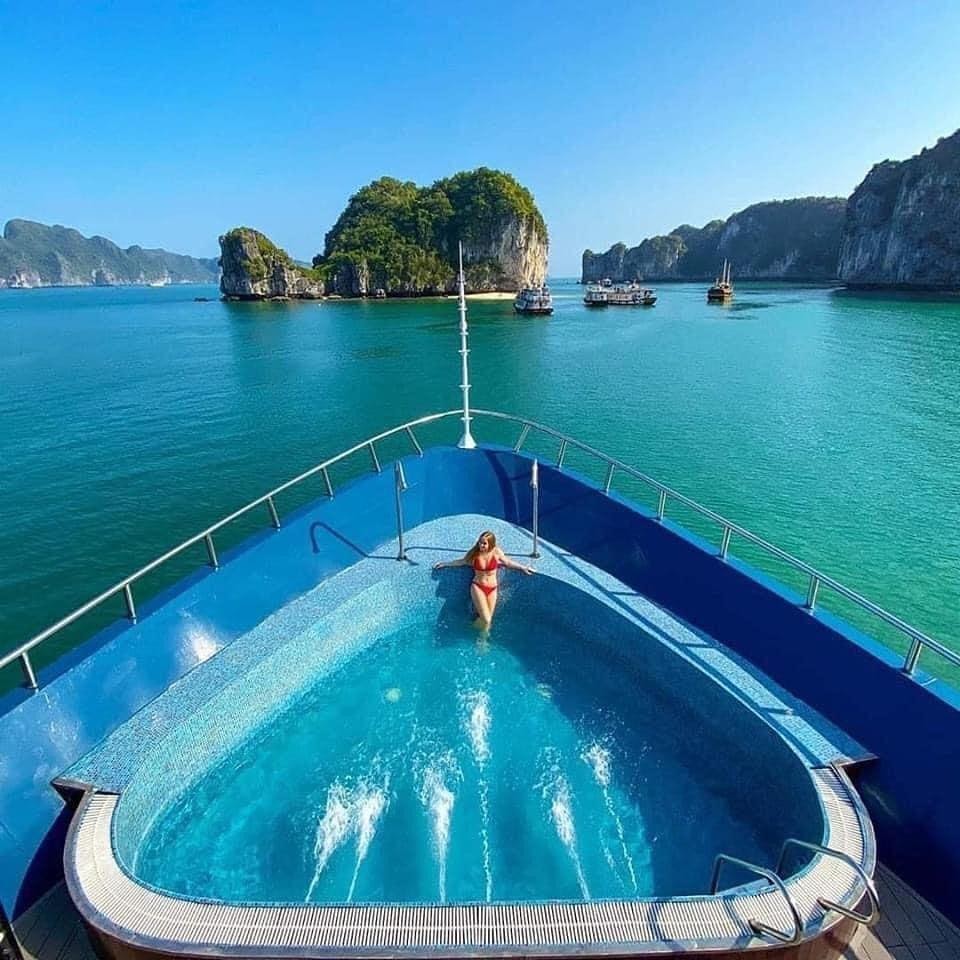 Photo: @_dithoinao_
Rosy Cruise promises to bring unforgettable impressive experiences and never disappoint visitors.
Paradise Elegance Cruise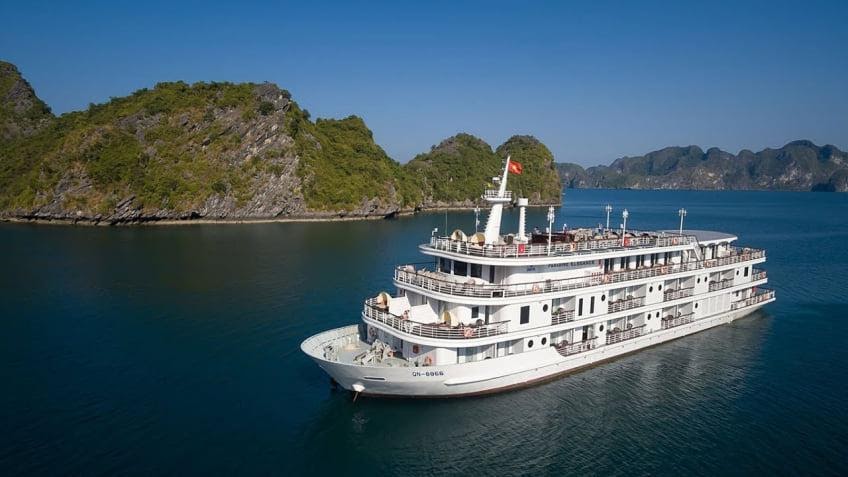 Photo:@duthuyenparadise
Is one of the most luxurious cruise in Ha Long Bay of Paradise Group. Paradise Elegance is the harmony between classic beauty, sophistication and luxurious modern style, worthy of being the ideal choice for art and cultural events and for stars…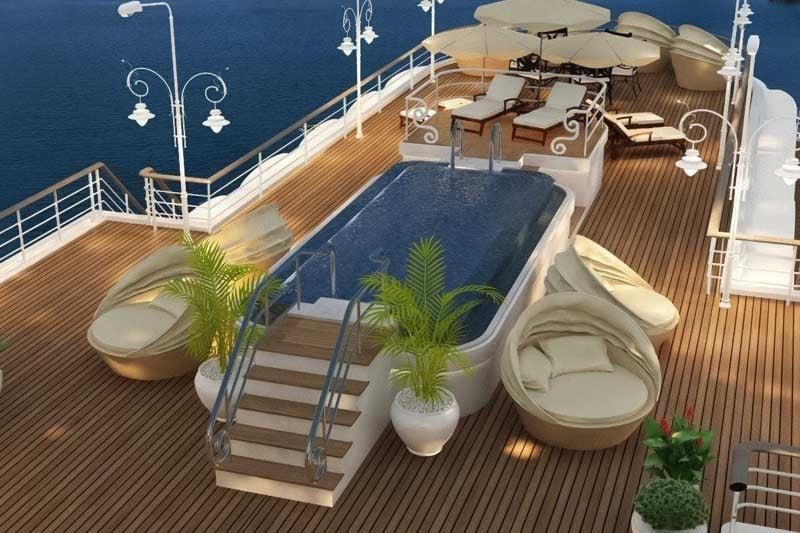 Photo:@duthuyenparadise
In particular, the new Paradise Elegance has a new jacuzzi, an ideal place for tourists to swim, admire the scenery and capture the best frames. Paradise Elegance promises to bring unforgettable impressions and excursions to satisfy visitors.
Capella Cruise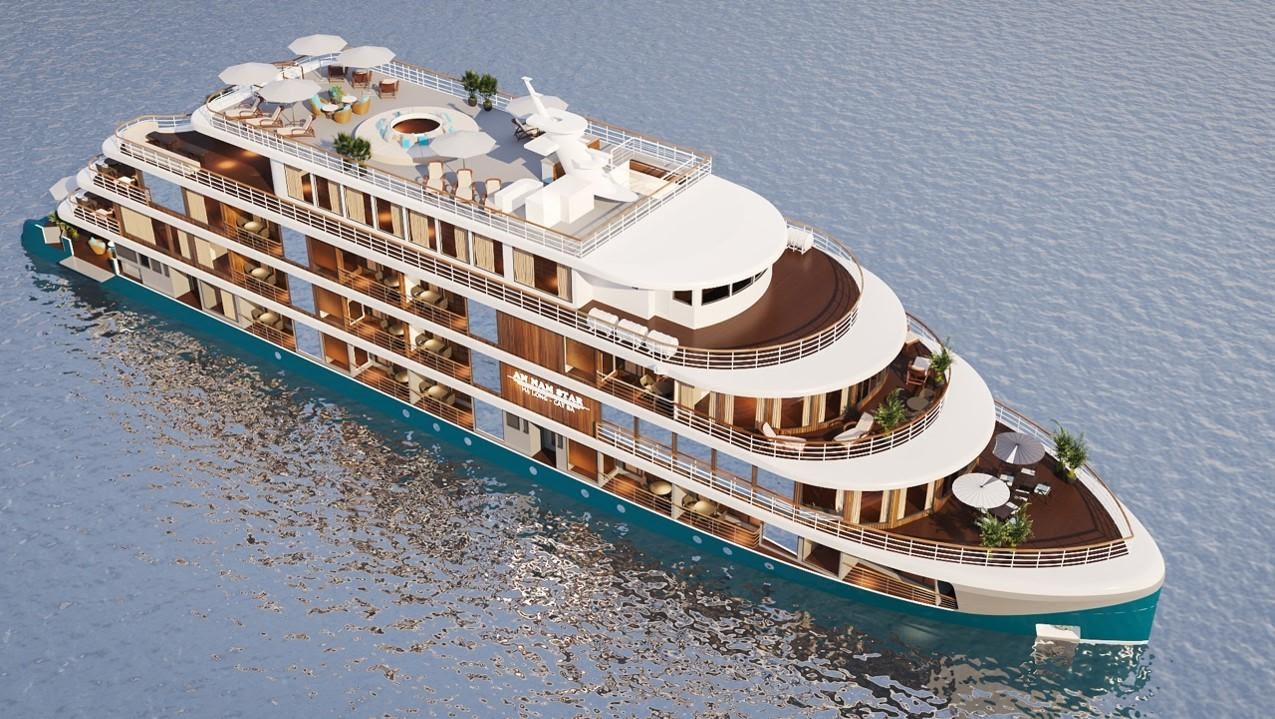 Photo: @duthuyencapella
Capella cruise is likened to "a symphony on the blue bay" and is one of the leading leisure and entertainment cruises in Vietnam. With 30 high-class rooms with private balconies, skylights and bath tubs overlooking the bay and entertainment facilities will bring you a high-class experience with the high-class services of a modern resort cruise. .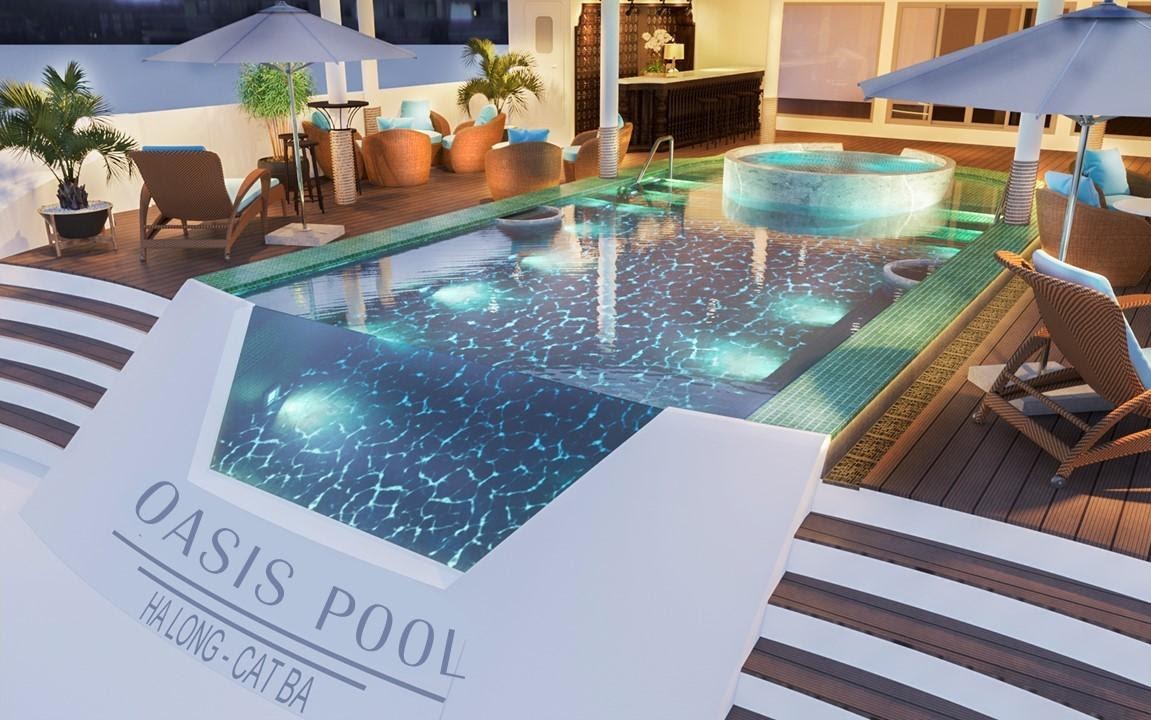 Photo: @duthuyencapella
In particular, you will feel excited when you can enjoy swimming with the Oasis Pool or the Ocean Pool floating pool, try fun activities such as: inflatable slide, kayaking, etc. golf, gym or night squid fishing...
Group of tourists who like Indochinese style
Indochine Cruise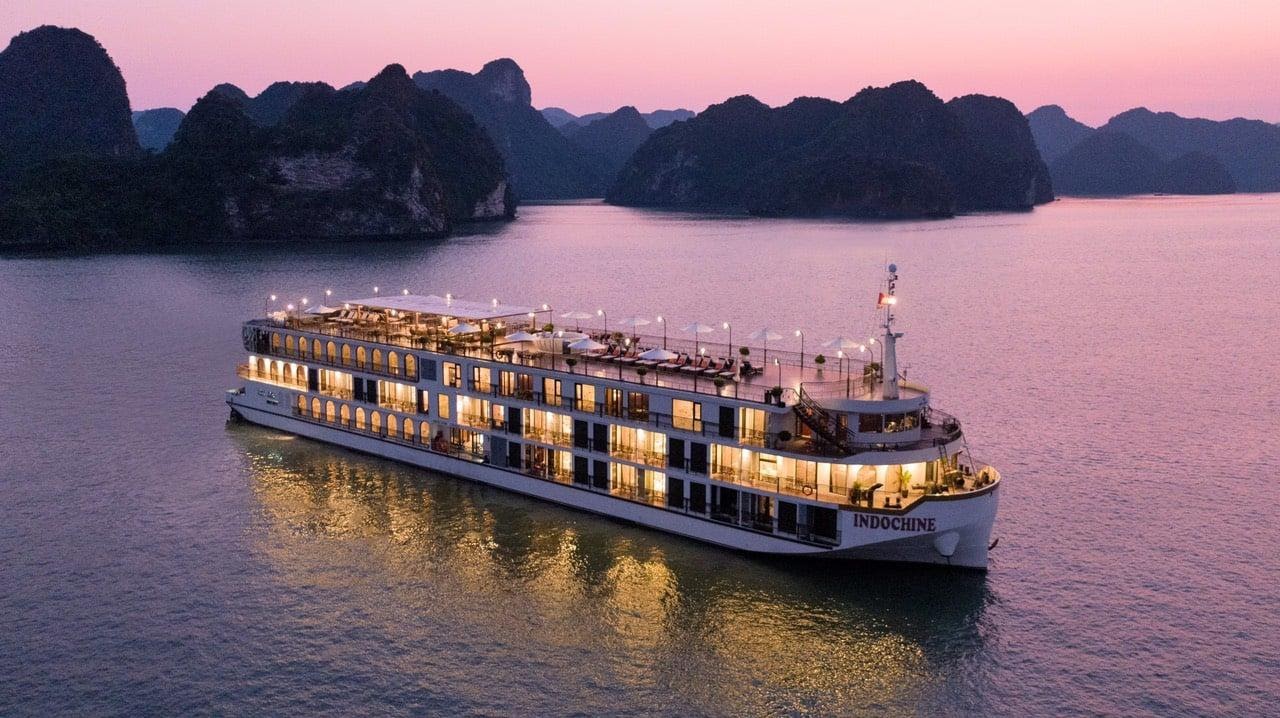 Photo: @duthuyenindochine
Indochine Cruise with 5-star standard in Lan Ha Bay was officially launched in 2019. Is a cruise brand that provides overnight services on the latest and largest bay. The cruise is designed in the Indochinese style. The equipment is fully equipped to help you feel the luxurious life of the "super-rich" people in Indochina at the beginning of the 20th century. In particular, the magnificence of this cruise is combined with the natural scenery. The nature of Lan Ha Bay makes everything more perfect than ever.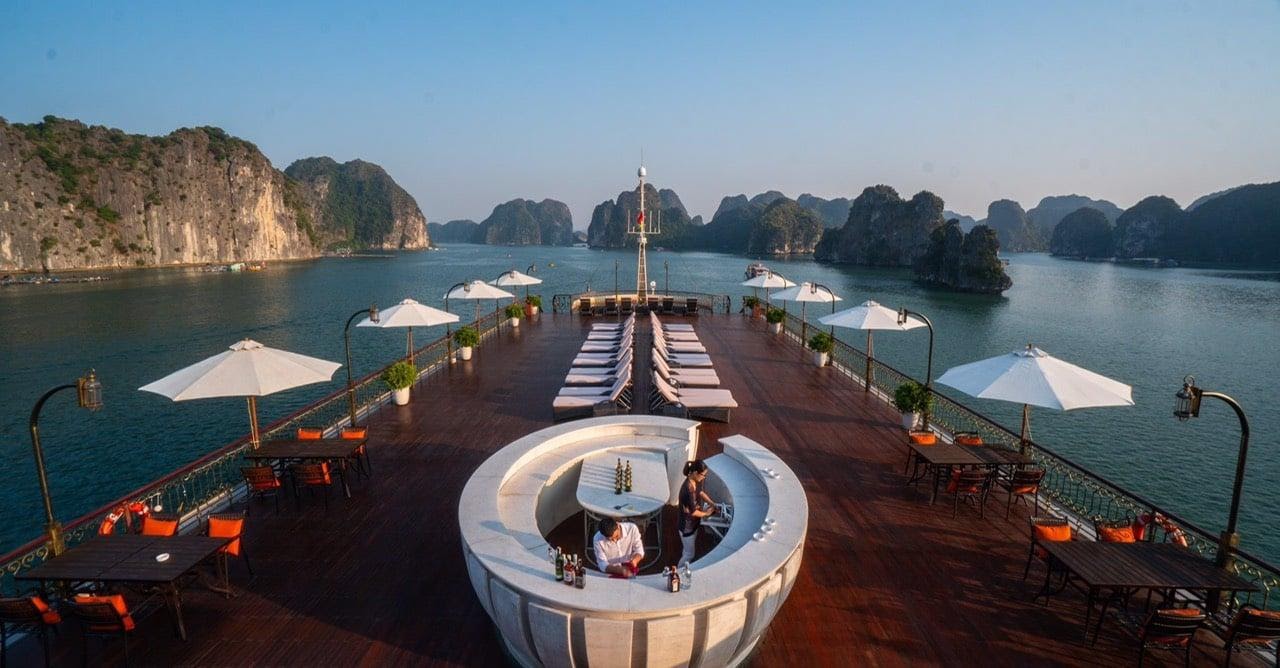 Phtoo: @duthuyenindochine
Indochine Cruise is equipped with 2 restaurants, a bar, a spacious sundeck and luxurious cabins, a Jacuzzi with the goal of bringing a true 5-star service to the tourists who have trusted in choosing this cruise. Indochine boat.
Group of tourists like lemongrass
Stellar of the Seas Cruise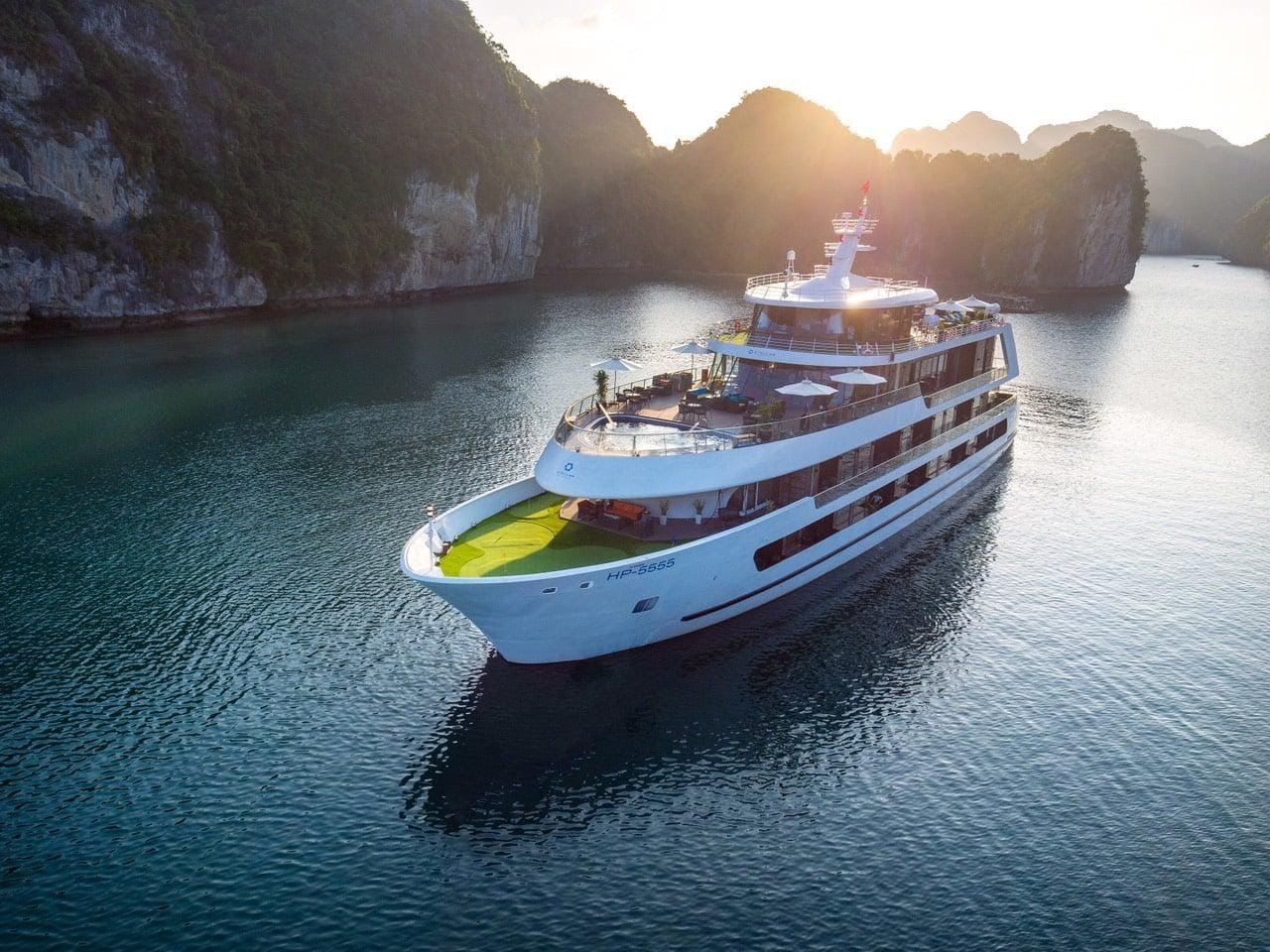 Photo:@duthuyenhalong
For tourists who love the most beautiful check-in photos, the Stellar of the Seas cruise is the first choice for the most beautiful, super-luxury photos. Because Stellar of the Seas is a cruise that has never disappointed visitors, when it was just launched in 2018, it has always been in the top of the most modern and luxurious cruises in Ha Long Bay.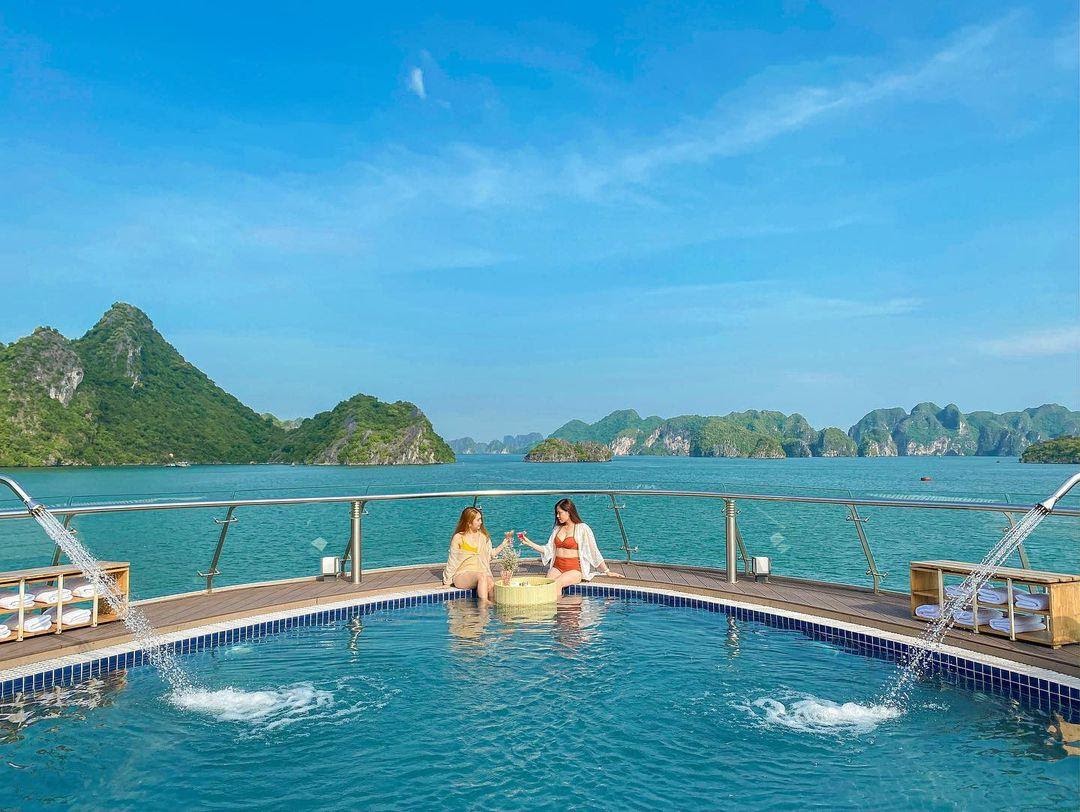 Photo: @simiiiii_____
A special highlight of the cruise is the 4-season swimming pool with an area of ​​more than 50m2 located at the front of the 3rd floor of the cruise. When the sun goes down, the outdoor swimming pool turns into a beautiful night light show with LED lighting. Immersing in the cool water, watching the beautiful bay and enjoying the taste of cocktails will be great experiences for you.
The group likes privacy
Orchid Premium Cruise Ha Long
If you are looking for a luxurious vacation while still ensuring privacy, Orchid Premium Cruise Ha Long is the number 1 choice for you. This is a cruise that is highly appreciated not only for its difference in design style, which is both youthful, modern, and luxurious, but also for its high-class service quality.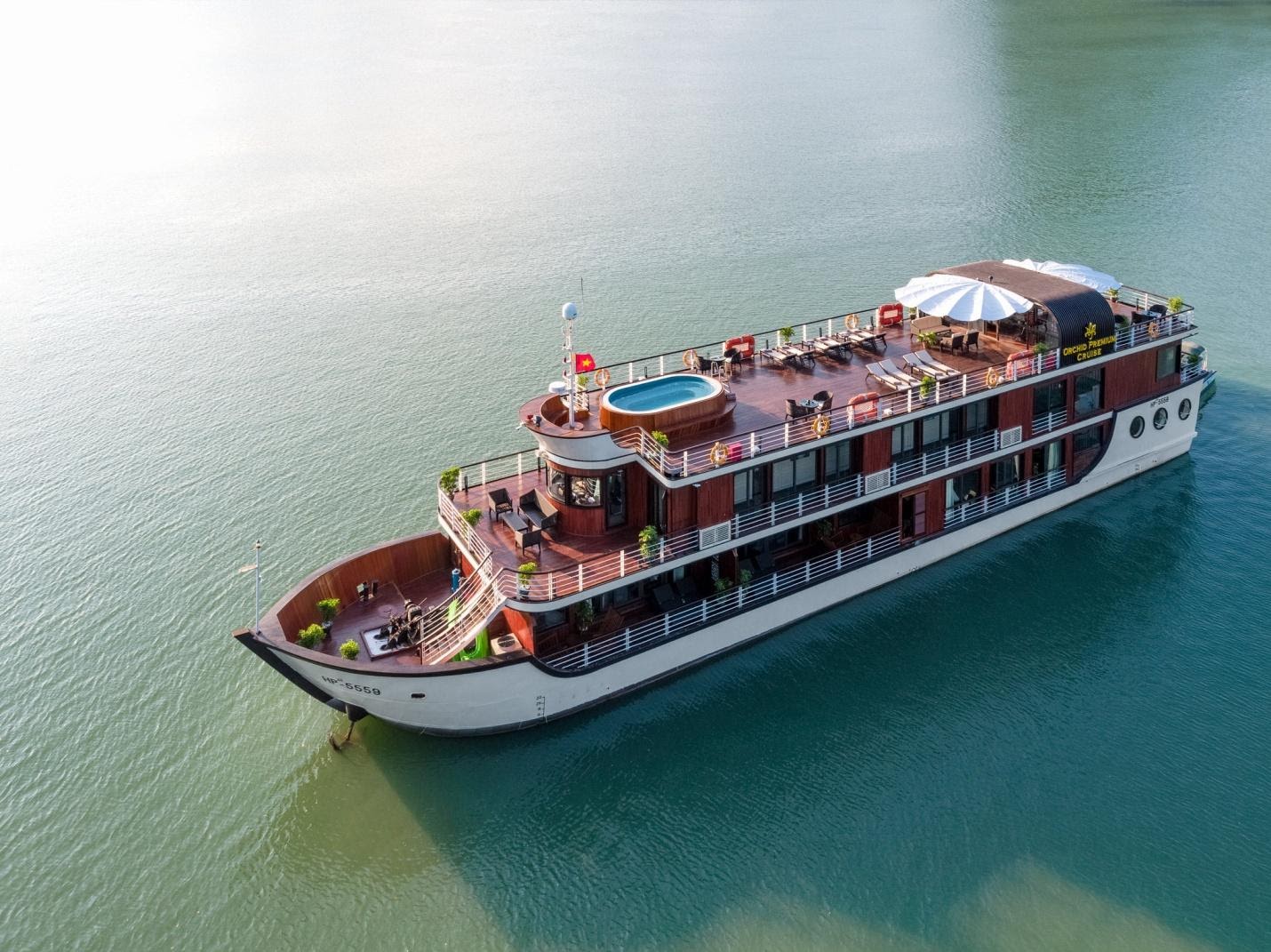 Photo: @xxthackxx
As the newest cruise of the Pelican Group, with 5 luxuriously designed cabins in the Indochinese style, Orchid Premium is proud to be the standard model of a 5-star cruise that brings guests an impressive level of experience. most iconic.
With a small number of rooms, all of them are spacious (from 45-95m2) with private balconies to ensure absolute privacy, making visitors feel as comfortable as in their own home. Each room has a luxurious, elegant design, extremely beautiful decoration with wood and marble, modern furniture with swimming pool, outdoor jacuzzi to bring maximum relaxation for visitors.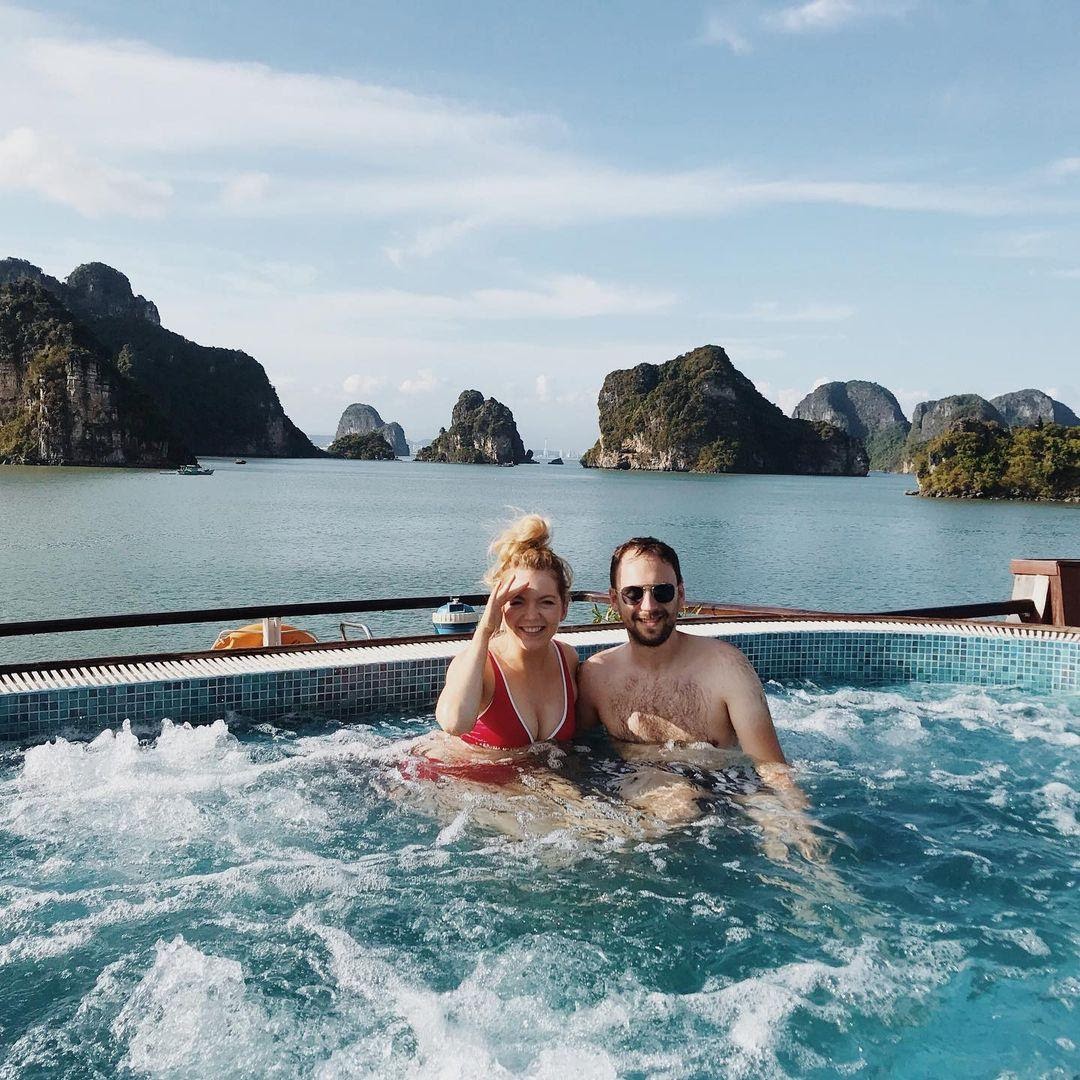 Photo: @steph_eastonpr
Orchid Premium specializes in Lan Ha Bay 2 days 1 night to visit famous landmarks such as Viet Hai fishing village, Frog pond to see peaceful scenes, old houses and learn about the local culture of the people here. .
The group likes to check in the Catamaran sailing boat
Scarlet Pearl Cruise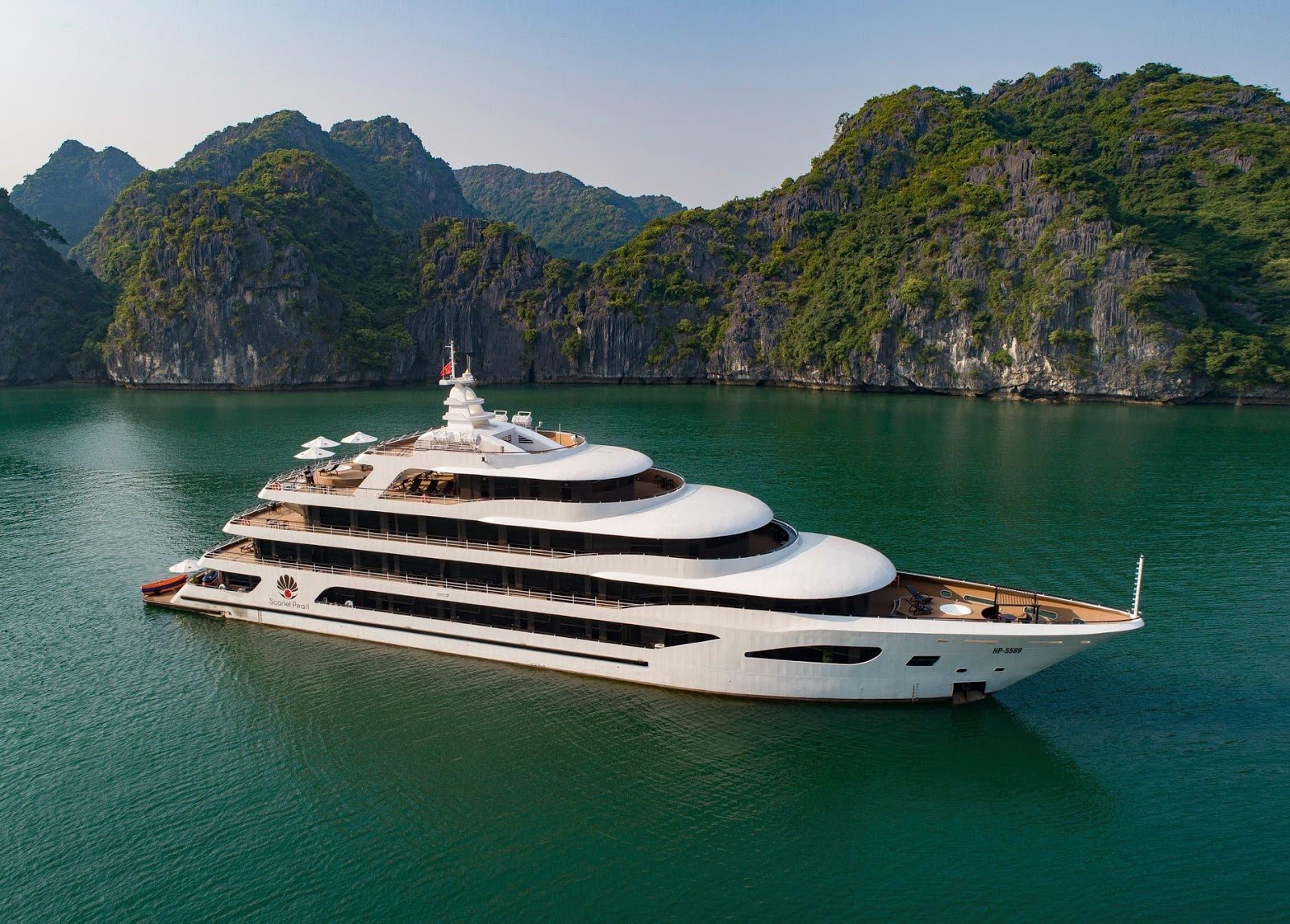 Photo: @duthuyenhalong
Scarlet Pearl Cruise owns an impressive appearance with 4 floors, 23 rooms with an area of ​​28-150m2. This 5-star cruise is distinguished by its dynamic catamaran design and new interior. Each room on the cruise is very spacious, with a balcony, terrace, bathtub, mini bar…
Coming to Scarlet Pearl Cruise, visitors not only have wonderful moments of rest but also experience many high-class services for the elite.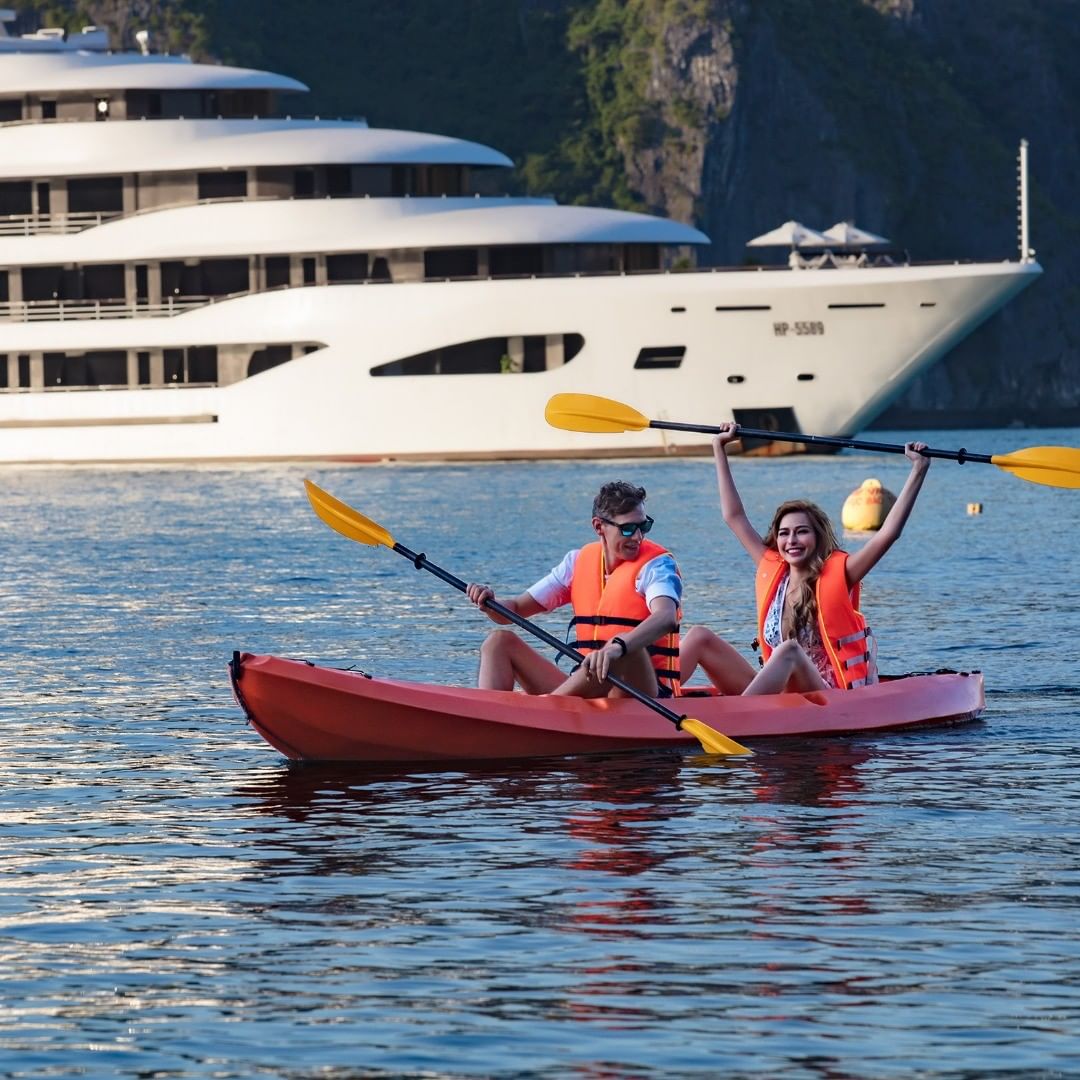 Photo: @duthuyenscarletpearl
The highlight of the cruise on this cruise is the catamaran sailing experience to see Lan Ha Bay, visitors will have the opportunity to check in with this unique boat, or experience kayaking to visit the Bright Dark Cave... Scarlet Pearl promises to bring visitors memorable experiences and a comfortable and fun vacation with family.
The group loves the ride of stories
Heritage Cruise Binh Chuan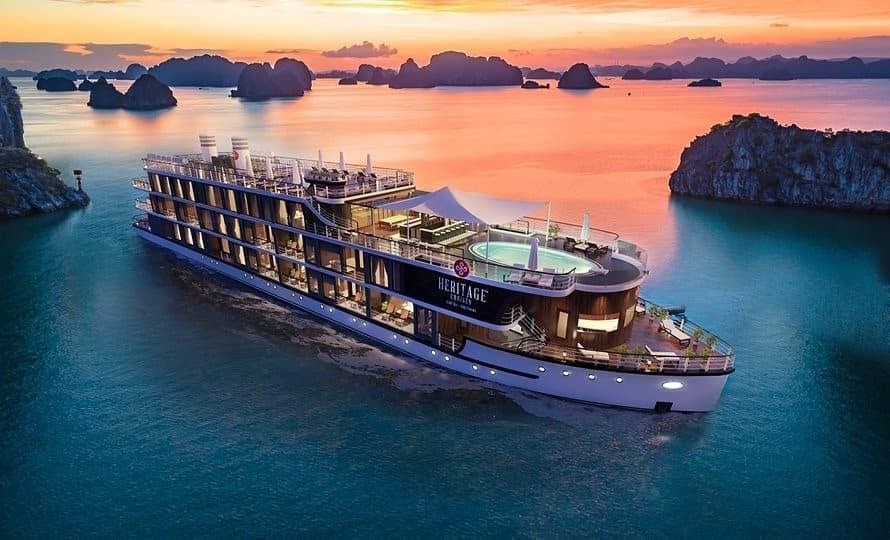 Photo: @duthuyenhalong
Inspired by the ships of the king of ships, Bach Thai Buoi, Heritage Cruises Binh Chuan will bring the most authentic experiences of cultural heritage, history, art and people by unique architectures with unique architecture. steeped in tradition and history. The inspirational story of Bach Thai Buoi and the delicate designs of the cruise will also make visitors feel a bit of a slow down in each experience on the journey.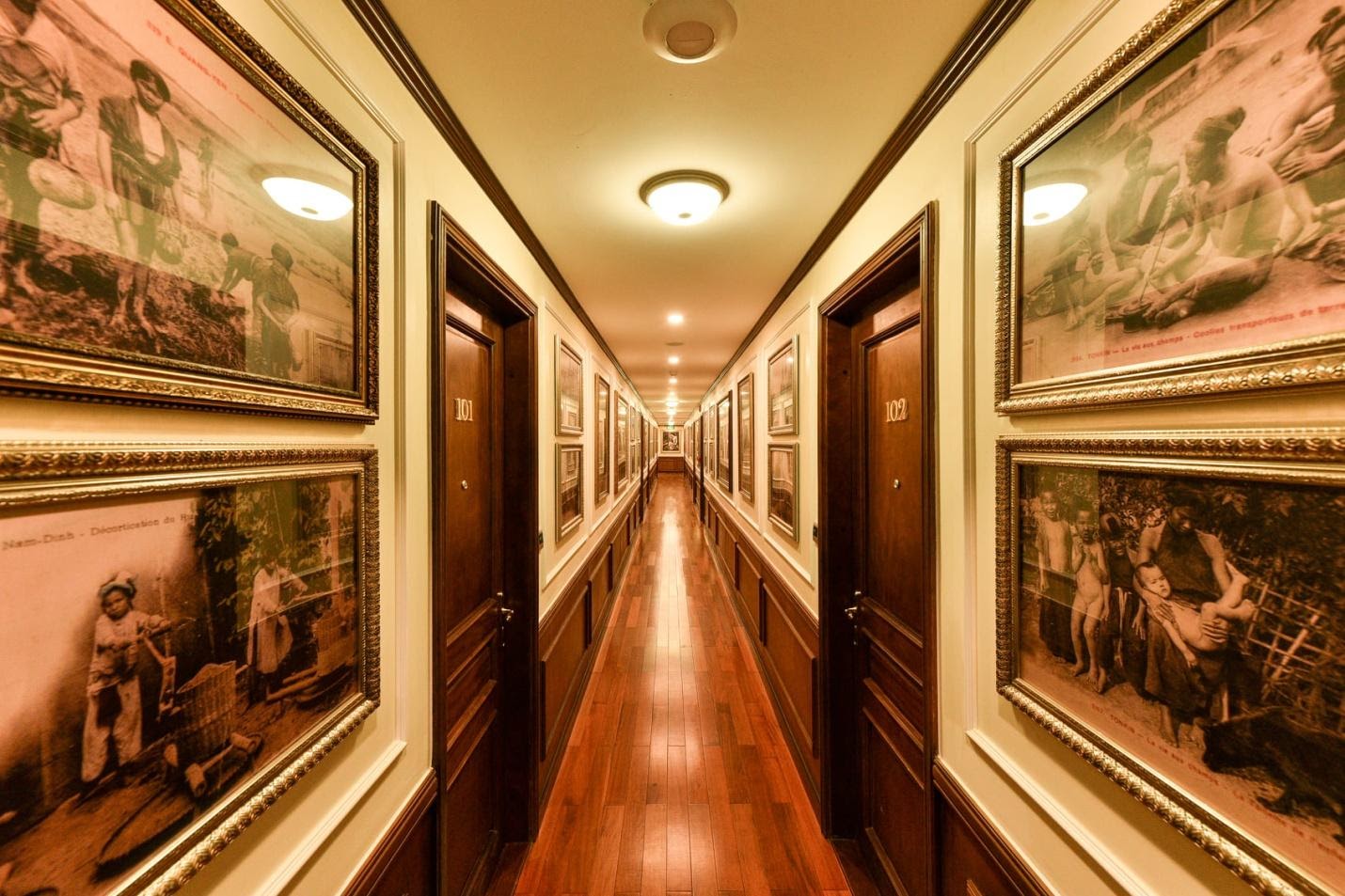 Photo: @duthuyenhalong
In particular, the cruise has outstanding facilities that other cruises do not have such as: gallery, library, bar adjacent to the swimming pool and souvenir stall... each room here has an extremely comfortable space. , has a private balcony for visitors to drink tea, read books. At any position on the cruise , visitors can easily find their own space, without the hustle and bustle. If you want a trip with interesting stories and experience different and new services, Heritage Binh Chuan is a wise choice.
The group that likes royal style
Emperor Cruises
Photo: @duthuyenhalong
Try once to transform into a king on Emperor Cruises. Being the first 5-star cruise to offer a 5-star service experience inspired by the lavish life of Emperor Bao Dai - the last king of Vietnam's feudal dynasty. This can be considered as one of the most luxurious cruises in Ha Long, each room here is meticulously designed and full of art so that visitors can have the experience of a luxurious life and completely get away from the hustle and bustle. Worry about life about rice, money, and immerse yourself in precious moments on Ha Long Bay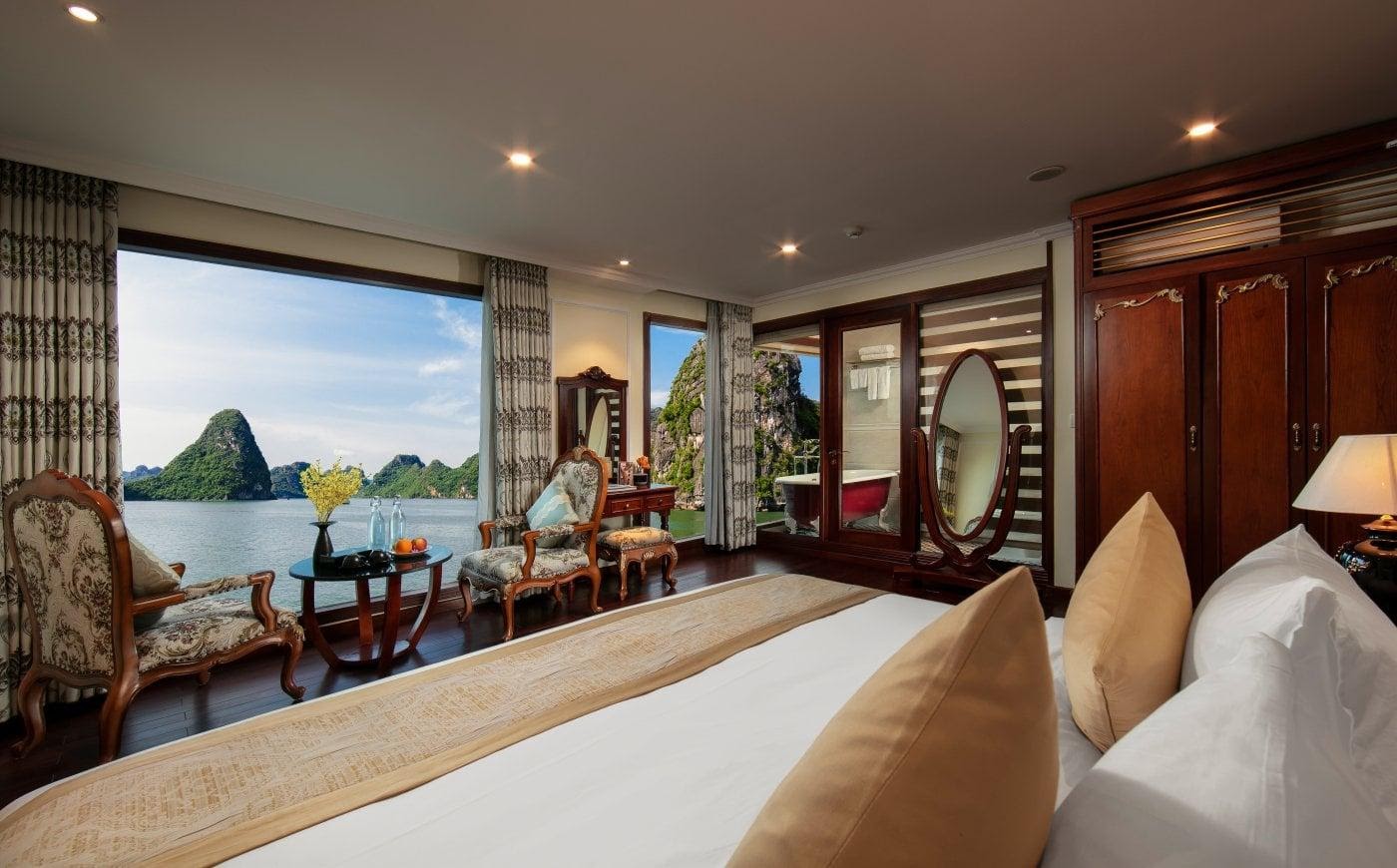 Photo: @duthuyenhalong
The highlight of Emperor cruise ship that always leaves a deep impression in the hearts of visitors is the way of treating customers like kings and queens, so the culinary art is also specially prepared by the chef. Royal quality such as "nem cong - cha phoenix" along with the restaurant on the cruise are designed in the style of "good defense". Most especially, visitors will be able to wear the royal robes of the king and queen every time they enjoy the dishes served by the "royal maidens" of the Nguyen dynasty.
If you really want to experience this royal style, don't miss this Emperor Cruise.
The group likes to explore Ti Top Island, Sung Sot Cave
Athena Luxury Cruise
Photo: @duthuyenhalong
Athena Luxury is a brand new and luxurious 5-star cruise in Ha Long Bay - Bai Tu Long Bay. The cruise has 3 floors, 21 luxurious rooms and a system of restaurants, bars, experience areas on the deck, spa and sauna will fully meet the needs of visitors during the journey to visit the bay. Ha Long.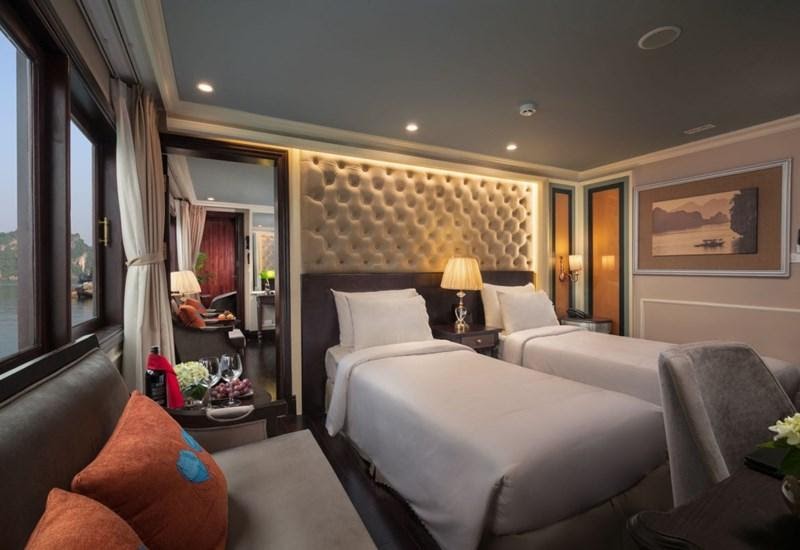 Photo: @duthuyenhalong
A special feature of Athena Cruise is the journey through Ha Long Bay and Bai Tu Long Bay, taking visitors to discover many of the most famous spots on Ha Long Bay such as Sung Sot Cave, Ti Top Island... you will enjoy the nature. There are thousands of limestone islands in the vast bay where you can freely swim and participate in attractive recreational activities. In addition, activities on board such as cooking class, night squid fishing are also attractive programs you should not miss.
Economical travel group
Du thuyền Sena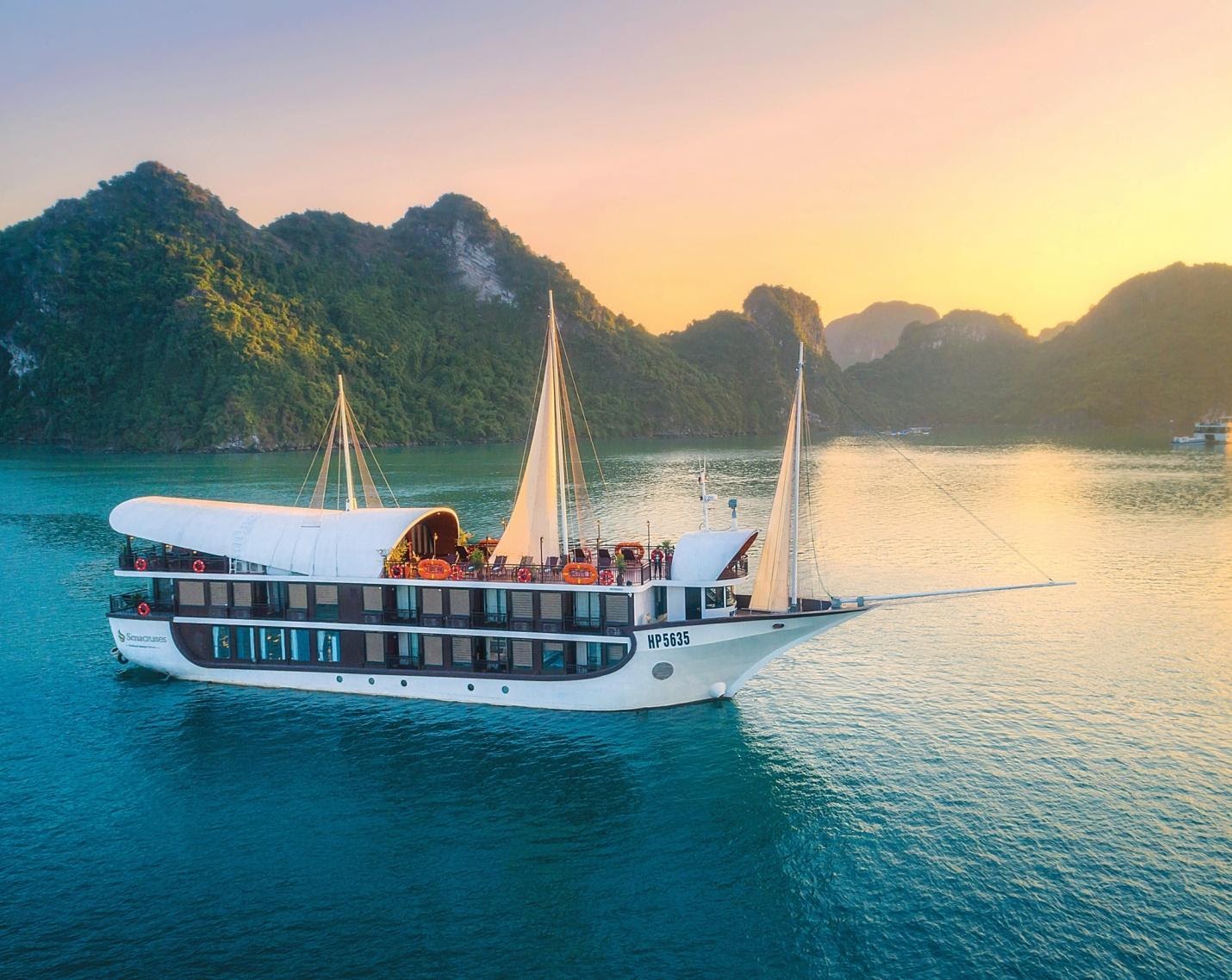 Photo: @duthuyenhalong
Belonging to the line of luxury cruises on Ha Long Bay, Sena Cruises has a steel shell structure combined with a classic design in pure Vietnamese style. The cruise includes 16 rooms, all rooms are spacious and elegant with private balconies, modern equipment, filtered water, free fruit service.
In addition, guests can relax with the spa system or on the spacious sundeck with a cocktail to watch the beautiful night view for you moments of relaxation and comfort.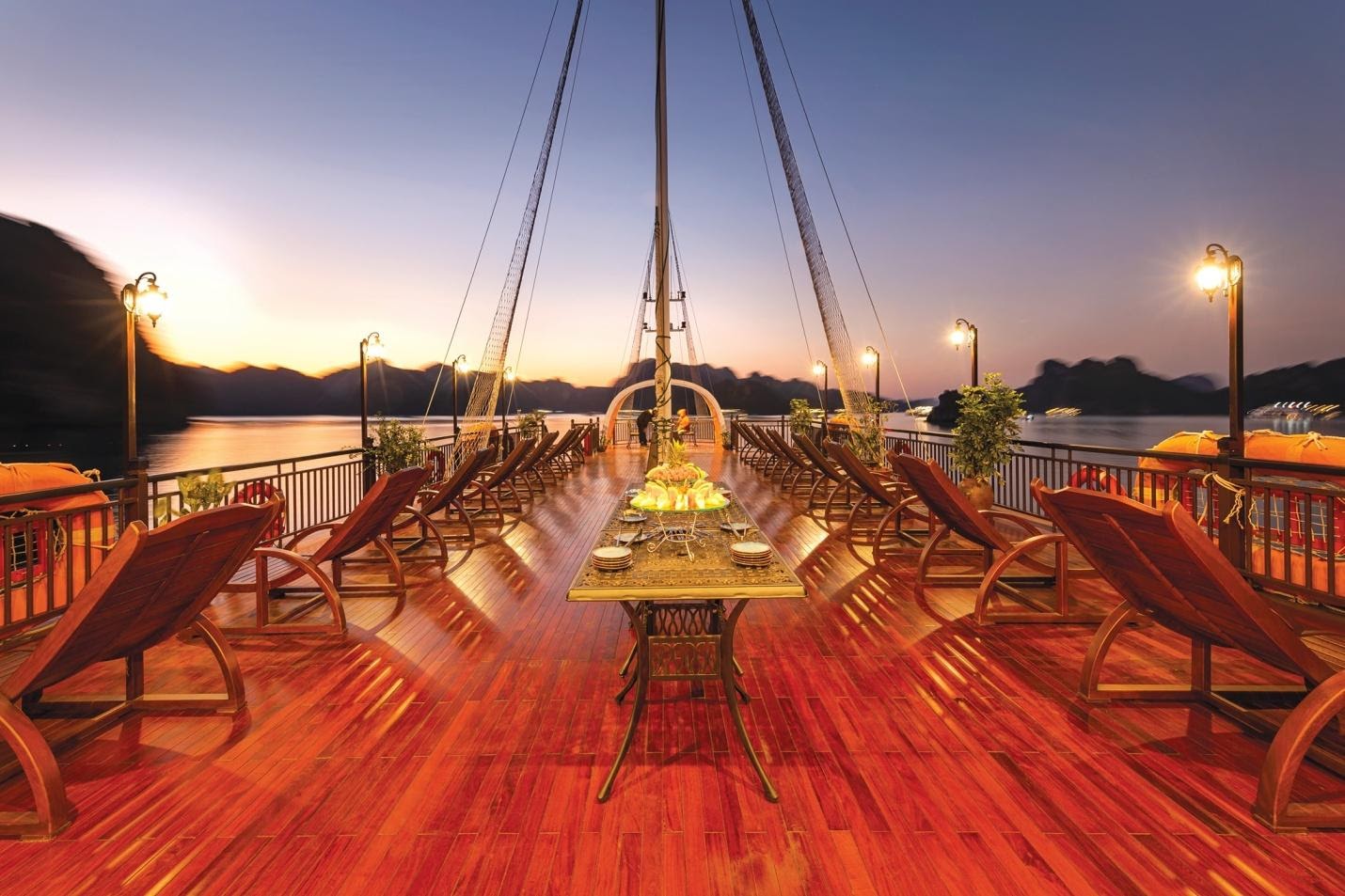 Photo: @duthuyenhalong
In particular, Sena cruise is one of the cruises with a lower cost than other luxury cruises, but the quality of service here, especially the cuisine in the restaurant, is always highly appreciated by visitors on the website. booking.
Traveling to Ha Long with Sena Cruises, you will also have interesting experiences with activities such as kayaking, bamboo boat rides, swimming, visiting caves, night squid fishing... A fun and meaningful schedule for you, where you can float your heart on the sea far from the surrounding city, leaving only beautiful scenes that make people full of energy.
Meet Our Experts
Request a quote
Please make sure your email is correct.