Best Cruises On Lan Ha Bay For A More Tranquil Cruise Vacation
While most cruisers flock to Halong Bay, some expect a quieter visit to Lan Ha Bay. The bay includes many primitive attractions with exciting activities to do. Here is the list of the best cruises on Lan Ha Bay that you can consider for your next vacation.
1. Stellar of the Seas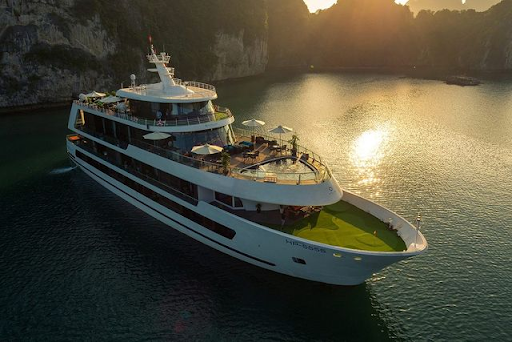 Stellar of the Seas boasts a sleek steel vessel with 22 elegantly-appointed rooms. Cabin rooms vary from junior suites to executive, senior suites and president suites with a large terrace. The ship has a capacity of 50 guests at a time.
The highlights of Stellar of the Seas are an abundance of recreational amenities namely a mini-golf course, a panoramic bar, a wine and cigarette cellar, a spa, and an outdoor swimming pool.
Stellar of the Seas is among the prominent cruise ships exploring Lan Ha Bay. It stops over some of the most famous tourist sites namely Ba Trai Dao Beach, Viet Hai Village, and Dark & Bright Cave complete with thrilling activities like kayaking, rowing a bamboo boat, squid fishing, and cooking demonstration onboard.
2. Orchid Trendy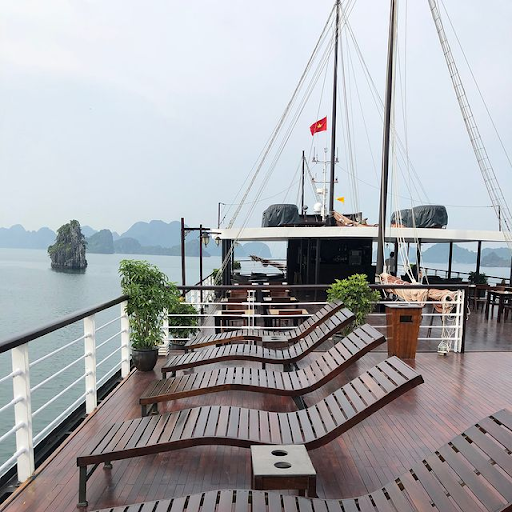 Belonging to the leading Orchid cruise line, Orchid Trendy is a perfect combination of Vietnamese and French neoclassical architectural styles.
Each of the 20 cabins on the ship is appointed with a private balcony and an outdoor Jacuzzi for the most relaxing moments and the best natural views. Orchid Trendy offers an array of Asian-European fusion menus.
From Tuan Chau Marina, Orchid Trendy Cruise heads to Dark & Bright Cave, Tra Bau area, and Ao Each area.
3. Scarlet Pearl Cruise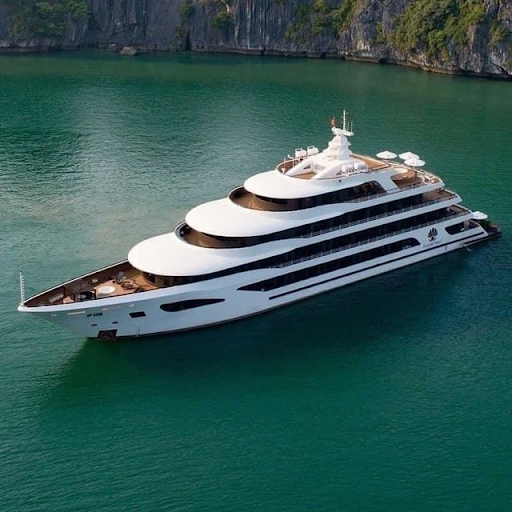 Scarlet Pearl is an ideal choice for cruisers seeking an extraordinary experience. This is the only Cataraman-style ship on Halong Bay fitted with the ultimate in top-notch facilities. The modern yacht comprises spacious cabins in Western-style. Each unit has a private sun terrace, a Jacuzzi, and a minibar.
In terms of dining and relaxing experiences, the ship serves excellent Vietnamese and international cuisines in Tahiti Pearl Restaurant. During the day, you can indulge in gentle massages in Akoya Spa.
Scarlet Pearl cruise encompasses bucket-list destinations on the lesser-known Lan Ha Bay including Viet Hai Village, Ba Trai Dao Beach, and Dark & Bright Cave.
4. Heritage Cruises Binh Chuan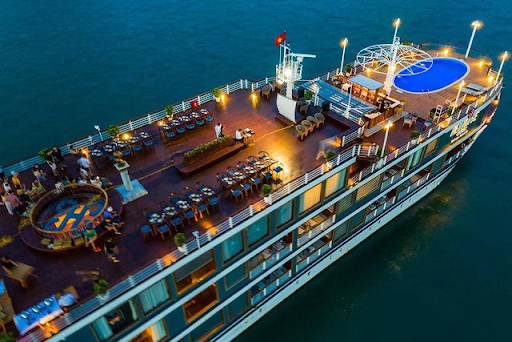 Heritage Cruises Binh Chuan is proud to be the first Vietnamese heritage and boutique cruise on the Red River and the Gulf of Tonkin. The cruise is modeled after an ancient Vietnamese cruise ship with classic elegance reflecting the country's history, art, cuisine, and culture. 
Heritage Cruises specializes in a number of entertainment options. For instance, you can read different genres of books in Bach Thai Buoi Library, the most exquisite floating library in Vietnam, buy artisanal products, silks, jewelry, and signature souvenirs at Van Don Shop.
Regarding itineraries, Heritage Cruises Binh Chuan departs from Tuan Chau International Marina to Ba Trai Dao or Tra Bau area in Lan Ha Bay where you can try kayaking and swimming. On the next day, you will get on a bamboo boat to Dark & Bright Cave.
Meet Our Experts
Request a quote
Please make sure your email is correct.