Scarlet Pearl Cruise
International Ship Port, No. 9, Ha Long Street, Bai Chay, Ha Long, Quang Ninh, Vietnam
Show map
Price from: 4,300,000đ (Save 17%)
3,540,000 đ/pax
Booked 2 times in the last 24 hours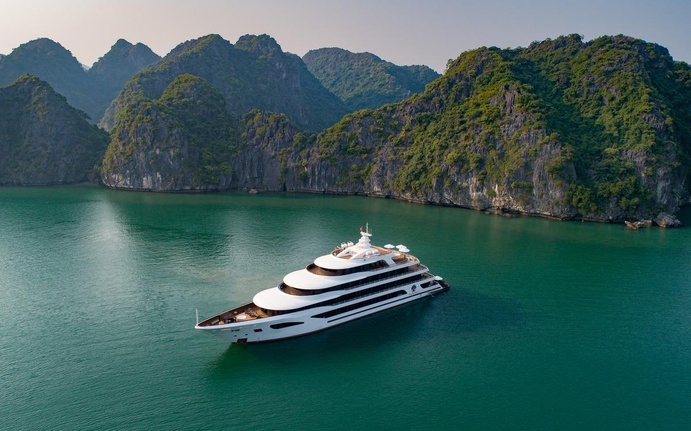 View all 44 photos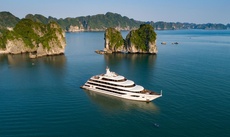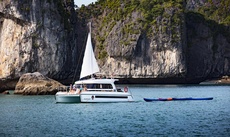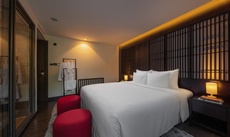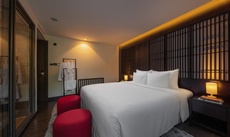 Scarlet Pearl is one of the most modern metal ships with unique Catamaran design on Lan Ha Bay
Guests can rest in luxurious rooms, enjoy Vietnamese - European cuisine and scrumptious cocktails.
You will find luxury amenities on board such as Jacuzzi, gym & spa and luxury bar.
The sole pearl museum onboard on Lan Ha bay
Outstanding activities such as morning yoga, kayaking around Dark & Bright Cave and Frog Pond area
Rooms & rates
Select date and package options
Clear all
Accommodation Type
Golden Pearl - 2 Days 1 Night
40 m², Max:
Silver Pearl - 2 Days 1 Night
28 m², Max:
Onyx Pearl - 2 Days 1 Night
60 m², Max:
Silver Connecting Room - 2 Days 1 Night
56 m², Max:
Scarlet Pearl Presidential - 2 Days 1 Night
150 m², Max:
Silver Pearl Triple - 2 Days 1 Night
28 m², Max:
Complete all required fields to continue
(Child Policy & Extra Bed Charge) )
About Scarlet Pearl Cruise
With a modern Catamaran design and new interior, Scarlet Pearl is always on top of high-quality cruises on Lan Ha Bay.
The cruise has 23 cabins categorized in 4 types: Silver Pearl, Golden Pearl, Onyx and Scarlet Pearl. Each room is spacious, boasts a balcony/terrace, bathtub, mini bar and large windows running from the ceiling to the floor. Wake up in a comfortable bed and you can enjoy the view of the bay right in front of your eyes.
Coming to Scarlet Pearl cruise, guests not only have wonderful relaxing moments but also experience a bunch of high-class services. Tahiti restaurant on the 3rd floor serves Vietnamese specialties and European dishes. After dining, you can head to the bar area to sip a cocktail or try one of more than 50 different wines, or rejuvenate at modern spa.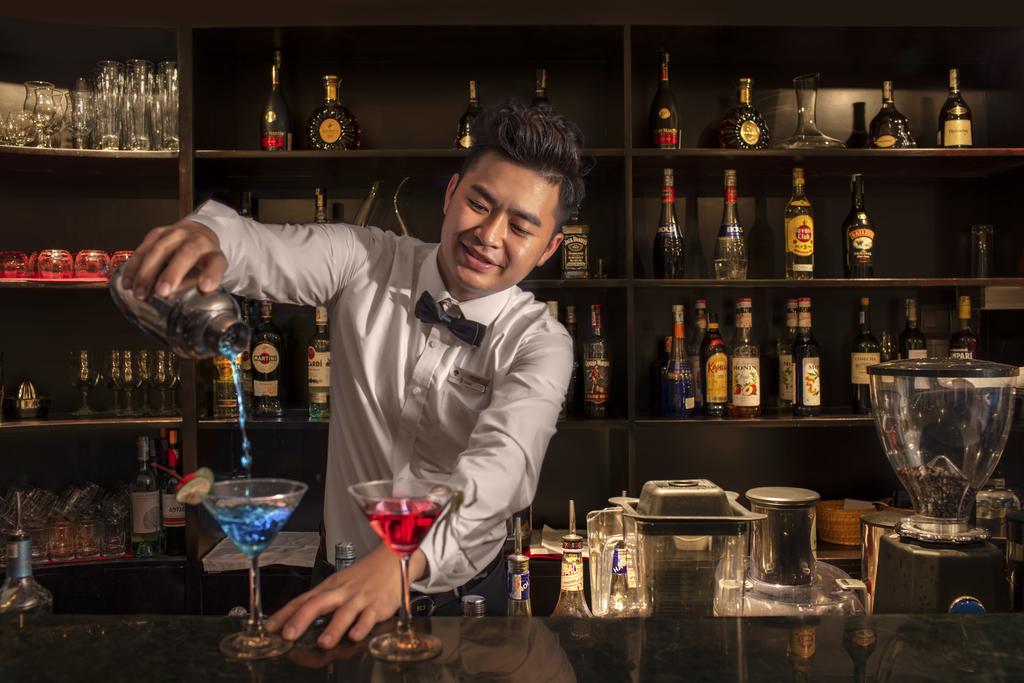 Scarlet Premium Bar Pearl
Scarlet Pearl Cruise is the best choice for visiting Lan Ha Bay and admire the beautiful scenery of Bright Dark Cave and Frog Pond Area.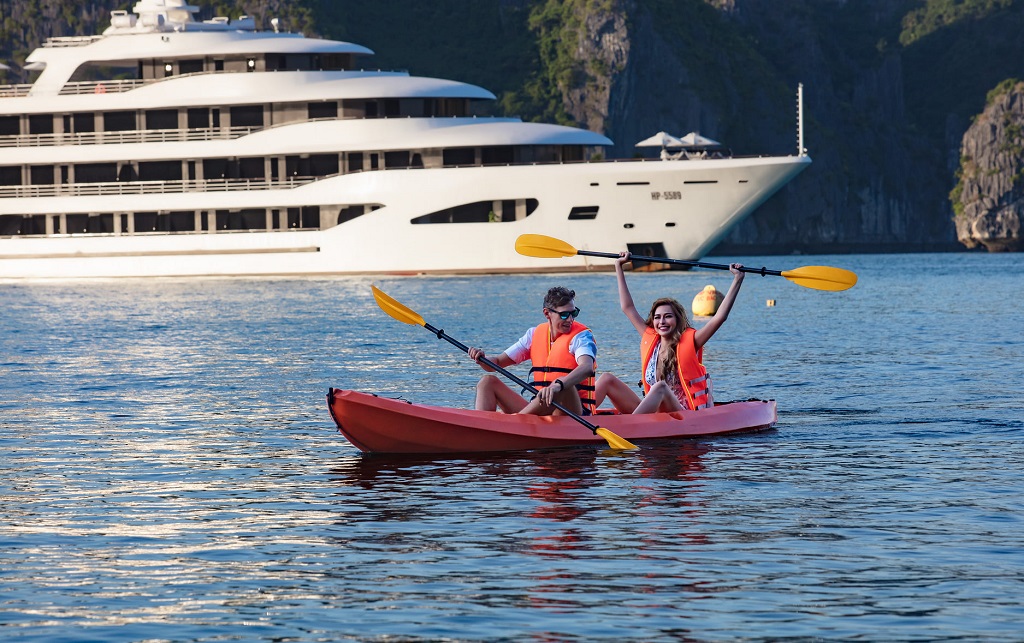 Amazing experiences with Scarlet Pearl
Things to know
Check-in time
Check-in time is from 12:15-12:30. If you are traveling by yourself, please be at the pier no later than 11:45 am to check in before boarding.
Check-out time
Check out time is from 9:30am to 10:30am depending on the schedule of each cruise. After check-out, you will be served lunch on board before the ship docked.
Check-in policy
Please send a photo of the passenger's ID card or birth certificate at least 5 days before the tour departure and bring these identification documents when checking in.
Rates include
Welcome drink.
Sightseeing tickets and overnight fees on the bay.
Experienced Vietnamese guide.
Bottles of water in the room (2 bottles/room).
Morning tea, coffee.
Meals according to the program: 02 lunches, 01 dinner, 01 breakfast .
Kayaking or bamboo boat.
Fishing equipment, night squid fishing.
Insurance on board.
Free 30 minutes to experience the luxury catamaran sailing, explore/check in at the most natural unspoiled area of Lan Ha Bay.
Price not included
Round-trip bus Hanoi - Ha Long: $30/person (adults and children round trip). Pick up point: at hotel in Hanoi Old Quarter or in front of Hanoi Opera House
Hotels on the mainland
Spa services
Beverages on board and cigarettes
Tips and other expenses not included in the package
Children, extra bed and weekend surcharge
Each cruise has its own rules regarding child surcharges and weekend surcharges. Please refer to the child surcharge information in the room rate section.
Cancellation of reservation
The above prices are subject to general conditions of non-refundable/cancellation and date change is allowed. In case you want to change the date, please refer to the regulations on changing the date.
Cancellation due to weather conditions
The cancellation of trip due to weather conditions will be specified directly by the Bay Management Board. Please refer to Halong Cruise's delay/cancellation policy due to weather conditions.
Frequently asked questions
Does Scarlet Pearl Cruise have a kayaking trip?
Yes. You will be able to kayak to visit Dark and Bright cave and around Frog Pond area.
Does Scarlet Pearl Cruise have spa services?
Yes. Scarlet Pearl cruise has Akoya Spa on board for massage and beauty care.
Does the cruise ship have a shuttle service?
Yes. Limousine shuttle service is available upon request.
Does Scarlet Pearl Cruise have a pool?
The cruise has a Jacuzzi on the sundeck.
Which is the largest room on the ship?
Scarlet Pearl cabin located on the 2nd floor is the largest room on the cruise. It has an area of 150sqm and is located in front of the cruise.
Can I pay by card on board?
You can absolutely pay by card on board but be noticed that paying by card will be charged an additional 3% bank fee.
Does Scarlet Pearl Cruise run a 3 day 2 night program?
Scarlet Pearl Cruise offers 3 days 2 nights program with attractive schedule. Please contact our Customer Care staff for specific advice.
Are tips mandatory?
Tips are completely optional. If you are satisfied with the trip and the services on board, you can give extra tips to the crew on board, the amount of tips is also entirely up to you.
Every room has a private bath, right?
All rooms have a private bathroom. However, not every room has its own bathtub. 3 room types including Golden Pearl, Onyx and President possess a bathtub while the Silver Pearl rooms only have a walk-in shower.
Can I charter a Catamaran boat for my group when participating in the 2 days 1 night program? How many people can the boat hold?
When participating in the 2 days 1 night program of the Scarlet Pearl cruise, you can fully rent a Catamaran sailboat for about 1.5 hours to organize a sunset party for your group if needed. The Catamaran boat can accommodate up to 12 adults. Please contact Customer Care staff for detailed advice on costs.
Maps and Itineraries
Scarlet Pearl Cruise departs from Ha Long International Cruise Port of Sun Group – Bai Chay Port
Do you can see detailed 2 days 1 night schedule​​​​​ here.
Reviews (38)
| | | |
| --- | --- | --- |
| 5 star | | 33 reviews |
| 4 star | | 5 reviews |
| 3 star | | 0 reviews |
| 2 star | | 0 reviews |
| 1 star | | 0 reviews |
Daniel
Great service. We rate the service of Scarlet Pearl 10 out of 10. They welcomed us, took care of us, and checked if we need help all the time. They are really energetic and hospitable!
helpful (3)
1 year, 8 months ago
Timothy
Have a wonderful vacation on the 5-star Scarlet Pearl cruise!!! The entire staff is very attentive and enthusiastic. My family is very satisfied and promises to introduce more friends and family to the cruise.
helpful (4)
1 year, 8 months ago
Bích Ngọc
The holiday on Scarlet Pearl is really wonderful. Service quality 5 * for room service, transportation, service attitude, excellent food.
Will continue to come back and suggest to our friends and relatives.
helpful (6)
1 year, 8 months ago
Philippe
The crew is a gem. Everyone is heart-warming and hospitable. My family went on the cruise with 3 kids. The staff was very caring and friendly with the kids. They have food for kids, just remember to ask them in advance.
helpful (3)
1 year, 8 months ago
Angelo
Excellent cruise, enthusiastic friendly staff, super delicious food. Highly recommend it for those who want to experience a luxurious cruise on Lan Ha Bay
helpful (4)
1 year, 8 months ago
Phoebe
Thank you to all the staff on the cruise for giving us a meaningful trip, delicious food, beautiful rooms, enthusiastic staff ...will be back
helpful (3)
1 year, 8 months ago
Cẩm Thơ
Thank you very much for a vacation and an unforgettable experience. Nice room, delicious food, enthusiastic staff.
helpful (4)
1 year, 8 months ago
Hương Thủy
My family had a wonderful 2 days 1 night vacation on the cruise. Thank you to all the staff on board.
helpful (6)
1 year, 8 months ago
Thanh Trương
From the moment we got on board until we left Scarlet Pearl, there was really nothing to complain about. The staff is very enthusiastic and friendly.
helpful (4)
1 year, 8 months ago
Thảo Linh
An enjoyable summer experience. It's exactly a vacation when the cruise is located in the middle of the bay, there are no waves, the staff is dedicated and attentive. The room is clean, the food is pretty good and the space is great.
helpful (3)
1 year, 8 months ago
Bí Ngô
We had an unforgettable stay at Scarlet Pearl Cruise. I love everything from the guide to the waitstaff on the cruise, the bedroom, restaurant and sundeck. We had a lot of beautiful photos of the bay.
helpful (2)
3 years, 8 months ago
Xuân Dung
The ship is new, so the facilities are also very good, the bathroom is large. Polite and professional staff. Onyx room, the terrace is a bit big, so it is not possible to add an extra bed in the room. If anyone goes 3 people should not book this room
helpful (3)
3 years, 4 months ago
Uyển Nhi
Glad to have chosen the right ship for the family trip. New, luxurious cruise, welcoming staff, delicious food with many options. The tour schedule has many useful activities
helpful (2)
3 years, 6 months ago
Thúy Kiều
The trip is full of joy and meaning. Nice cruise, very open and attentive staff, wide knowledgeable guide, funny. I will definitely choose this cruise for my family trip in the future
helpful (1)
3 years, 10 months ago
Thúy Hạnh
The experience is the same as the image, the quality of the ad. We receive the advice and support of attentive and enthusiastic staff. The shipyard also held a birthday party for her friend
helpful (0)
3 years, 6 months ago
Quốc Uy
helpful (3)
3 years, 9 months ago
Thương Nga
2 days 1 night on board Scarlet Pearl with many interesting experiences. Nice, spacious room, private balcony. Friendly, attentive staff. Will definitely recommend to friends
helpful (2)
3 years, 5 months ago
Happy Family
My husband and I chose this ship for our honeymoon trip. I booked the Onyx room with large sundeck and private balcony, the staff secretly decorated the room and put a free bottle of wine in my room. I am very surprised and really thankful that they gave me and my wife a meaningful trip
helpful (2)
3 years, 8 months ago
Hoàng Việt
Friendly staff, the boat moved through many beautiful scenes of Lan Ha Bay and we stopped to visit Frog Pond area, Bright Dark Cave as well as participate in interesting and fun activities at night . Unfortunately, I only booked for 2 days, so I couldn't go to other attractions
helpful (2)
3 years, 8 months ago
Thành Trung
Experience sailing Catamran is my favorite activity in the tour schedule of Scarlet Pearl. In addition, the facilities and service staff also make me very satisfied. New ship, swimming pool, spacious room.
helpful (2)
3 years, 8 months ago
Thúy Phượng
Nice ship, 5-star standard in terms of equipment, service and food, sometimes even better than 5-star guests on the mainland
helpful (1)
3 years, 8 months ago
Văn Tuấn
I quite like this cruise because of its design style, service and interesting tour schedule. My family had an emotional trip and unforgettable experiences
helpful (2)
3 years, 7 months ago
An Nam
I love everything about this cruise: facilities, people, food, tour schedule…. Will definitely recommend to friends and family
helpful (2)
3 years, 9 months ago
Thúy Nga
I booked a 2-day tour on the Scarlet Pearl, the car came to pick us up a bit late, so I felt a bit frustrated. However, all frustrations immediately disappeared when I received very kind, professional and enthusiastic care and treatment from the staff from the driver to the service on the cruise. I see all customers receive such a welcome. Really appreciate this.
helpful (2)
3 years, 10 months ago
Trương Hoàng Long
I booked this cruise as a surprise for my wife's birthday and she was very impressed. The staff are very friendly and enthusiastic, they even decorated roses and put a free cake in the room for us. I booked the Onyx room with sea view. I love seafood and the food here did not disappoint. Thank you for what you have brought to my wife and me
helpful (2)
3 years, 8 months ago
Thúy Hường
New, luxurious ship with 5-star standard. 3-day schedule with many different activities and not get bored. I like it very much
helpful (2)
3 years, 8 months ago
Thùy Dung
I had 2 days and 1 night on board with many fun and useful activities. Enthusiastic staff, your guide arranges a reasonable time and organizes a good tour. The room is large, beautiful and airy because it has large windows, so I just need to lie on the bed to enjoy the sea and sky view without going to the balcony.
helpful (1)
3 years, 7 months ago
Lê Văn Huy
Scarlet Pearl is one of the best cruises to visit Lan Ha Bay. Everything on board is fully equipped, luxurious down to the smallest details. Professional service staff, providing us with a lot of useful information and taking care like family. Fresh food and lots of options. A memorable experience
helpful (2)
3 years, 6 months ago
Tuyết Loan
I boldly booked a 3 days 2 nights tour in Lan Ha Bay with Scarlet Pearl. And I must say it was an unforgettable trip. We booked the first floor room with full modern amenities and bay view. From the boat, my wife and I can enjoy the most beautiful sunset with delicious drinks. We did a lot of different activities and used the paid Spa service after a day of sightseeing.
helpful (2)
3 years, 8 months ago
Minh Hải
I booked the Golden Pearl room on the 2nd floor, the room is large and has a very large window that lying on the bed can enjoy the panoramic view of the bay. My bathroom has a tub next to the glass window, I feel like I'm floating in the middle of the sea. I have not missed any activities of the ship, the staff is dedicated and professional. Unfortunately, I don't have time, so I can only go for 2 days.
helpful (1)
3 years, 6 months ago
Tùy Anh
Only two words for this cruise, that is "Too great". Everything from the room, staff, food, tour schedule, I am very satisfied, 5 star standard.
helpful (2)
3 years, 7 months ago
Dương Tú Anh
My family has been to Ha Long a few times, sometimes sleeping on a boat to visit Ha Long Bay, sometimes staying at a hotel. This time we decided to visit Lan Ha Bay and chose the Scarlet pearl for our family vacation. My kids enjoyed the onboard swimming pool and 30 minutes sailing experience. This cruise is very luxurious, fine, smooth, has both Gym and Spa, but Spa is not free. The seafood is very fresh and very well prepared. I did not regret choosing this ship.
helpful (2)
3 years, 7 months ago
Tố Quyên
There are too many options when it comes to Lan Ha Bay and my wife and I decided to choose Scarlet Pearl Cruise for our trip. I must say this is a very good decision. The cruise is beautiful and very luxurious. From the shuttle to the staff, to the food, everything was perfect. Rooms are spacious with all necessary amenities for my husband and I. In the morning, waking up to the balcony to watch the sunrise with a cup of tea next to it is nothing more wonderful.
helpful (2)
3 years, 6 months ago
Hùng Cường
New cruise, very clean and fully equipped. The staff on board are very enthusiastic and cute. The activities on board are very good and useful, not boring at all. In particular, my friends and I also had the opportunity to experience sailing, which was my favorite part of the trip. Our room was quite spacious and comfortable. The furniture in the room is very new and modern. If you choose a cruise in Lan Ha Bay, you should choose Scarlet Pearl.
helpful (2)
3 years, 7 months ago
Tường An
Staff are polite, enthusiastic and help me a lot. Everything on board is very modern and luxurious, nothing to complain about. The room was spacious, clean and had a sweeping view of the bay. The funny guide took the group to the most beautiful spots of the bay, watched the sunset right on the cruise, no words can describe it. Thank you Scarlet Pearl for giving me such wonderful experiences.
helpful (1)
3 years, 9 months ago
Hiền Bùi
The first time I experienced a 5-star cruise, I felt it was like a luxury hotel on the sea. The rooms and common areas are all designed in the same color tone, creating harmony and seeing the thoughtfulness of the investor in them. My room is on the first floor, there is no bathtub, but the room is quite spacious and has a nice view. The tour activities are interesting and useful, I like doing Yoga on the cruise the most. The staff always try their best to make their guests feel at home. I really appreciate this and this is really a 5-star ship
helpful (2)
3 years, 8 months ago
Việt Khuê
I chose the Scarlet Peal cruise for my family vacation last July. Initially, I was not very satisfied because the price was a bit high, but when I used the service, I found it really worth the money. My family was picked up by a luxury Limousine from the old town, the driver was well dressed, polite, drove carefully and even arranged for my baby to sit on it because of motion sickness. The staff below the ship are warmly welcomed. Food served fast, fresh and varied. The room is beautiful, luxurious, genuine, with a balcony and large glass repair, from here you can enjoy the beautiful scenery of Lan Ha Bay. If I have a chance, I will choose this ship again.
helpful (2)
3 years, 8 months ago
Vân Anh
New Scarlet Pearl, all equipment on board is very modern and designed in the same color scheme. All rooms have private balconies, large windows and full amenities. Fresh food combining Europe - Asia, beautifully decorated, professional staff from dressing, walking, friendly service attitude. There is also a small jacuzzi for children on board.
helpful (0)
3 years, 9 months ago
View all reviews
1 Comments
We are a group of 10 elderly English teachers who had an interesting and fun trip on the Scarlet Pearl cruise on Lan Ha Bay for 2 days from November 9-10, 2020. The ship is not big but the decor is beautiful, the service is good, the staff is cheerful, dedicated and professional. We had the opportunity to chat with the talented and friendly young shipowner. Moreover, other activities such as visiting Lan Ha Bay by sailing boat are quite impressive and interesting, but it would be better if tourists could visit somewhere other than the Light Cave. !
Answer

Like (1)

3 years ago
Cruise information
Itinerary:
Lan Ha Bay - Viet Hai Village - Bright and Dark Cave
Operator:
Scarlet Pearl Ha Long Co., Ltd
Meet Our Experts
Request a quote
Please make sure your email is correct.
Why choose us?
Better price than walk-in booking
Best price guaranteed
Highly experienced travel consultant
More than 80 cruises on offer
Exclusive seasonal deals
Easy and safe payment
Customer reviews

I am very satisfied with this trip. Thank you cruisehalongbay.com for booking the tour, helping me have a happy and …
Tuyet Bui

Thu Huong advises very enthusiastic and thoughtful, I am very satisfied with you and cruisehalongbay.com company. The quality of the …
Tran Trung

Great experience and beautiful surroundings. Beautiful train, professional staff, very attentive.
An Nhiên
You might also like...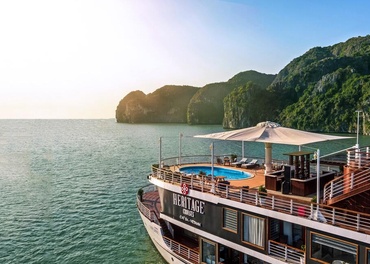 23% OFF
Lan Ha Bay
Launched 2019 - Metal ship - 20 cabins
Top cruise brand
Outdoor swimming pool
Free kayaking
Summer offer 2022
Booked 4 times in the last 24 hours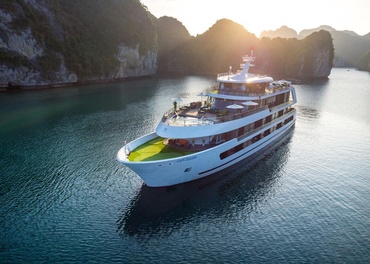 18% OFF
Lan Ha Bay
Launched 2018 - Metal ship - 22 cabins
Top brand cruise
Summer offer 2022
Outdoor swimming pool
Free shuttle bus
Booked 2 times in the last 24 hours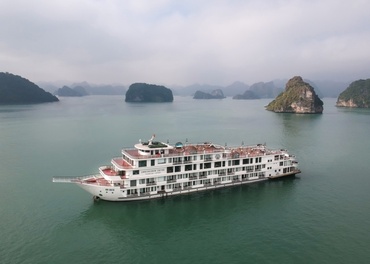 31% OFF
Ha Long Bay
Launching 2018 - Metal ship - 46 cabins
6 star cruise
Outdoor swimming pool
The only cruise with elevator
Lobster dinner
Booked 6 times in the last 24 hours