Top 5 most popular Lan Ha Bay cruises
Lan Ha Bay is famous for its unspoiled scenery, many small beaches, fine white sand and clear blue water that make you think you are lost in a tropical paradise. Here are the top 5 most popular cruises on Lan Ha Bay that will help you have more options when visiting and staying overnight on Lan Ha Bay.
Orchid Cruise
Orchid Cruise is a pioneer in deploying overnight services on Lan Ha Bay. If you are looking for a luxurious vacation while still ensuring privacy, Orchid Premium Cruise Ha Long is the number 1 choice for you. This is a cruise that is highly appreciated not only for its difference in design style, which is both youthful, modern, and luxurious, but also for its high-class service quality.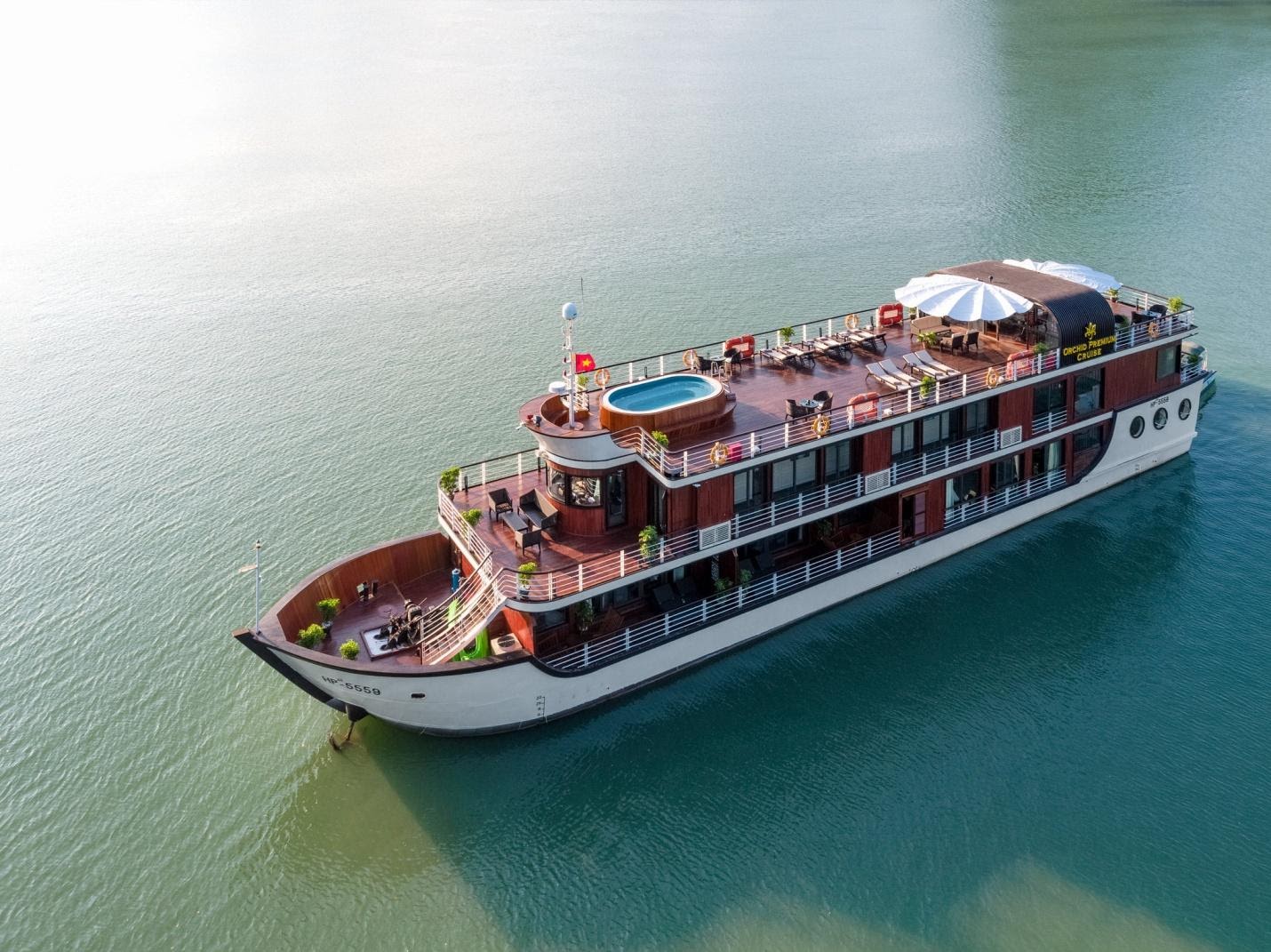 Photo: @xxthackxx
As the newest cruise of the Pelican Group, with 5 luxuriously designed cabins in the Indochinese style, Orchid Premium is proud to be the standard model of a 5-star cruise that brings guests an impressive level of experience. most iconic.
With a small number of rooms, all of them are spacious (from 45-95m2) with private balconies to ensure absolute privacy, making visitors feel as comfortable as in their own home. Each room has a luxurious, elegant design, extremely beautiful decoration with wood and marble, modern furniture with swimming pool, outdoor jacuzzi to bring maximum relaxation for visitors.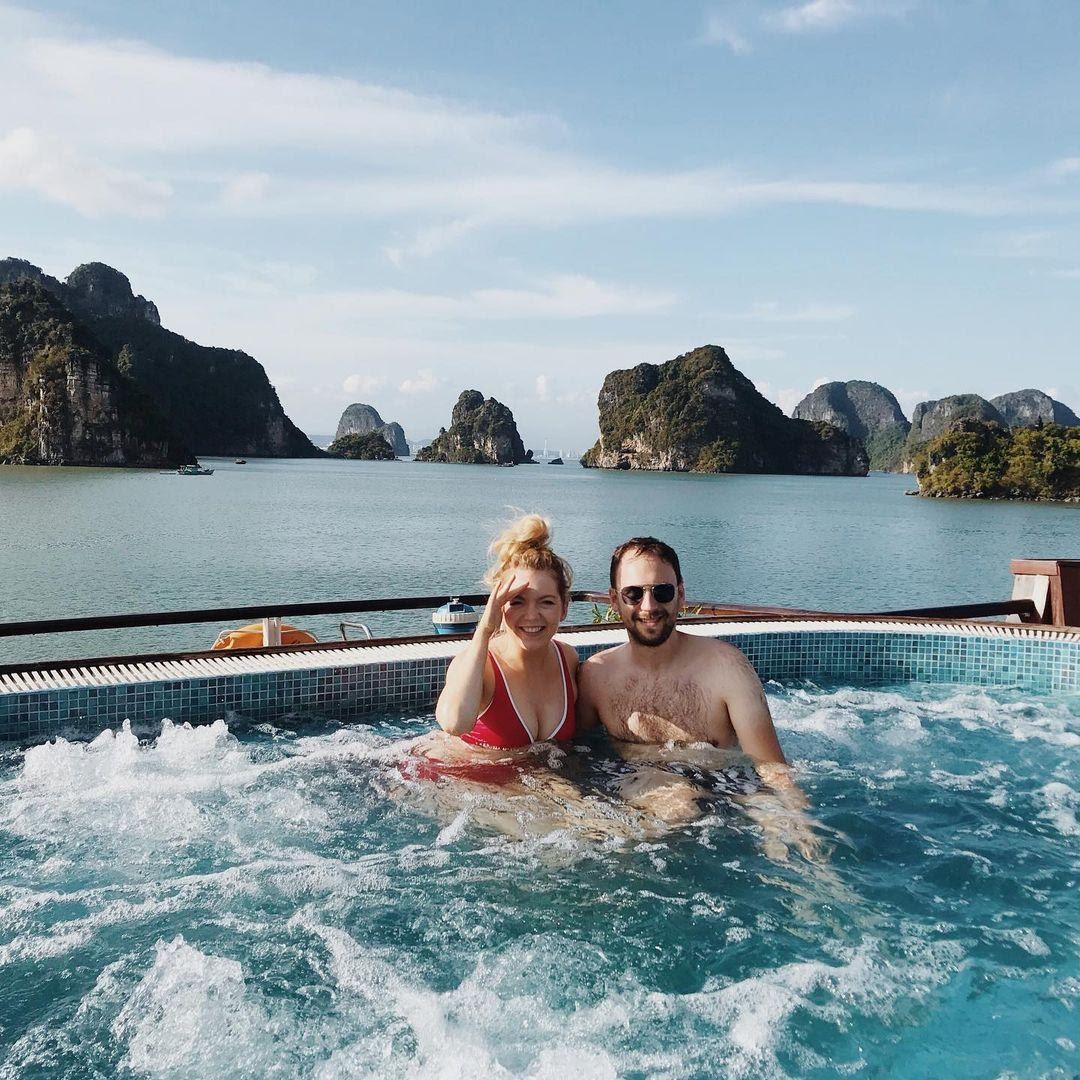 Photo: @steph_eastonpr
Orchid Premium specializes in Lan Ha Bay 2 days 1 night to visit famous landmarks such as Viet Hai fishing village, Frog pond to see peaceful scenes, old houses and learn about the local culture of the people here. .
Era Cruise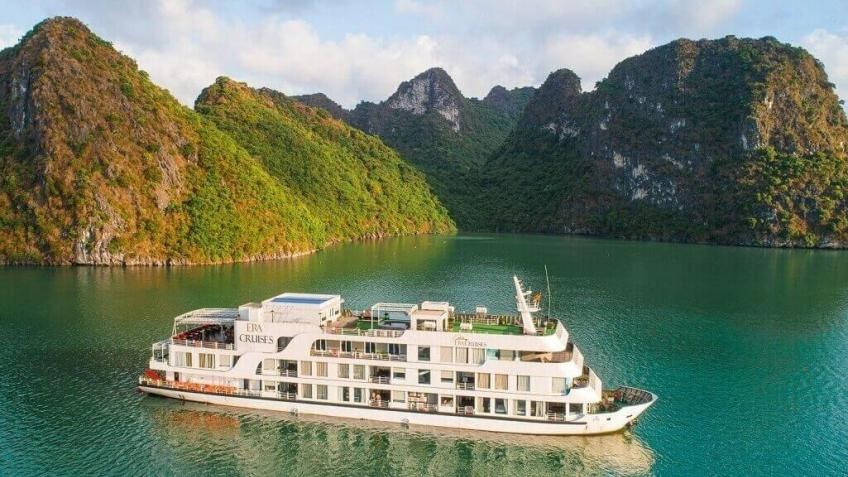 Photo: @duthuyenera
If Cat Ba Island is likened to the jewel of the Gulf of Tonkin, Era cruise is also appreciated by tourists as a gem in the service system in Lan Ha Bay. Era Cruise is considered one of the most suitable cruse lines for Vietnamese tourists.
Officially put into operation in 2017, the 5-star Era cruise sets the standard for luxury cruse on Lan Ha Bay. With spacious bedrooms, European-standard furniture and many high-class entertainment facilities, Era cruise promises to bring great moments to visitors.
20 suites on board with contemporary design, using light cream white tones and equipped with many modern amenities such as TV, work desk, mini bar, fresh fruit, terrace with sun loungers and sun loungers. Jacuzzi in the spacious adjoining bathroom.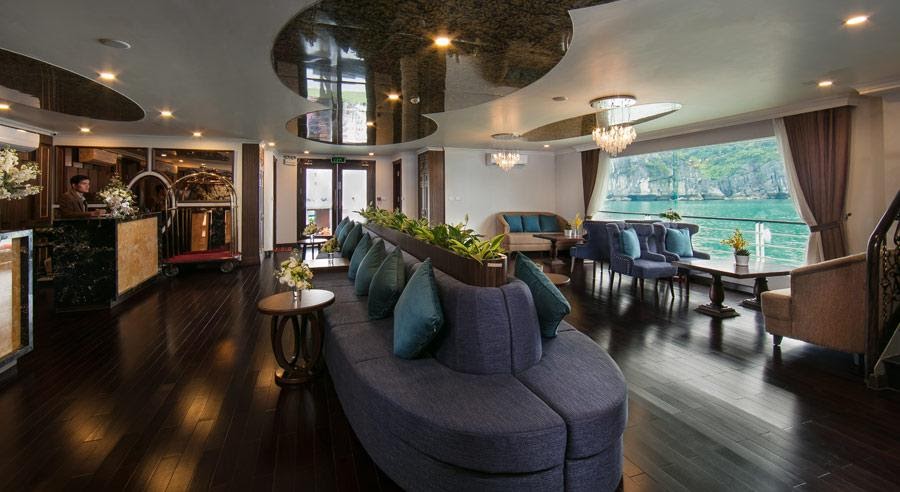 Photo: @duthuyenera
When staying here, you will enjoy the best services such as gym, cinema, spa room, bar and souvenir area. Signature restaurant with a capacity of 45 guests has a luxurious interior space, a view overlooking the beautiful bay. Meanwhile, Skyline bar is an extremely romantic space for you and your loved ones to enjoy excellent cocktails.
Guests enjoy a delicious lunch while the ship gently enters Lan Ha Bay where the lighthouse is over 100 years old. After lunch, visitors can participate in kayaking activities and swimming in the cool blue water in Ba Trai Dao area, Sang Dark cave - the most beautiful check-in place on the bay with surely majestic rock formations. It will be an unforgettable experience.
Indochine Cruises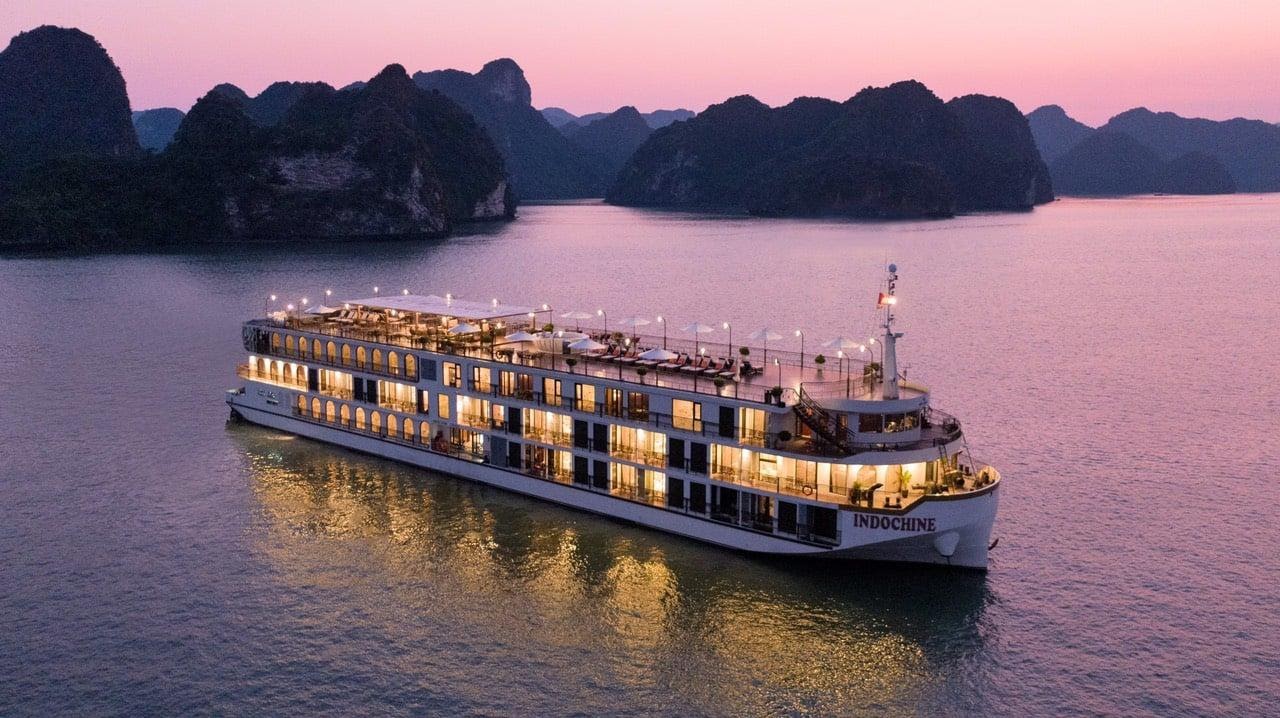 Photo: @duthuyenindochine
Indochine Cruise with 5-star standard in Lan Ha Bay was officially launched in 2019. Is a cruise brand that provides overnight services on the latest and largest bay. The cruise is designed in the Indochinese style. The equipment is fully equipped to help you feel the luxurious life of the "super-rich" people in Indochina at the beginning of the 20th century. In particular, the magnificence of this cruise is combined with the natural scenery. The nature of Lan Ha Bay makes everything more perfect than ever.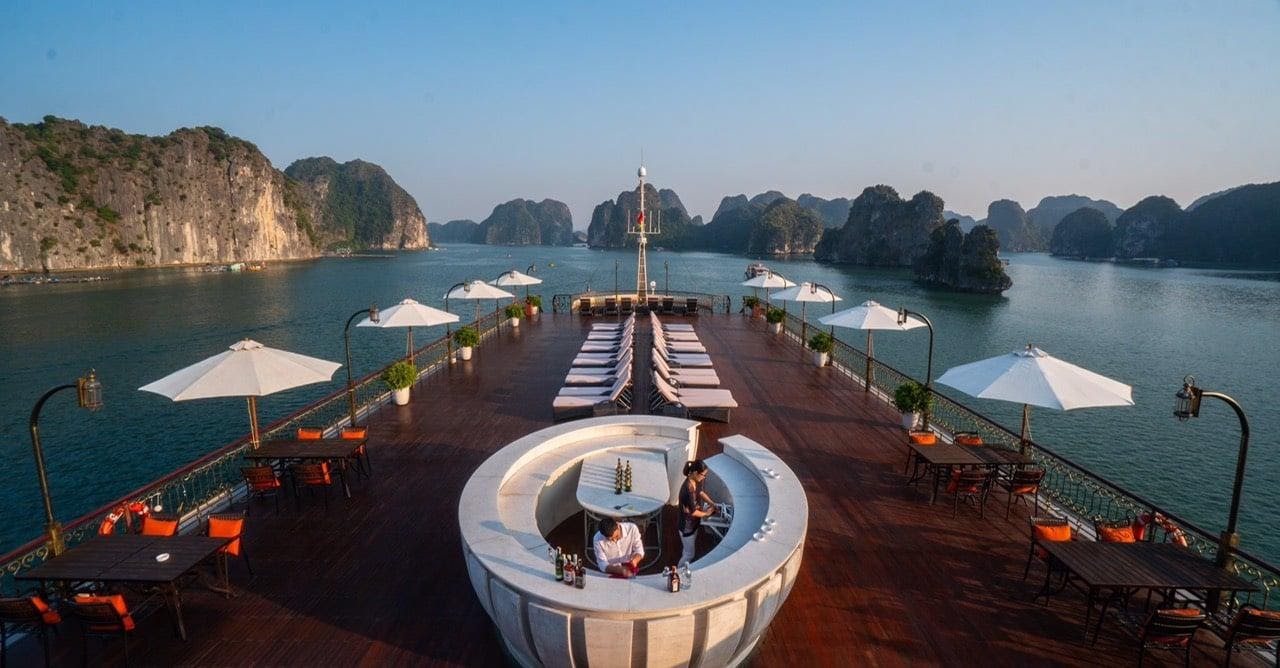 Photo: @duthuyenindochine
Indochine Cruise is equipped with 2 restaurants, a bar, a spacious sundeck and luxurious cabins, a Jacuzzi with the goal of bringing a true 5-star service to the tourists who have trusted in choosing this cruise. Indochine boat.
With a unique and flexible itinerary, you can choose according to your preferences to fully immerse yourself in the natural landscape of Lan Ha Bay with famous destinations such as: Van Boi fishing village, fishing village Viet Hai, Sang Toi caves, free kayaking to visit large and beautiful waterways. Or immerse yourself in the clear blue waters of the sea, this place will surely make your trip more perfect and memorable than ever.
Mon Cheri Cruise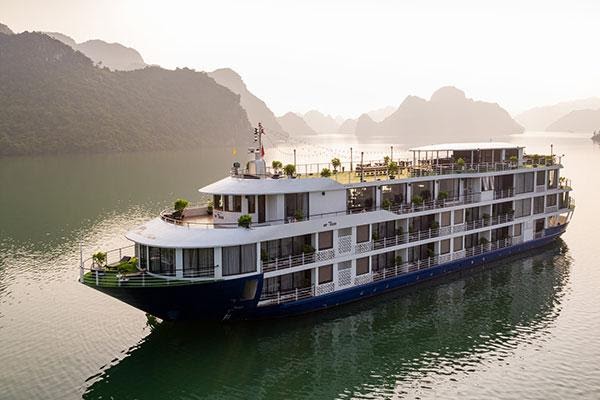 Photo: @duthuyenmoncheri
Designed and built around the concept of a cruise that embodies the perfect blend of classic European sophistication and the rustic essence of Vietnamese style. Mon Cheri is one of the most luxurious 5-star cruise in the Lan Ha Bay - Ha Long Bay area, aiming to serve high-class customers.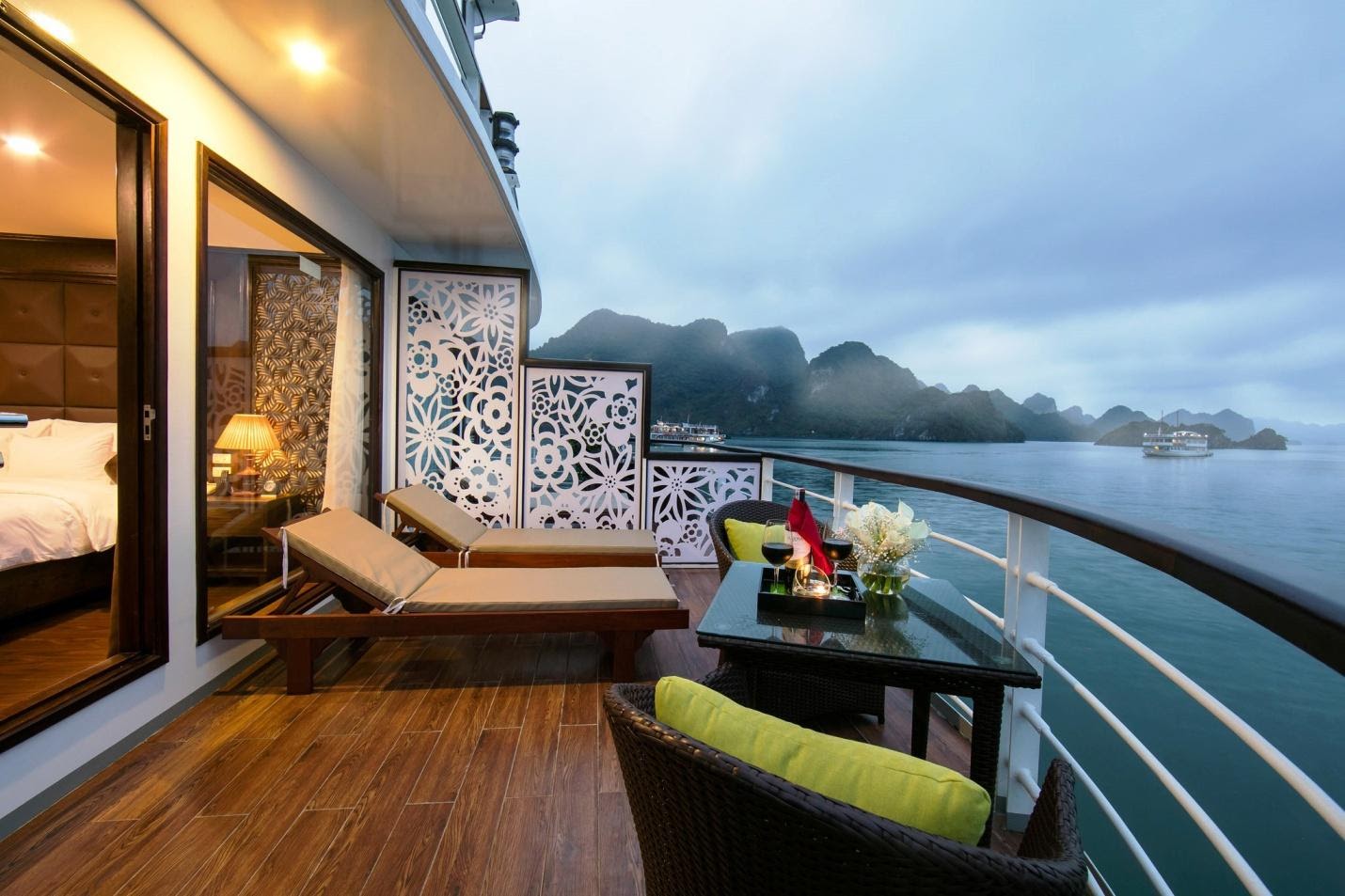 Photo: @duthuyenmoncheri
The cruise includes 18 spacious, luxurious rooms with private balconies overlooking breathtaking views of Lan Ha Bay, famous for its beautiful limestone mountains and clear blue waters, pristine beaches and caves. mysterious move.
Mon Cheri aims for simplicity and sophistication with an open space filled with natural light. Each bedroom has a private balcony or terrace, the restaurant is luxuriously designed, cozy serving delicious food. You can fully spend your leisure time on board or relax with a spa sauna and massage…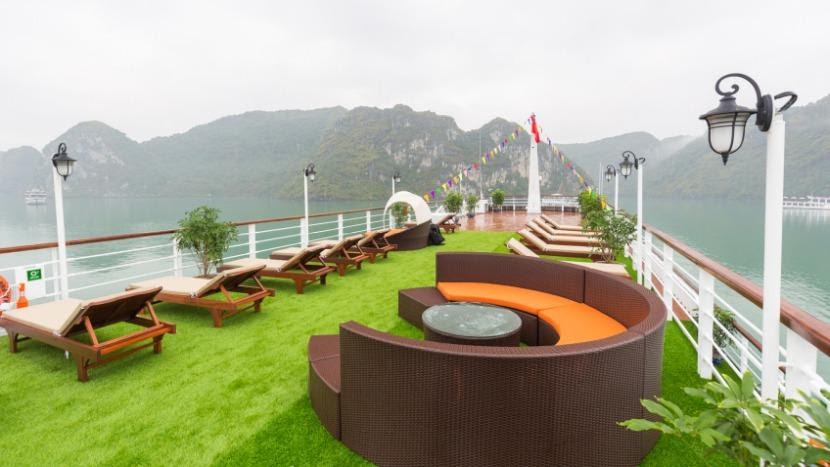 Photo: @duthuyenmoncheri
Mon Cheri Cruise offers 2-day and 3-day Lan Ha Bay tours with outstanding attractions such as Cat Ba Island, Frog Pond area and Bright Dark Cave.
Cruise Calipsso
Photo: @duthuyencalipso
Calipso cruise is designed in a unique, sophisticated, meticulous and luxurious style inspired by the beauty of the legendary sea goddess Calipso.
Each cruise includes 20 luxurious and spacious cabins, designed in the classical oriental style, all the furniture in the room is made from high-quality wood, with deep brown colors to create a cozy and close feeling. with nature. The room is fully equipped with modern amenities with a private bathtub with high-class Jacuzzi and large windows with beautiful bay views.

Photo: @duthuyencalipso
The highlight of the cruise is 3 white masts that make Calipso bring a more tender and loving beauty in the eyes of tourists. The restaurant area is luxuriously designed, the yellow light combines with the brown color of the wooden floor to create a royal atmosphere with full of traditional Vietnamese and Western dishes.
Especially the sundeck area on the cruise  is a great place to relax, sunbathe, see the whole majesty of the mountains, the blue sky of Lan Ha Bay. That special scene is the mark to save the beautiful and unforgettable memories of each visitor.
Meet Our Experts
Request a quote
Please make sure your email is correct.