Exciting experience with Kayaking on Ha Long Bay
Exciting experience with Kayaking on Ha Long Bay Vietnam has many attractive and ideal places for kayaking activities such as: Tuyen Lam Lake (Da Lat), Phong Nha - Ke Bang Cave (Quang Binh), Han River (Da Nang), Lan Ha Bay (Quang Binh), Han River (Da Nang), Lan Ha Bay (Da Nang). Cat Ba, Hai Phong), Mui Dinh (Ninh Thuan)…In which, it is impossible not to mention Ha Long Bay - voted "as one of the world's best destinations for kayaking". This is a most interesting experience that you should not miss when coming to this beautiful city.
What's so attractive about kayaking?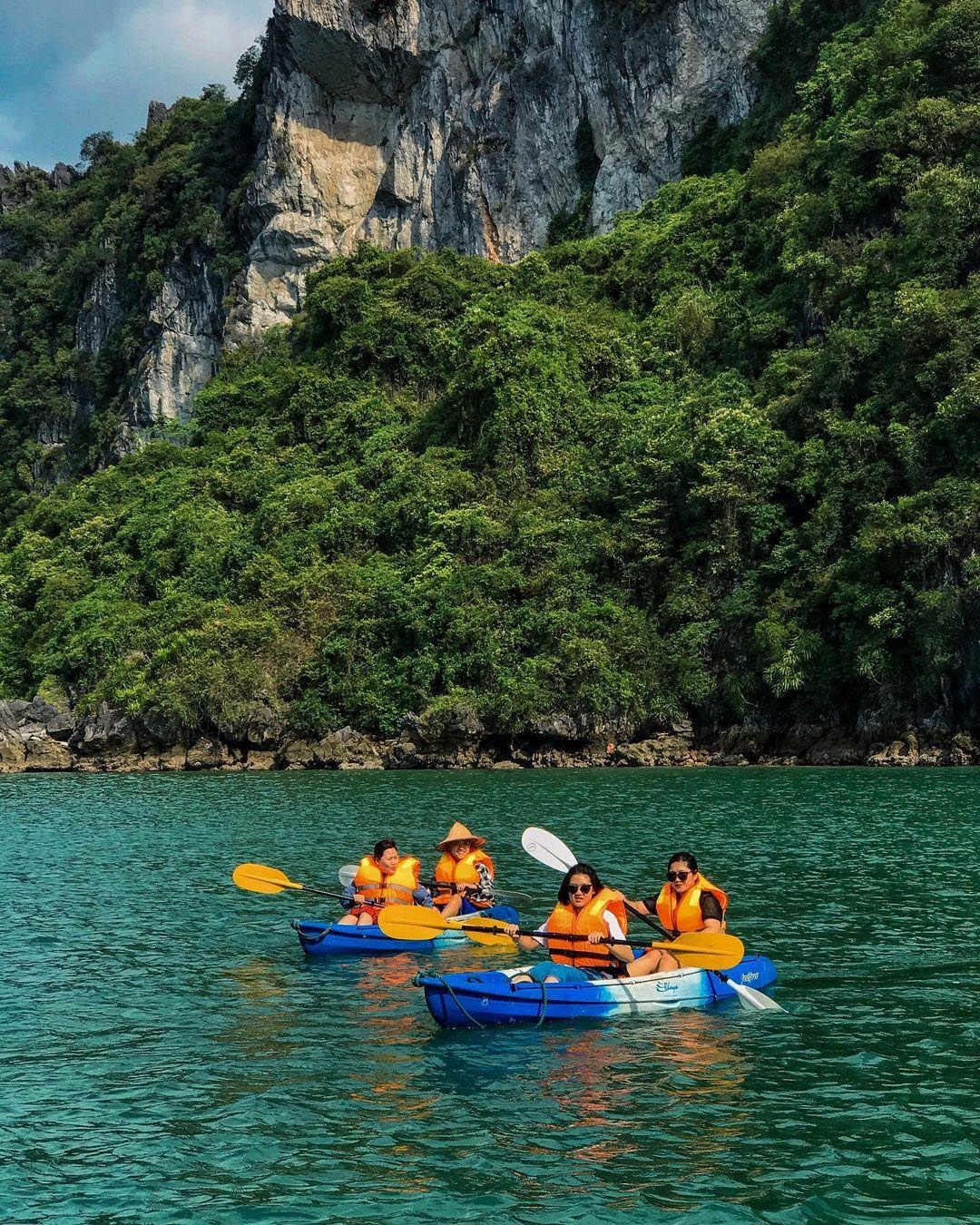 Photo: @trongsky
Riding by yourself in the blue water of the sea, discovering the wild and majestic scenery of islands and caves You will see another beautiful Ha Long that when sitting on a cruise ship cannot get that feeling, will definitely bring you an unforgettable experience.
You can rent a boat to go to the islands and fishing villages, then rent a kayak to explore the magnificent natural scenery here. The most popular kayaking spots in Ha Long are: Luon cave, Ba Trai Dao, Ba Ham, Dau Be, Co cave…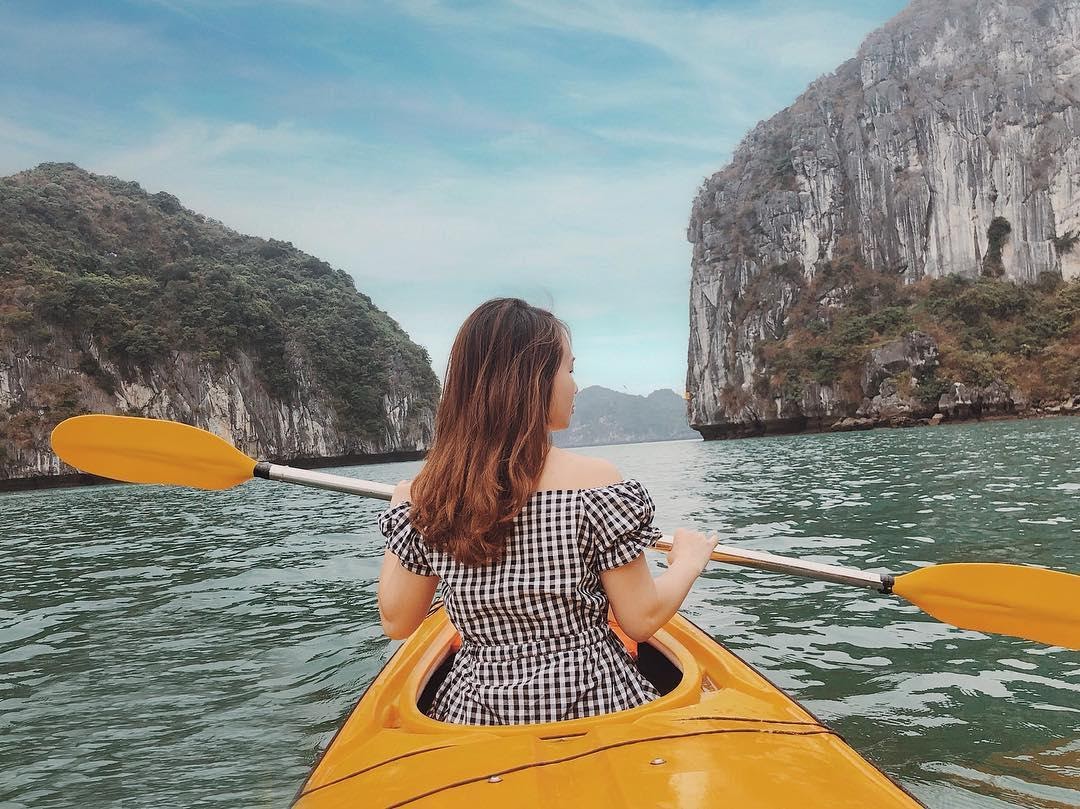 Photo :@letoet94
Each kayak has 2 people rowing. You may not be familiar with the paddle at first, but once you master the paddle, you can directly control the kayak to admire the limestone islands in Ha Long Bay at close range. Or swinging a paddle to bring a kayak close to the foot of the rocky mountain to discover new emotions, this will be one of your favorite activities when traveling to Ha Long. Ticket price is about 50,000 VND / 1 way, if you buy a cruise tour, this service will be included in the tour package.
Sleeping on Ha Long Bay
Want to experience Kayaking experience to explore Ha Long Bay, you can join overnight tours on the Bay with luxury 5-star Ha Long cruises. Because this is an activity included in the tour, most cruise ships are equipped with kayaks for visitors to explore on their own in beautiful and safe areas and places. Coming to 5-star cruises, you will be able to participate in the journey to enjoy Ha Long Bay, especially exciting experience with kayaking. The scenery of the mountains and the water blend together into a soft blue color, the breeze blowing from the sea cools the whole space on the luxurious Ha Long cruise.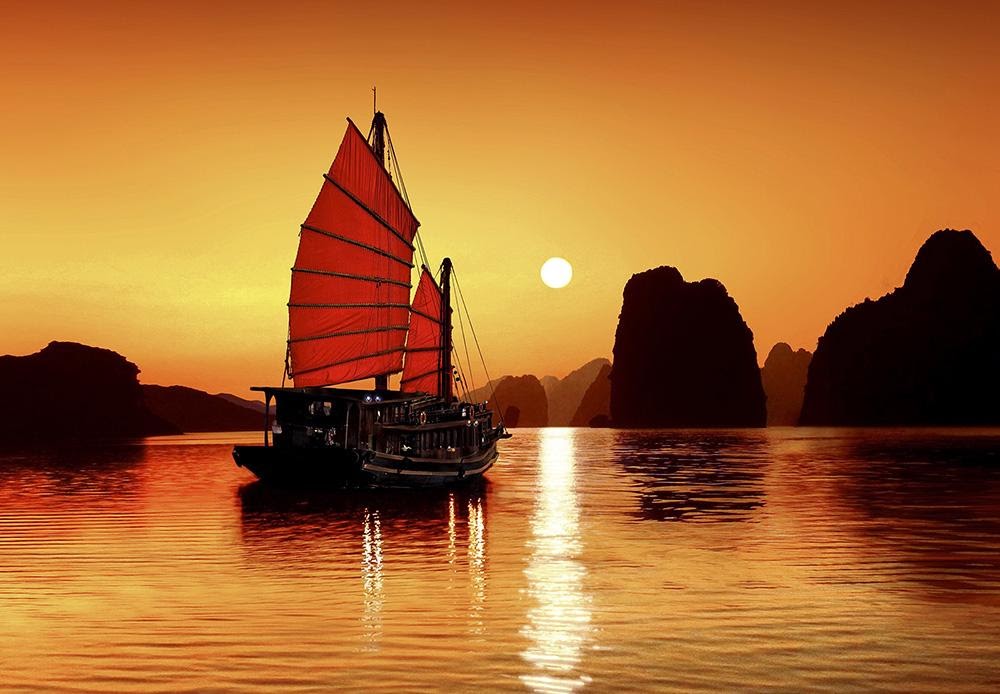 Photo: @Anbinh
The feeling of sleeping in the middle of the ocean, immersing in the scenery The wonderful nature of thousands of large and small islands in the Gulf will surely be an unforgettable memory. In particular, you can also try the feeling of watching the stars in the middle of the sea and watching the first rays of sunlight of a new day.
Discover the ancient village on the bay
Currently In Ha Long, there are still quite a few ancient fishing villages, bearing in them ancient beauty such as: Cua Van fishing village, Vung Vieng fishing village, Ba Hang fishing village or Viet Hai fishing village. Visiting these fishing villages, you will see the rustic and idyllic lifestyle of the people here. You can also experience activities such as: fishing, harvesting rice, cooking rice... with local people or simply leisurely cycling, exploring the landscape in the village.
Watching  the beauty of coral
Corals in Ha Long are not as vibrant and colorful as in Phu Quoc, Nha Trang…but also has its own unique beauty. The areas with the most coral concentration are: Luon cave, Lan Ha bay... the sea level here is quite shallow and clear, you can see it all the way to the bottom of the water. Sitting on the boat, you can easily admire the coral reefs growing close to each other, stretching under the water like beautiful, giant carpets. Surrounding the coral reefs are pristine islands, creating an interesting and beautiful natural scenery.
Cruise – an experience not to be missed when coming to Ha Long
To participate in sea activities such as sailing, spending the night on the bay, swimming, participating in cooking classes... you should not miss choosing a cruise for your journey to discover Ha Long Bay. me.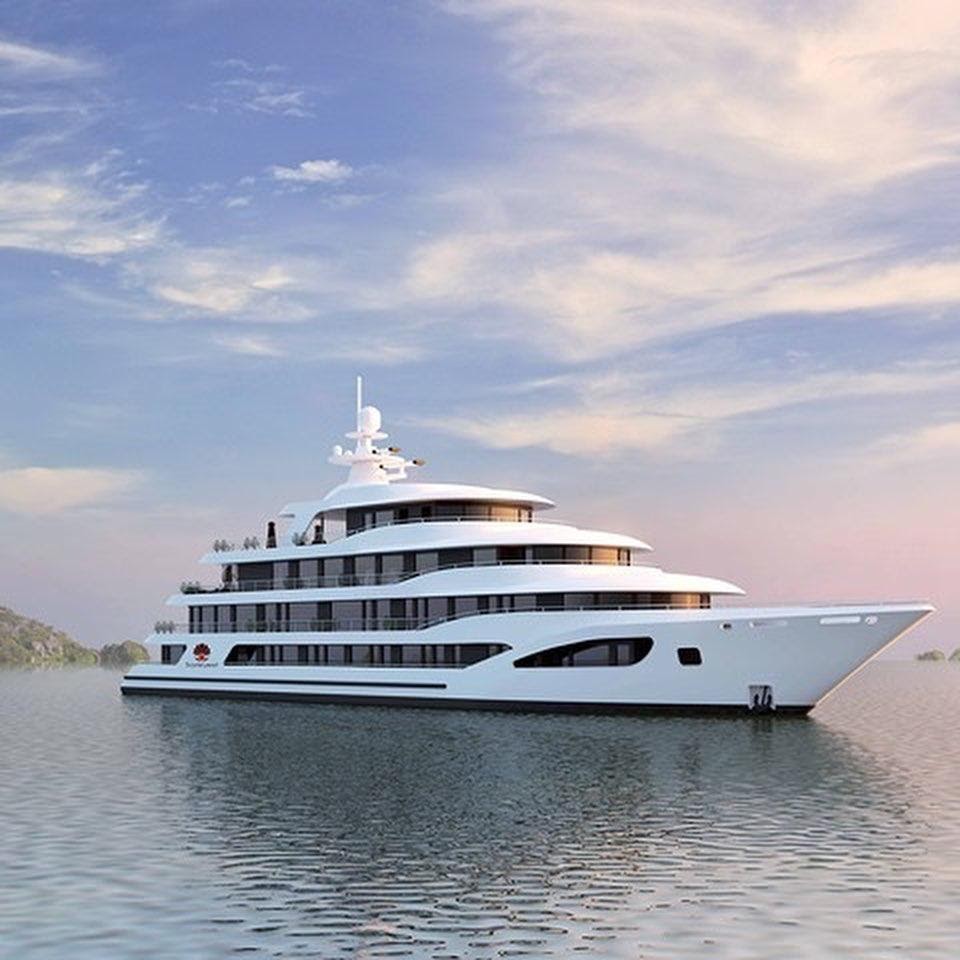 Photo:@duthuyenhalong
Is a no Great vacation time combined with exploring fishing villages, enjoying Asian and European cuisine, rowing squid fishing... with luxury cruise from 4-5 stars  modern design, fully equipped, sure It will definitely bring you rare sublime moments, a little tranquility in your soul, forgetting all the noise and bustle to immerse yourself in the nature of the sea and sky.
The cruise tours It is very suitable for families who want to enjoy a relaxing space together with more loving bonds. Especially now, the boat tours have shuttle bus from Hanoi which is very convenient for you to move. Please bring your backpack to experience it right away.
Meet Our Experts
Request a quote
Please make sure your email is correct.