Titop Island - Discover the pearl island of Ha Long Bay
Geographic location
Titop Island is located about 7-8 km east of Bai Chay port. Below the steep cliff is an artificial beach in the shape of a crescent moon, hugging the island's foot. Beautiful white sands and clear blue waters make for a wonderful resort paradise.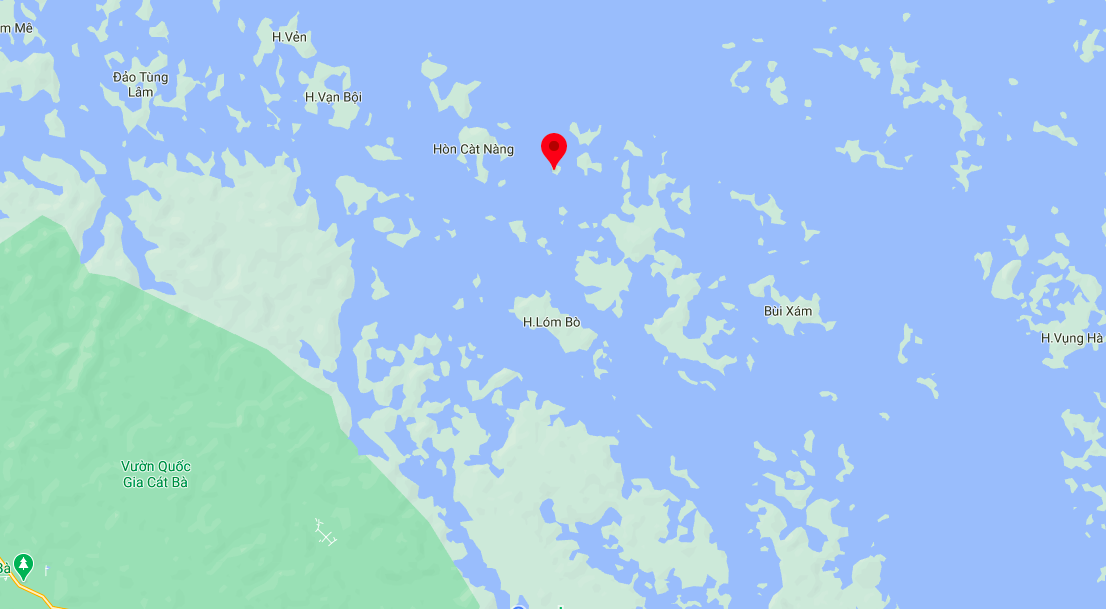 Titop island location on map ( Google maps) 
The island has an area of ​​3.7ha covered with lush green trees. Climbing more than 450 stone steps to the top of Titop mountain (110m), you can zoom out to see the panoramic view of Ha Long Bay.
Today, Titop Island has become one of the most famous tourist attractions in Ha Long Bay attracting many domestic and foreign tourists. The island is in the sightseeing schedule of most cruise ships that run the Ha Long route 1 day (6 hours) and overnight. Some cruise ships that visit Titop Island in 1-2 hours are Bhaya cruise, Indochina cruise Sails and Paradise Elegance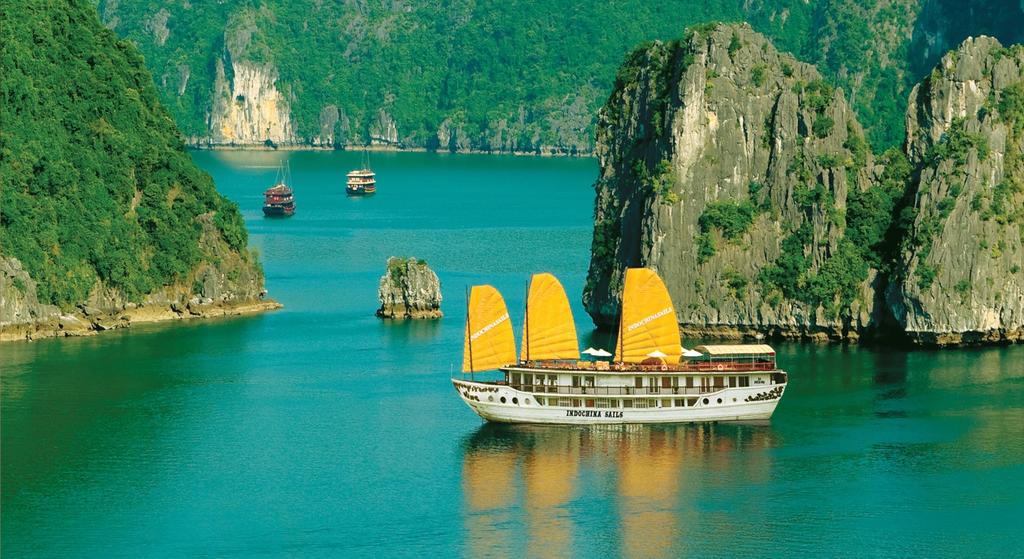 Indochina Sails Cruise has a schedule through Titop Island
The origin of the name Titop island
Before the name Titop island, in the late 19th century this island was named Cat Nang. Later, Titop Island was named after Russian cosmonaut Gherman Stepanovich Titov, who accompanied President Ho Chi Minh to visit the island in 1962.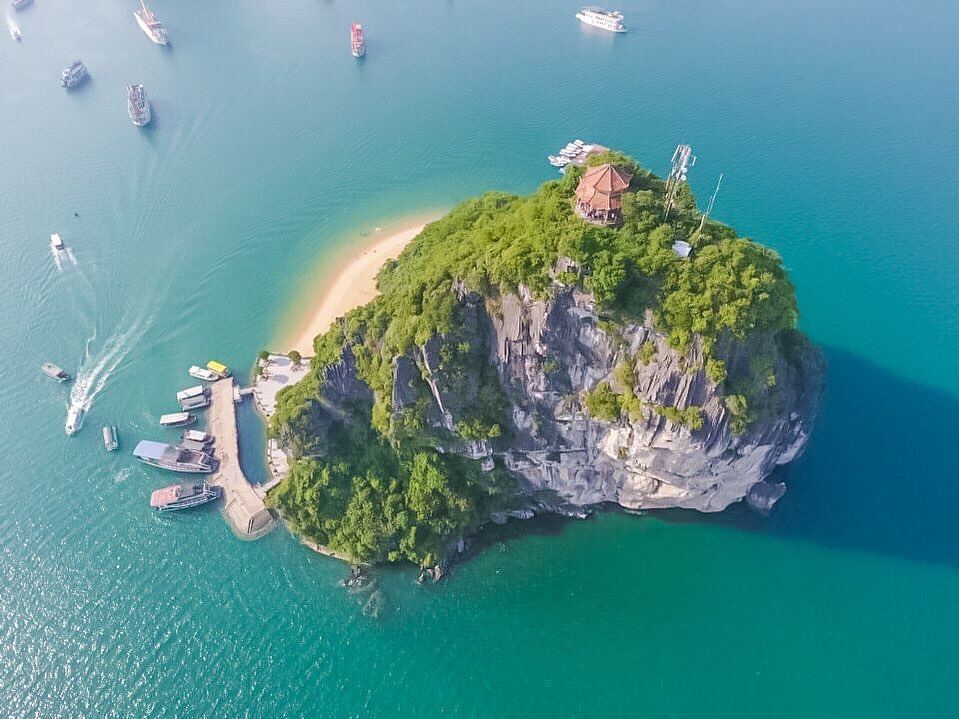 Titop Island seen from above
The attraction of Titop island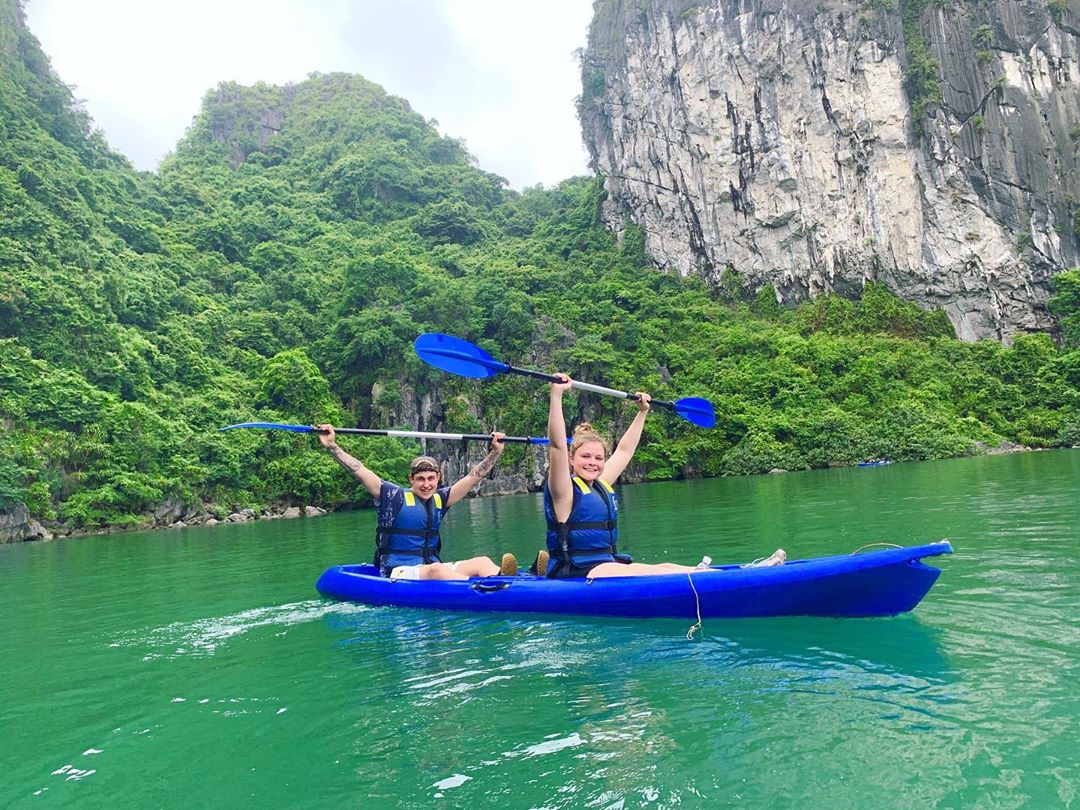 Photo: @astrid_mouton - Tourists kayaking to see the beauty of the island.
Titop Island not only attracts tourists by its charming landscape but also living facilities and many interesting sports activities.
Swimming and water sports: Possessing fine white sand beaches and calm waves, Titop Beach is an ideal place for water leisure activities such as swimming, snorkeling and wa000000ter sports. other country. On the island, there are stalls for renting all kinds of swimming equipment, drinks, fresh water for bathing and transporting from the mainland. In addition, there is also an attractive water motorbike rental service so that you can freely explore the island.
Climbing, watching the bay from above: visitors with good health who want to challenge themselves and have a new perspective of Ha Long Bay can climb about 450 steps to the observatory on the top of the mountain. From here you will have a 360-degree view of the beautiful bay.
Meet Our Experts
Request a quote
Please make sure your email is correct.