Top 5 most beautiful islands in Quang Ninh
Quang Ninh with the world natural heritage of Ha Long Bay, Lan Ha Bay and Bai Tu Long Bay always has a strange attraction for tourists. The beauty of the bay is formed from the long-formed islands, limestone mountains and many attractive landscapes on it. Let's explore the top 5 most beautiful islands in Quang Ninh that anyone wants to visit once.
Titop Island
About 8km from Bai Chay tourist port to the Southeast, Titop Island is the first choice for visitors to Ha Long Bay. The island is part of the 2nd day sightseeing route and the overnight schedule of many different classes of ships.
Titop Island not only possesses natural beauty, worthy of the title of paradise for relaxation and entertainment, but is also associated with historical events and the friendship between Vietnam and the Soviet Union. The island is named after Russian cosmonaut Gherman Stepanovich Titov in 1962 when he and Uncle Ho arrived on this island.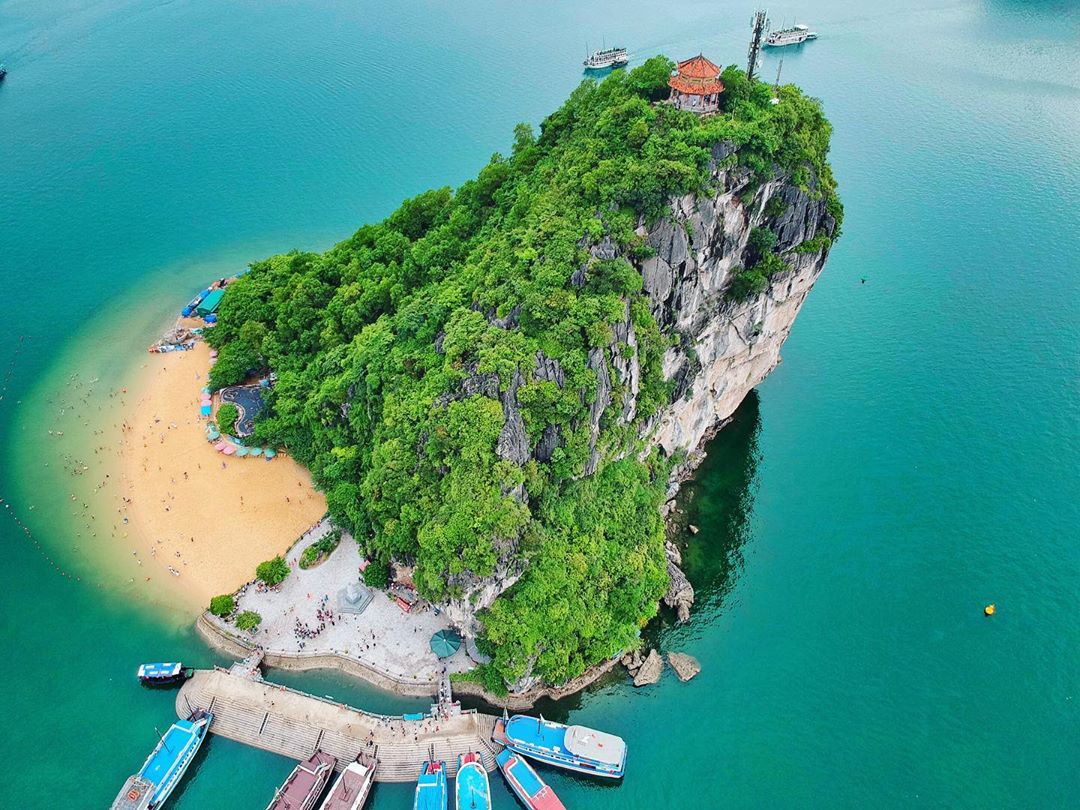 Titop Island seen from above
The most famous and special island in Ha Long Bay has a steep and inclined shore and a crescent-shaped beach winding around the foot of the island. The beaches on the island are clean, with fine white sand and full services such as rental buoys, jet skis, fresh water bathing and drinks. Visitors who love climbing can also climb to the top of Titop to have a panoramic view of Ha Long Bay. Coming to Titop Island, you will feel the fun and bustling atmosphere of water games and immerse yourself in fresh nature.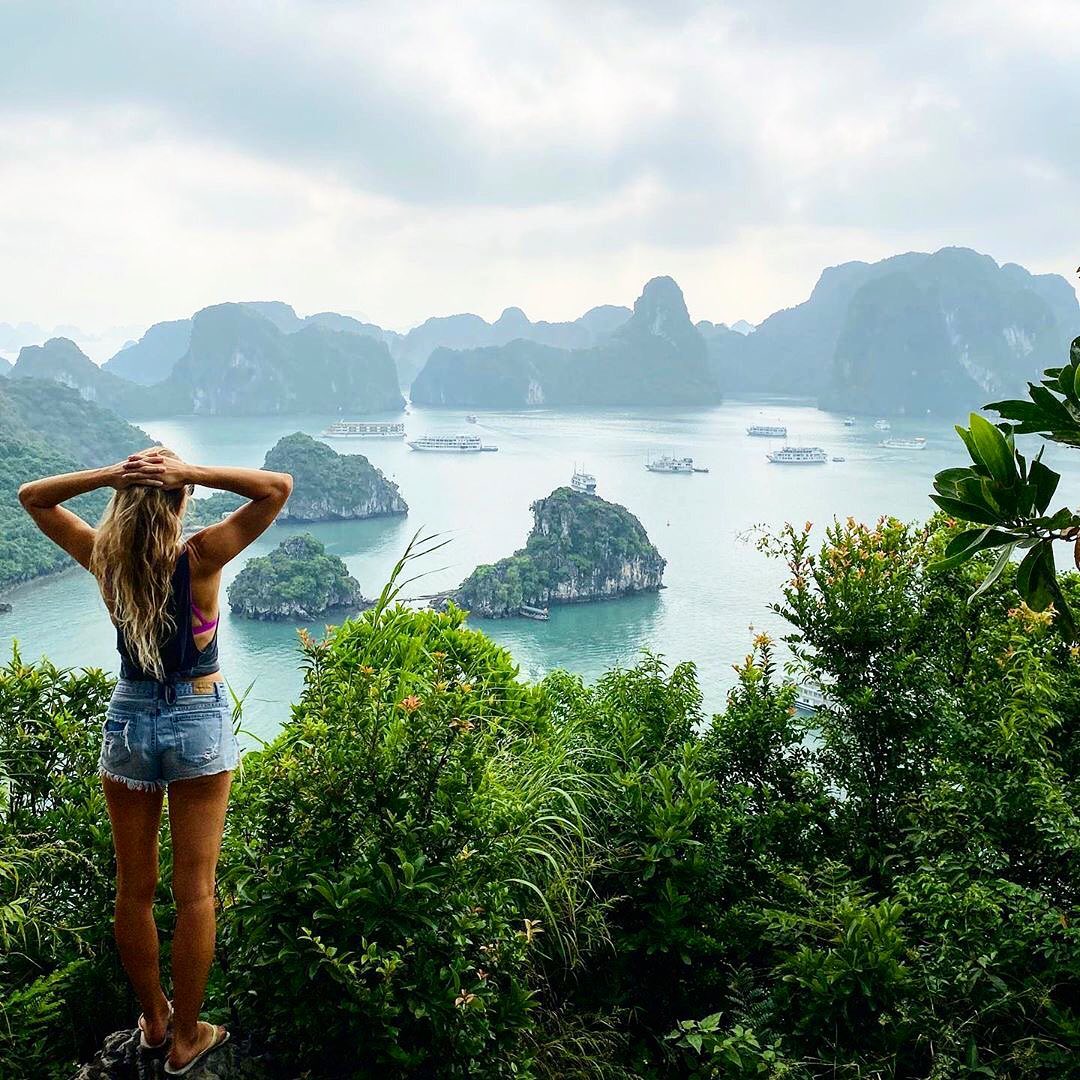 Photo: @vietnamtrips - Beautiful view of the bay from the top of the mountain on Titop . island
Soi Sim Island
Located in the southwest of Ha Long Bay, only 700m from Titop Island, Soi Sim Island has an area of 8.7ha and is known for its unspoiled, peaceful beauty and clear blue beaches. Visitors who want to visit Soi Sim island can buy tickets to visit route 2 along with Titop island. Soi Sim Island has rich vegetation, many rare tree species. This place used to grow a lot of myrtle trees, so it was named Soi Sim.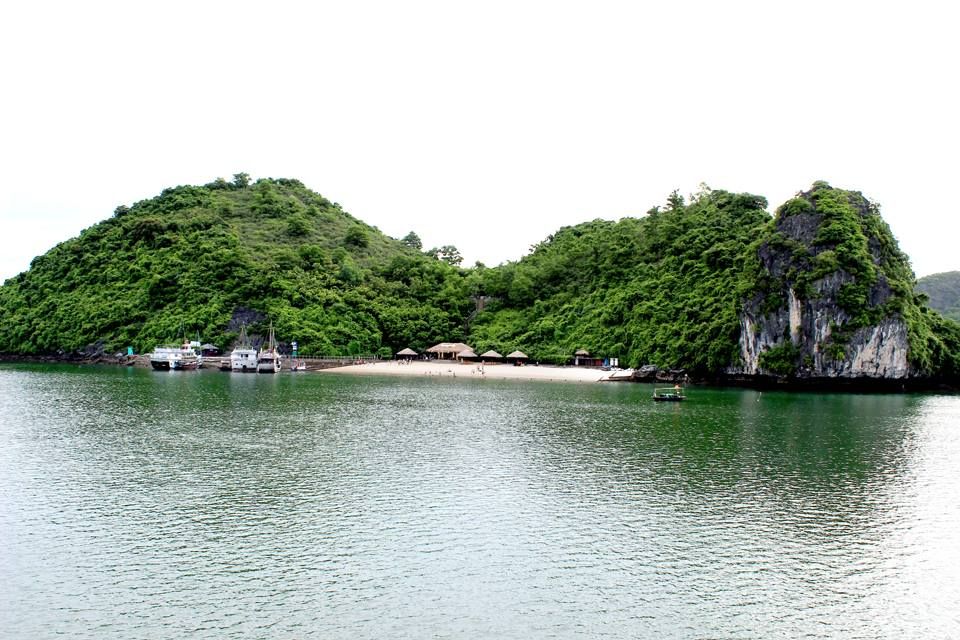 The wild beauty of Soi Sim island
Soi Sim Island has become a hot destination on Ha Long Bay with its natural beauty and outstanding tourism investment. The beach on the island has fine white sand, blue water and a great resort space with sunbathing huts. The experience on the island is equally interesting. You can choose to swim, rent a jet ski to explore the vast nature, or climb 400 steps to the top of the mountain to enjoy the scenery.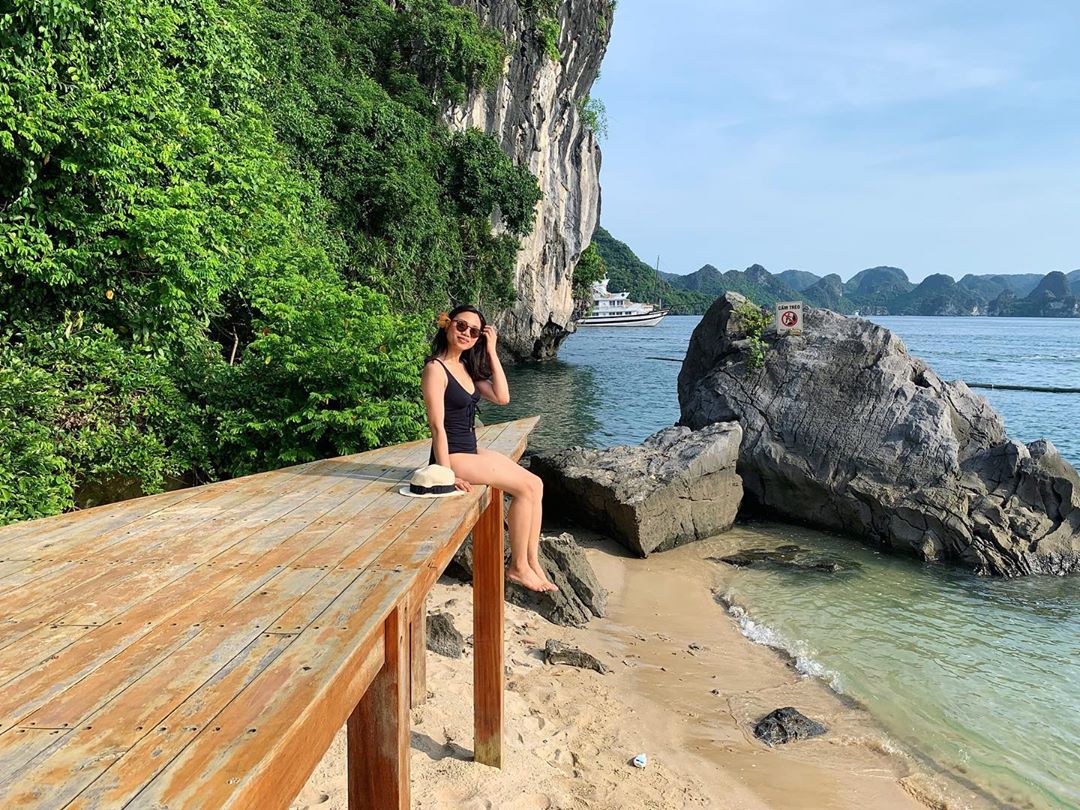 Photo: @b.0.m124 - Visitors can swim or experience recreational activities on Soi Sim island
Currently, the island has not developed many adventure games and food and water on the island is still limited.
Bo Hon Island
In the heart of Ha Long Bay, Bo Hon Island is always on the list of the most beautiful islands named Ha Long Bay. On the island, there are many famous places to visit such as Luon cave, Sung Sot cave, Trong cave and Dong Tien lake. Visitors will be extremely surprised by the topography of Bo Hon island, with steep cliffs, emerald green water and shimmering landscapes.
Photo: @deadpoet_photography - A view on Bo Hon island
The pristine beauty on Bo Hon Island is also preserved intact. Tourists coming here can find many kinds of rare animals and plants such as ten thousand years old, orchid, monkey, chamois ... With important values, Bo Hon island is not only the most attractive place for tourists but also the most attractive place for tourists. It is also a famous geological research site for scientists.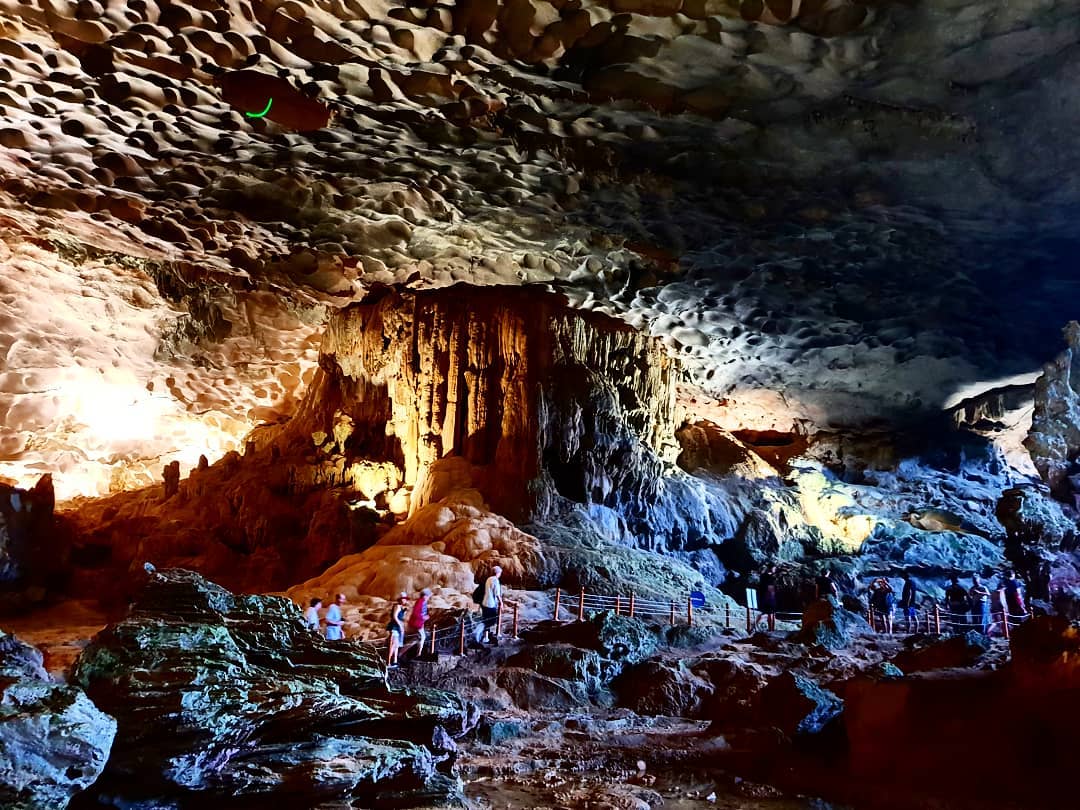 Photo: @justyna_notsoserious - Surprise Cave on Bo Hon Island
Đảo Quan Lạn
Quan Lan Island - Vietnam's first trading port in Van Don island district in the population Bai Tu Long Bay. The island with an area of ​​about 11km² is located in an important maritime traffic route connecting many countries such as China, Japan, and the Philippines.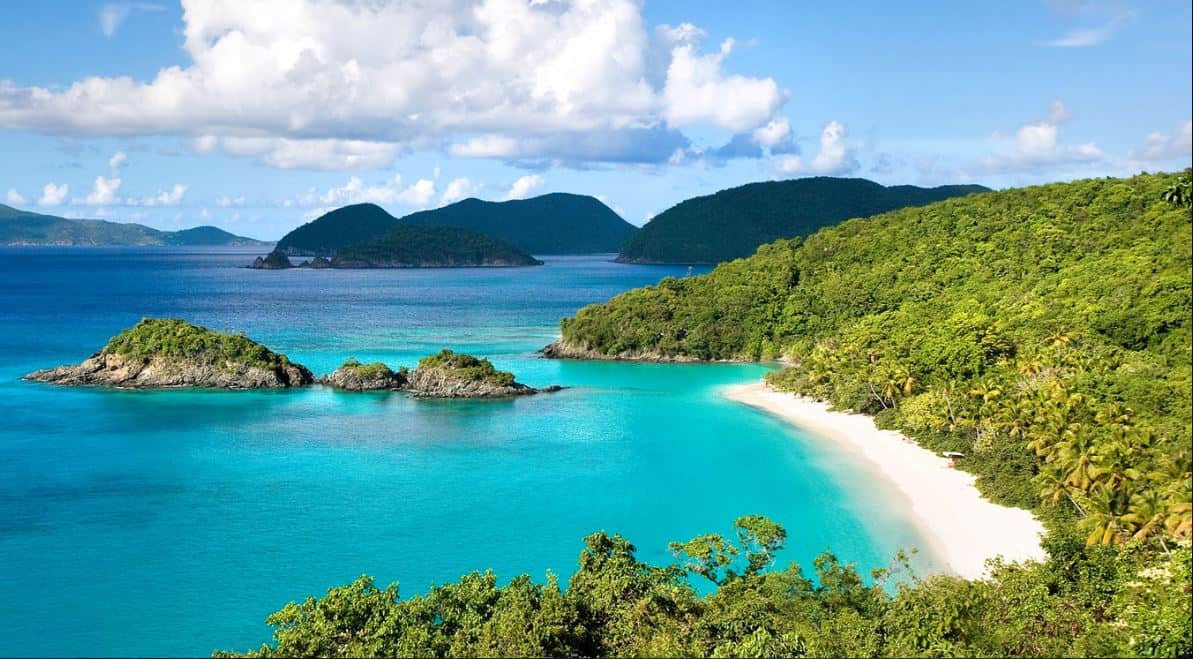 Quan Lan Island
Quan Lan Island attracts tourists with its beautiful, unspoiled natural scenery and rich people's life. On the island, there are many beautiful beaches for visitors to swim freely such as Son Hao beach, Minh Chau beach and Quan Lan beach. Besides fun activities, swimming, you can go to Quan Lan market to choose to buy raw seafood, visit Ba Mun National Park with many rare animals and Quan Lan Pagoda with ancient historical features.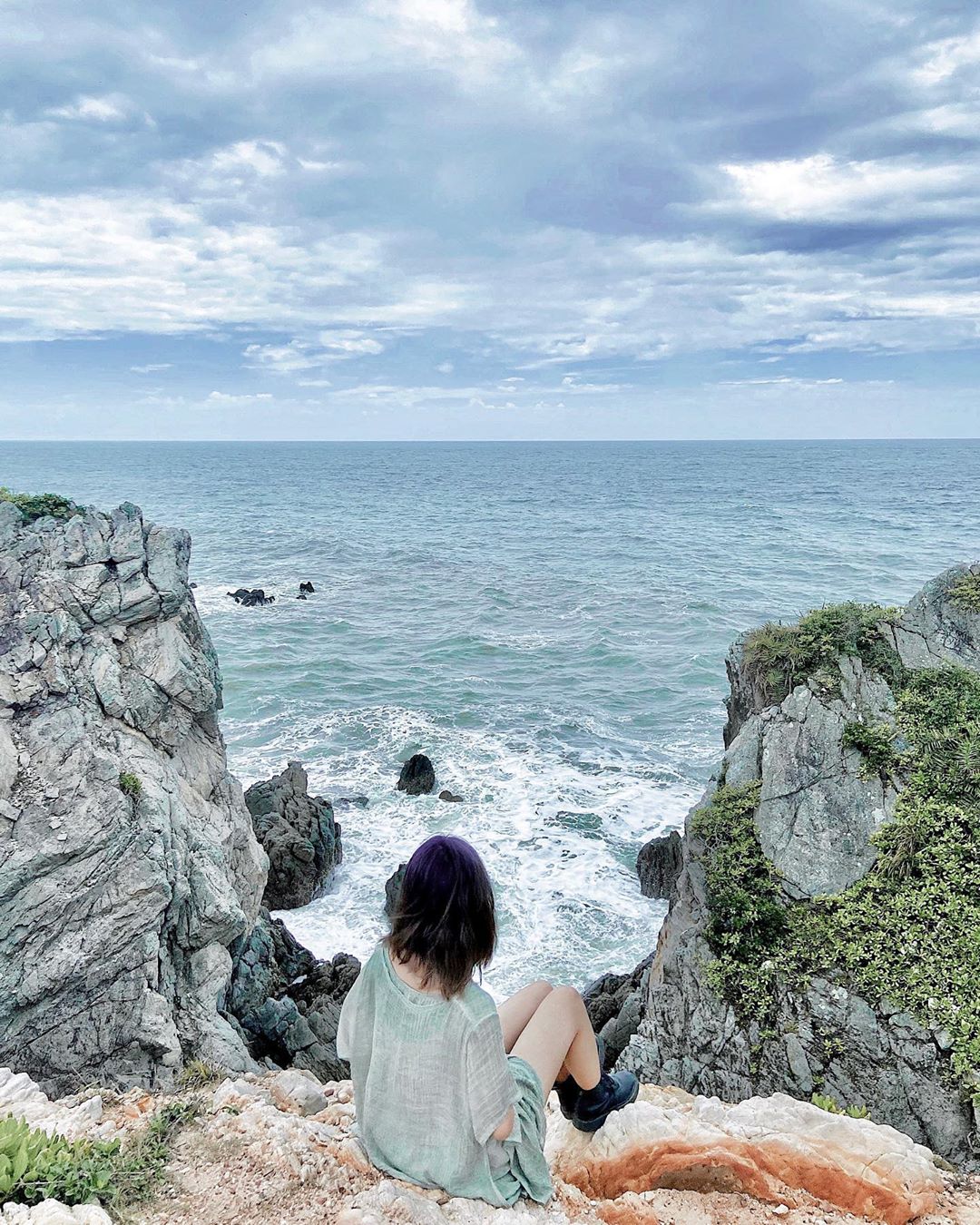 Photo: @whereizhanhan  - Unspoiled Quan Lan Island with beautiful natural scenery
The infrastructure is also relatively developed with many motels, hotels, luxury resorts and restaurants. Means of transportation to Quan Lan island are very diverse such as wooden boats, speedboats from Van Don or Hon Gai districts. Upon arrival, visitors can rent a tuk tuk to move on the island.
Co to island
Co To Island is a complex of more than 50 islands located in the east of Van Don island district. The total area of the island is about 47km² with about 5000 people living. The two largest islands are Co To Lon and Thanh Lan. Co To Island is famous for many beautiful beaches such as Hong Van, Van Chay, pearls and fresh seafood. Endless white sand beaches and clear blue water are loved by young people to check in and save the best photos. It will be an interesting experience for visitors to watch the sunrise or sunset from the lighthouse on the sea and try their hand at squid fishing.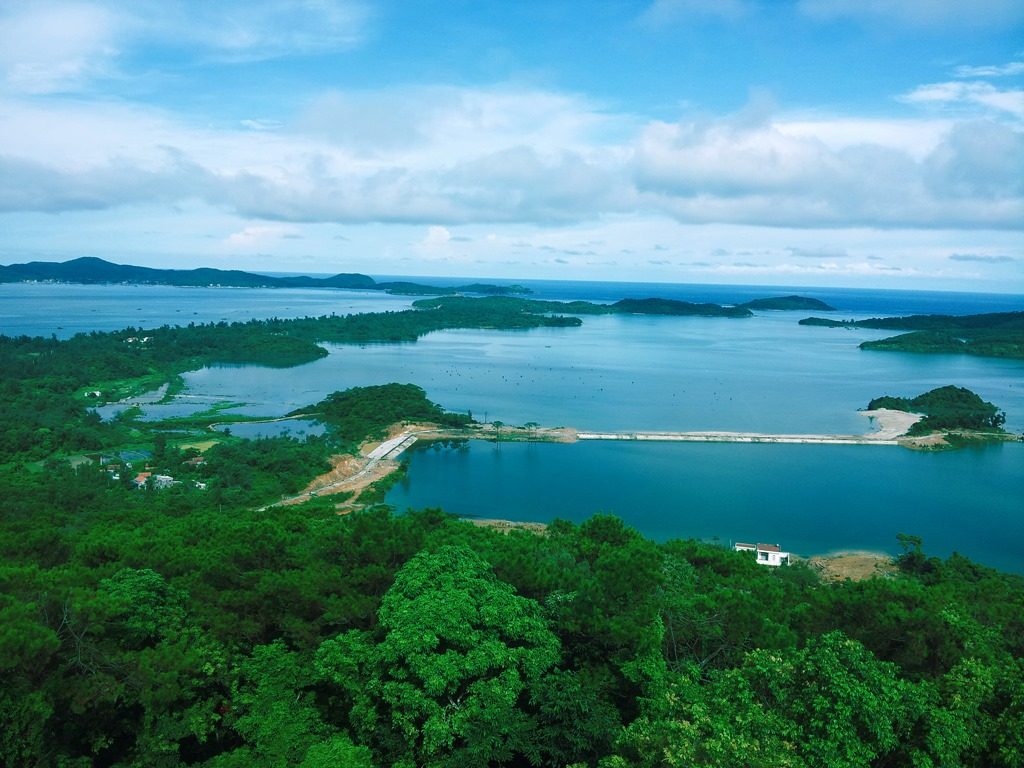 Co to island
You can easily move to Co To island by speedboat or wooden boat from Cai Rong port. Means of transportation on the island are also very convenient including electric cars, cars, motorbikes and double bicycles. Co To Island is growing day by day with many services, reasonable prices and delicious food. The most interesting thing is that here you have the opportunity to stay in a tube house, a container house or a wooden house.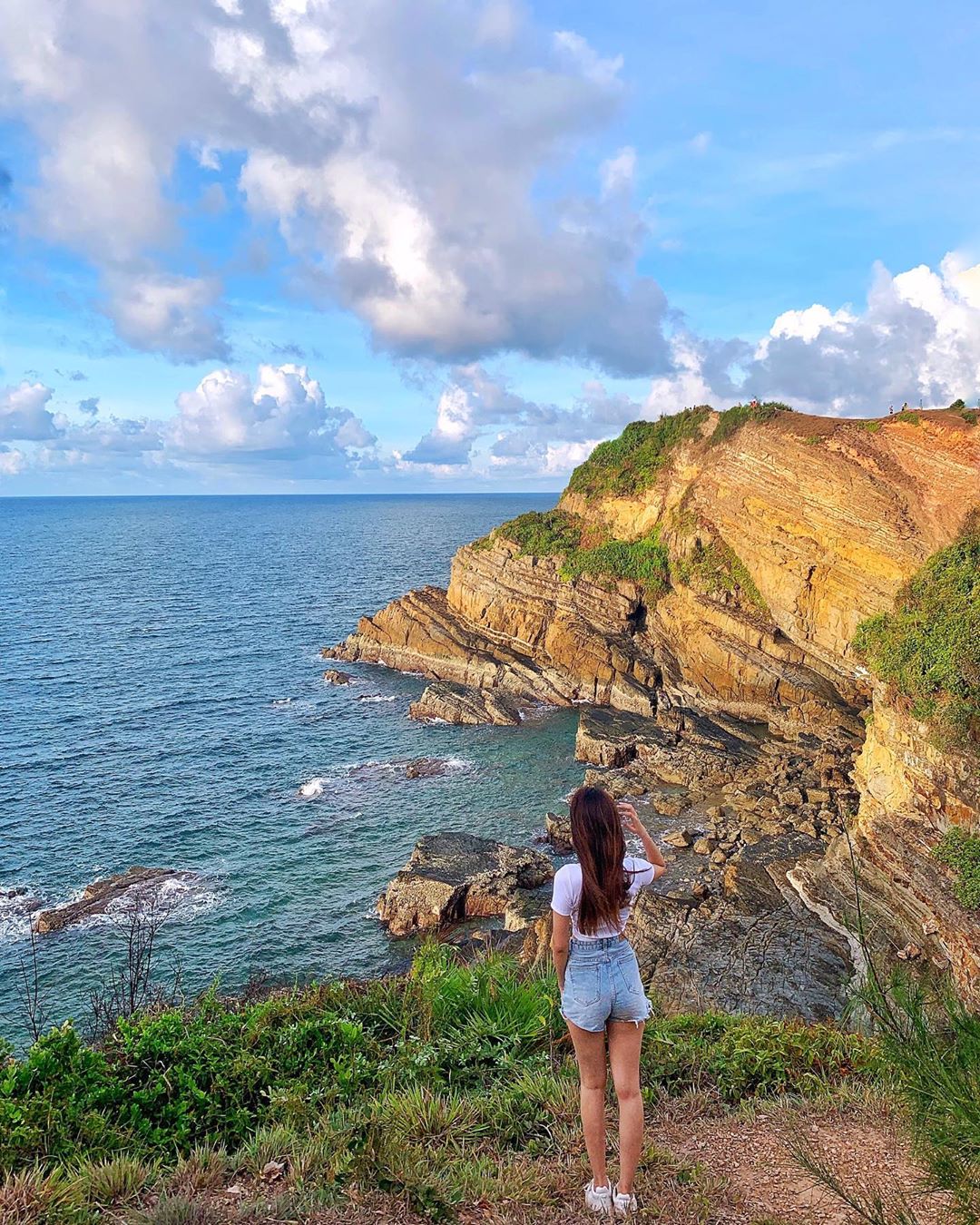 Photo: @ph.thuyanhh_
Meet Our Experts
Request a quote
Please make sure your email is correct.