Top 5 newest cruise ships in Ha Long Bay
Traveling to Ha Long Bay has never ceased to be hot and choosing an overnight cruise on the bay is also a top concern of many tourists. Currently, Ha Long has many yachts from popular to luxury, all of them want to bring satisfaction to visitors. But to search for a yacht that meets the following criteria: a new yacht, more modern equipment and facilities, a swimming pool and the best quality of service, not all yachts have it. So, to make the right choice and make your trip more perfect, please refer to the article on the top 5 newest cruise ships in Ha Long Bay below!
Paradise Grand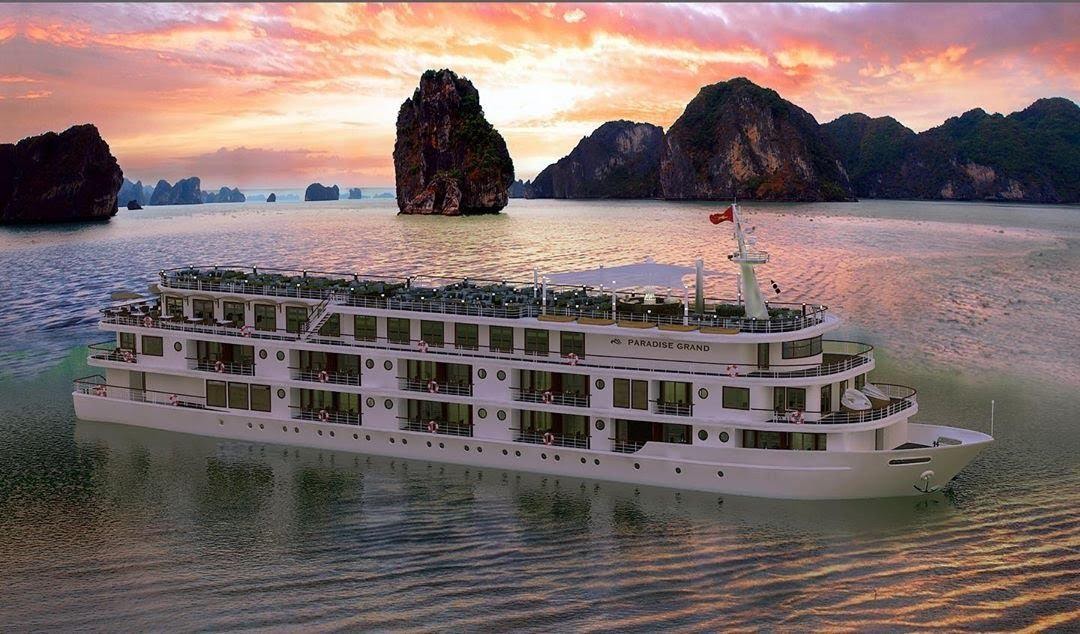 Photo: @paradisegrandcruises 
Paradise Grand is Paradise Group's newest 5-star cruise in Lan Ha Bay - Ha Long launched in early 2020, including Paradise Grand Cruise I & II with a one- and two-night cruise on Lan Ha Bay.
The difference of this yacht is that it is the first cruise on Lan Ha Bay with a unique sundeck and rooftop bar for customers to relax anytime, anywhere. Evenings on the yacht feature live music from a professional international band. In addition, the ship's service is also rated as classy and luxurious with exclusive cuisine from 2-Michelin-star chefs serving dinner with lobster dishes prepared specifically for guests.
In addition, 39 cabins on board are divided into 4 types of rooms: Grand Balcony, Executive Balcony, Grand Balcony Suite, Captain's View Grand Suite. Each room on the yacht is very attractively decorated, elegantly colored, spacious, fully equipped with an area of ​​at least 28m2, has a private balcony and separate built-in wardrobes to ensure privacy for guests. traveler.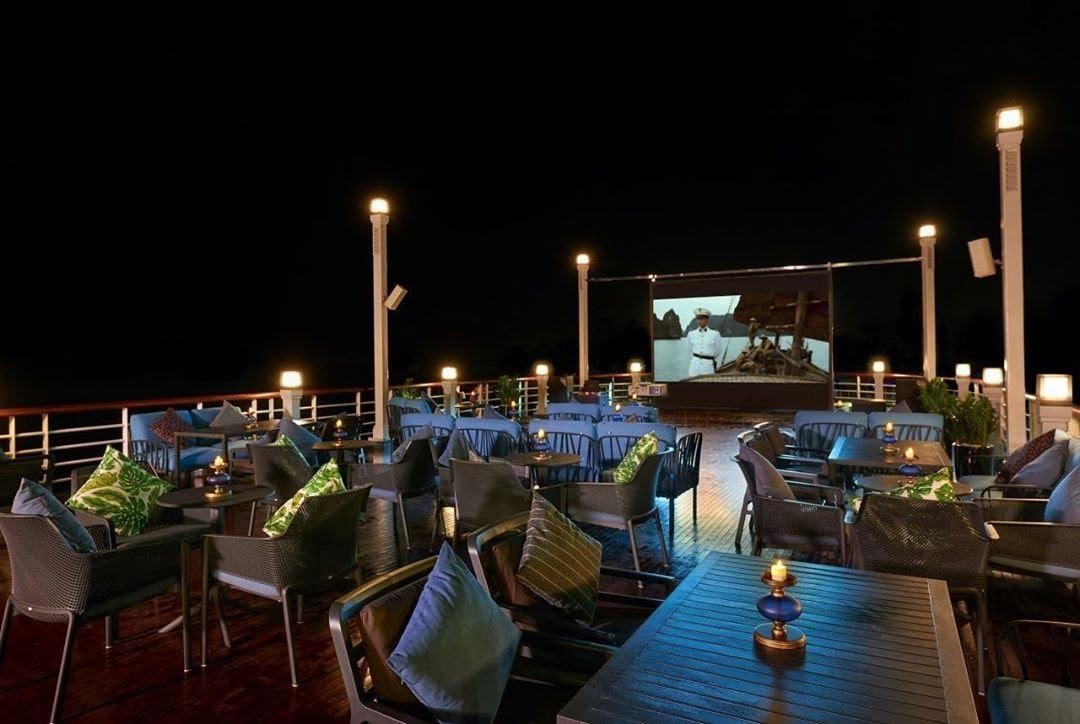 Photo: @paradisegrandcruises 
Paradise Grand has an extremely beautiful outdoor space, decorated simply but beautifully, with harmonious tones. Create a romantic atmosphere in the evening under the lights, shimmering candles on the ship.
Both yachts have 5 decks with the same style, capacity, service and itinerary. Starting from Paradise Exclusive Lounge at Tuan Chau international port, passengers will then travel by a Paradise Express speedboat to Cat Ba Island where passengers will meet the main ship and check-in procedures on board. , travel time is about 15 minutes by speedboat.
In which, the itinerary to visit Viet Hai village on Cat Ba island is the most impressive journey, visitors can meet, exchange, learn about the cultural life of the people here, discover the cuisine, the dishes. In addition, visitors can also participate in extremely exciting and exciting outdoor activities in Cat Ba National Park, or go hiking, cycling...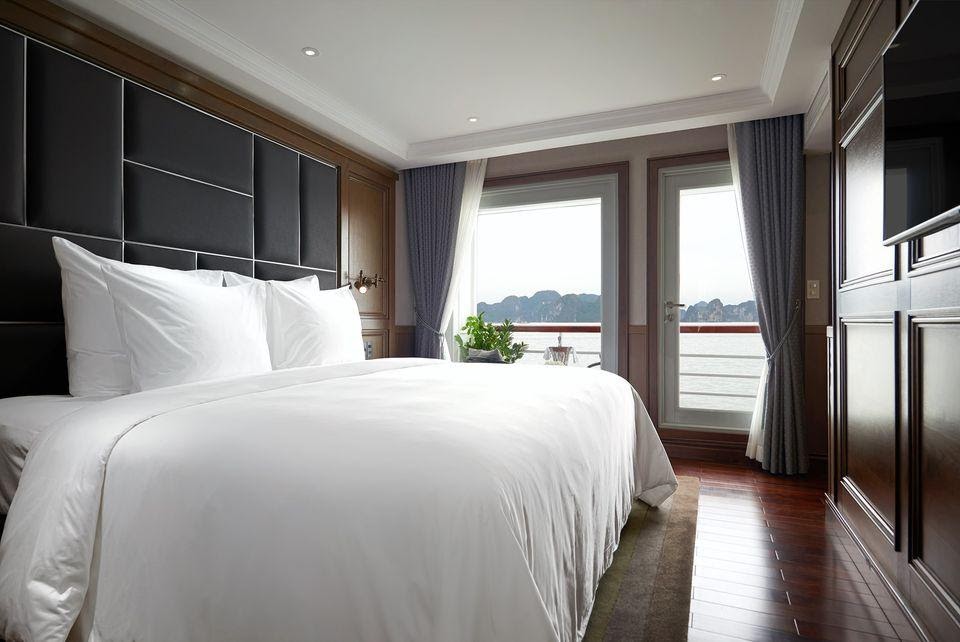 Photo: @duthuyenparadise 
The yacht's menu is also widely shared by visitors on personal facebook and is very satisfied with the professional service attitude of the staff on board. Another very unique experience onboard is the exclusive lobster dinner menu designed by a world-renowned chef. Paradise Grand deserves to be one of the newest and best yachts on Halong Bay - Lan Ha.
Madeline Cruises
A new, modern metal yacht offering 5-star accommodations, hot tub and BBQ. Consisting of 4 floors designed with a very unique imprint of Eastern culture and all have a very beautiful view of the sea.
The highlight of the yacht, which is different from other yachts, is the large outdoor swimming pool, located right between 2 rows of modern sun loungers. The bedroom is designed with classic tones, elegant colors, and has a separate balcony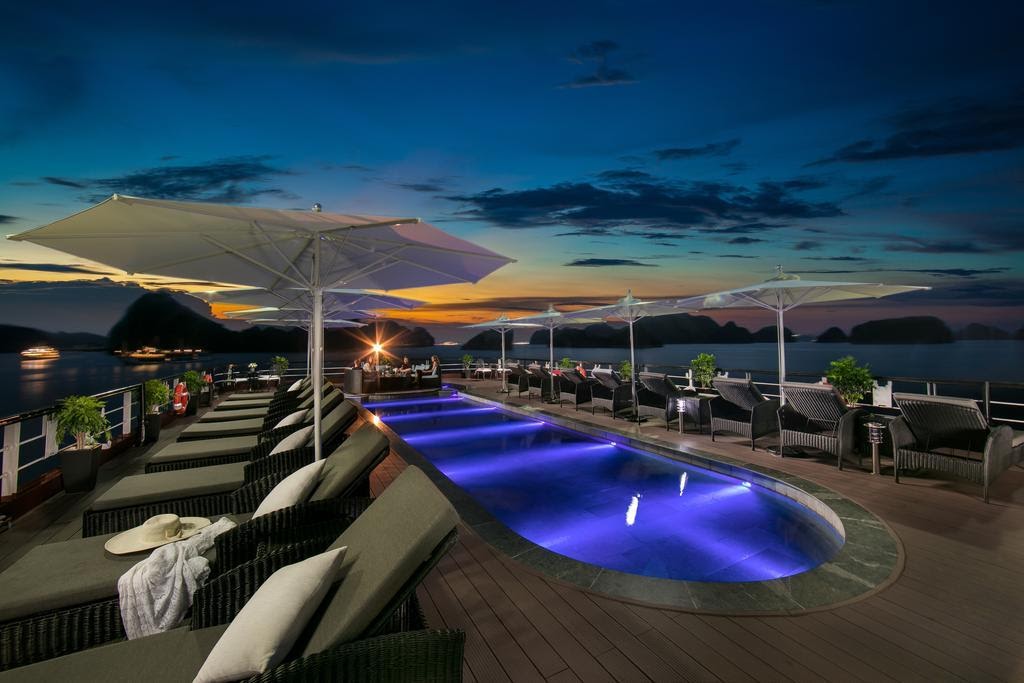 Photo: @madelineCruises – Outdoor pool
Another special thing that not all yachts have is: the restaurant on the yacht is highly appreciated by tourists with an extensive menu, with the chef at The soleil restaurant, which serves the culinary elite. regions for tourists. There is also an Ocean bar with over 100 premium cocktails and champagnes, an Outdoor Jacuzzi overlooking the bay, a quiet Madeline spa to help you have relaxing moments after a long day's activities.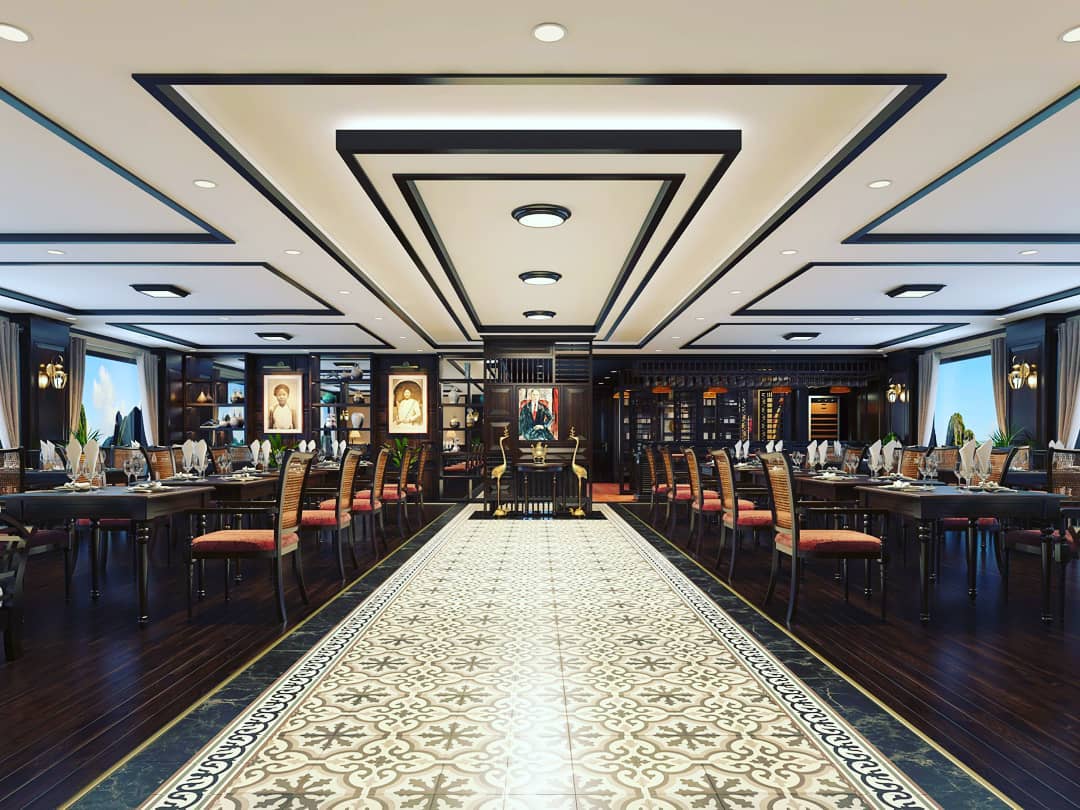 Photo: @madelinecruises - Luxury restaurant space
Madeline Cruises provides banquet and meeting facilities for business guests, birthday events, weddings… the cruise also serves  continental and buffet breakfast.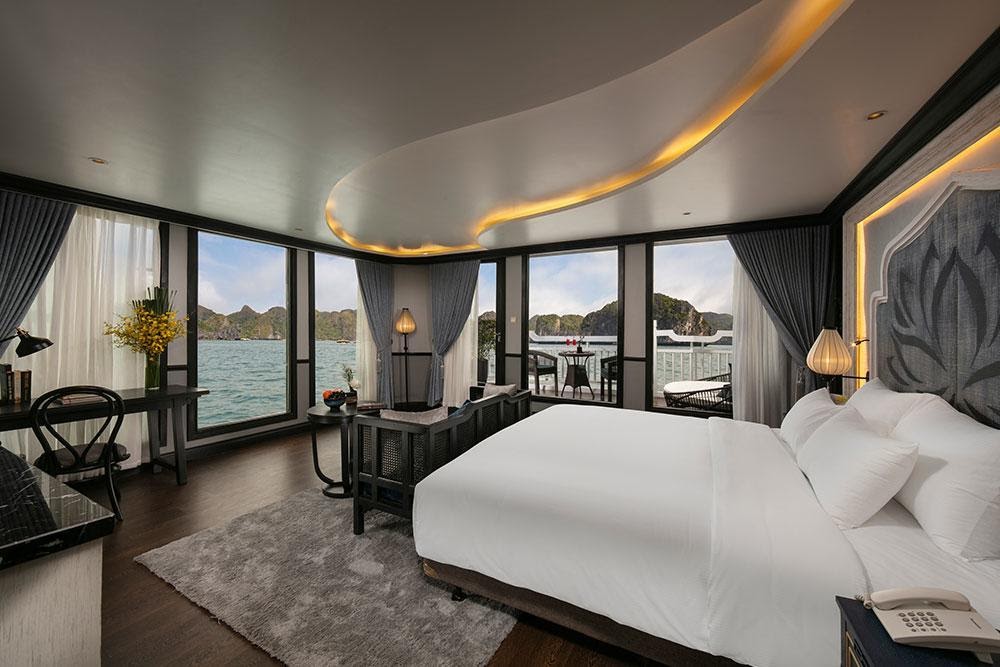 Elite of the Seas
Elite of the Seas is a 6-star yacht about to be launched in 2021. Designed in a luxurious, modern, quintessential style, there are 35 spacious rooms fully equipped with good amenities. Best: mini golf course, swimming pool, spa, gym...
The difference of this yacht is the gold-plated swimming pool, with an area of ​​50m2, this is the largest yacht swimming pool on Ha Long-Lan Ha Bay today. Designed infinity, covered by teak wood floors, here visitors can both relax, admire the beautiful scenery on the bay and take photos of themselves during check-in.
The yacht has a sundeck and private bath chairs, providing absolute privacy for guests, all rooms have a private bath with a beautiful view of the bay.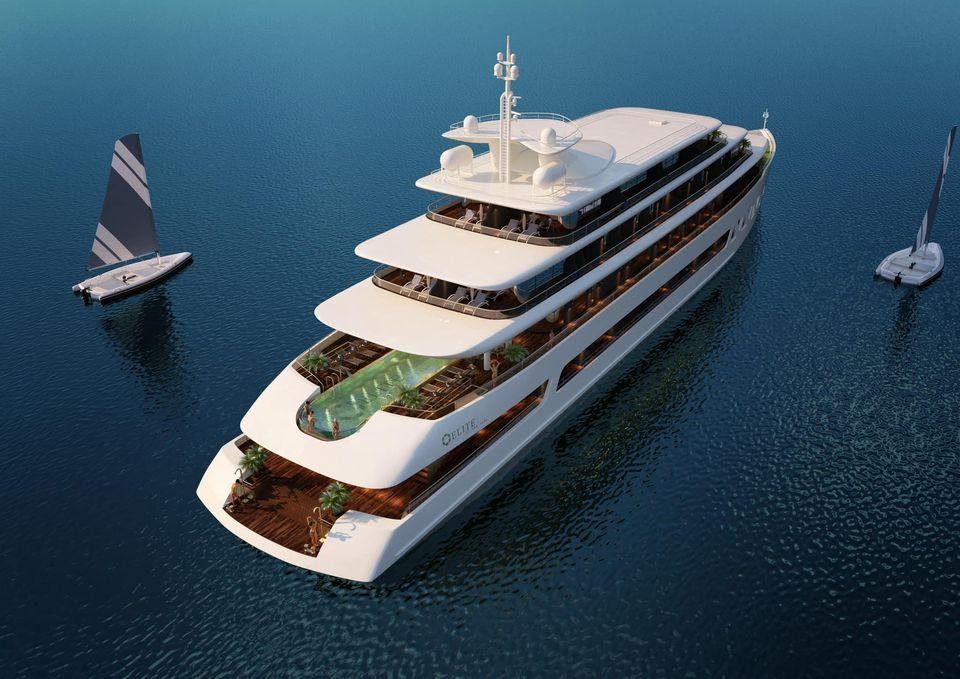 Photo :@duthuyen Elite of the Seas
The yacht's restaurant is located on the 2nd floor, designed in European style with a capacity of more than 100 guests, providing space for events, meetings, weddings, seminars, birthdays...
The restaurant's menu offers Western dishes, famous traditional Vietnamese dishes, served in BBQ and buffet style. With a team of professional and enthusiastic staff, we promise to bring you a high-class and complete vacation.
Elite of the Seas promises to be the most luxurious superyacht on Ha Long Bay.
Heritage Binh Chuan
Heritage Binh Chuan was newly established and officially put into operation in September 2019, with 5-star service, inspired by the first Vietnamese ship. Departing from Got ferry, Hai Phong, the cruise will take visitors through the sea and limestone mountains of Cat Ba archipelago and Ha Long bay.
The difference of this yacht is the four-season swimming pool located in front of the 3rd deck, the perfect place to relax and enjoy the breathtaking beauty of the natural wonder. This is also the first 5-star boutique-style yacht on the Gulf of Tonkin, featuring an art gallery floating on the water, 20 luxury rooms, with an area from 33m2 to 80m2 with full amenities. High-class facilities: spa, gym, four-season swimming pool, beautiful rooms, modern furniture like a floating hotel on the bay. Two different style restaurants, luxurious wine cellar and other modern equipment have affirmed the different level of this yacht.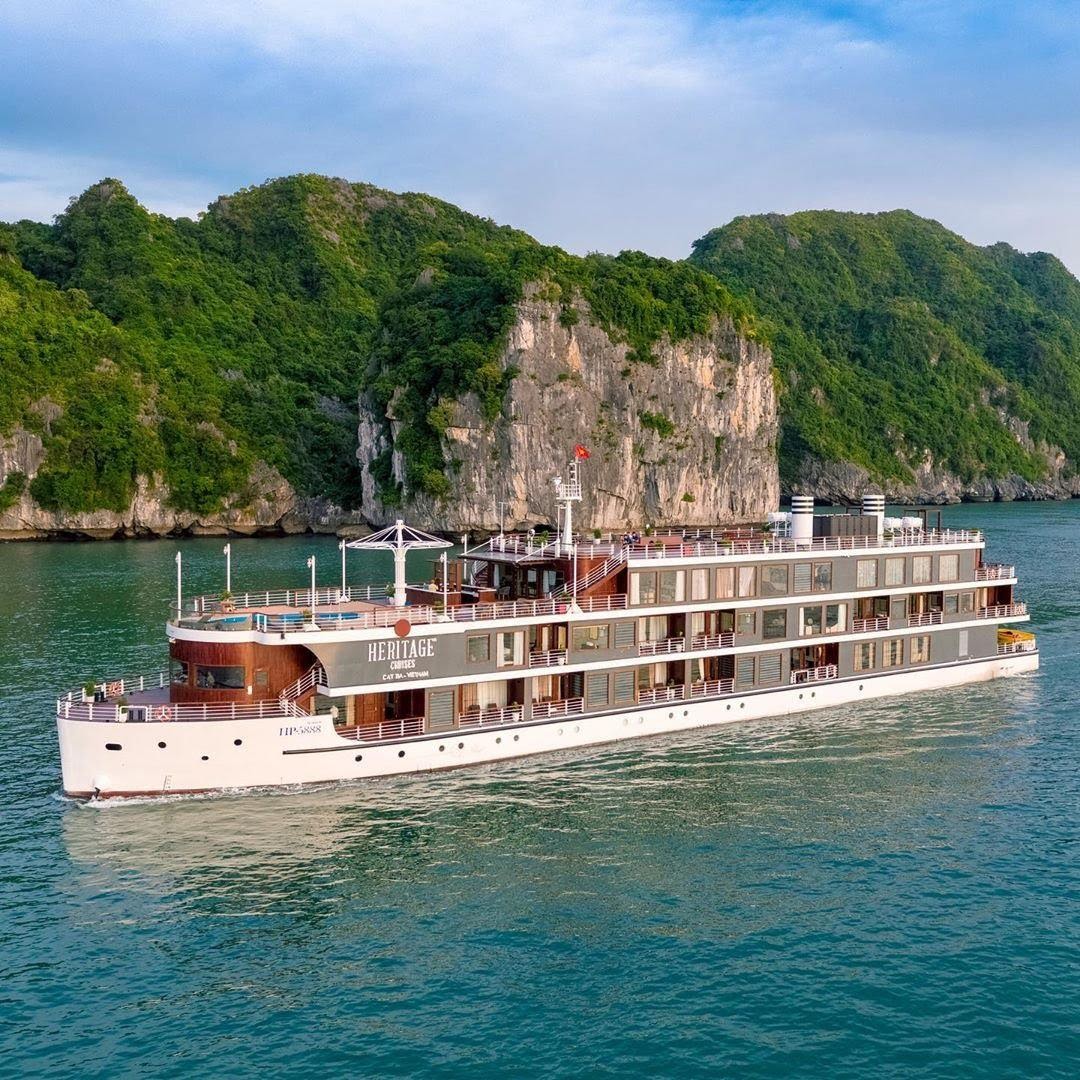 Photo: @heritagecruises 
Photo: @heritagecruises - Exhibition room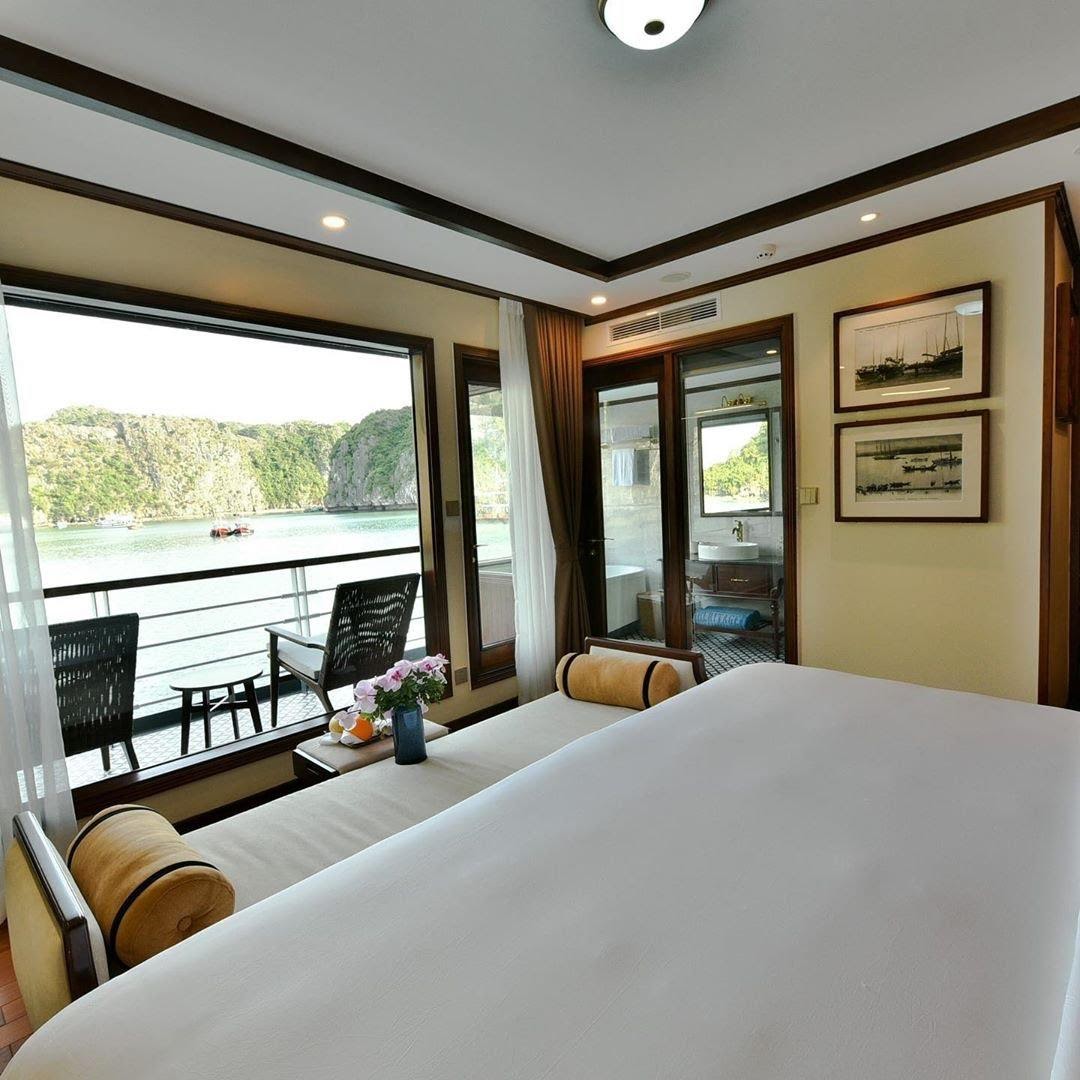 Photo: @heritagecruises- Warm bedroom space.
With unique features and facilities that yachts bring, Heritage Binh Chuan is worth your choice in this trip to visit Ha Long Bay - Lan Ha.
5 star capella cruise
Capella Cruise is the new and best cruise on Ha Long Bay, a combination of modern and classic style, luxurious wooden interior including 5 floors and 30 bedrooms equipped with the most exquisite amenities. will bring visitors unforgettable experiences in their journey.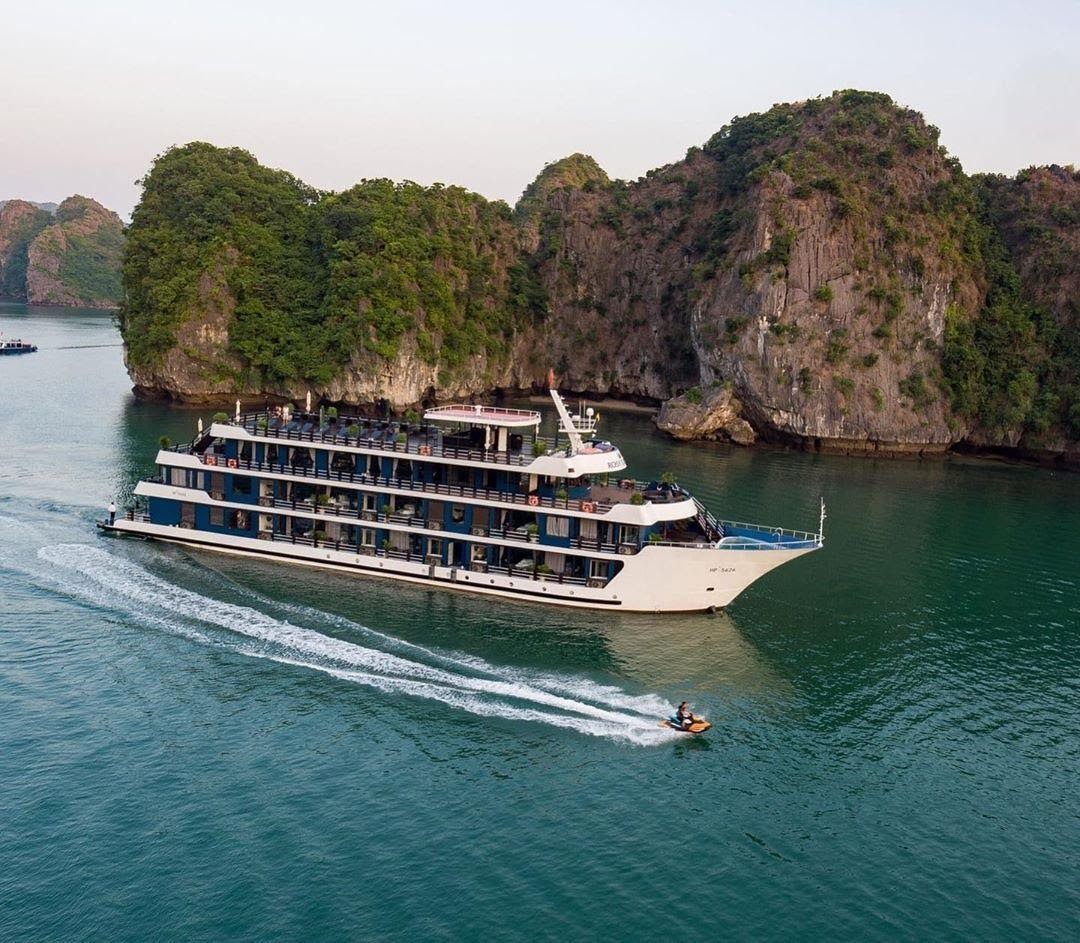 Photo: @quanvie 
The difference of this yacht is the infinity pool with an area of ​​​​50m2, with a very new water slide compared to other yachts, helping visitors have fun and refreshing moments in the blue sky. .
In addition, the yacht also has an elevator to make travel easier for visitors, the restaurant here also has large glass doors, visitors can both enjoy delicious dishes and admire the beautiful scenery of the island. Bay.
The rooms are balanced on the floors as follows: the first floor has 10 rooms, the second floor has 9 rooms, and the third floor has 11 rooms. All are arranged synchronously, scientifically, with elegant equipment to bring visitors a cozy, luxurious and most modern space. The rooms have private balconies and large windows overlooking the bay, allowing guests to fully enjoy the beauty of the natural wonder and the comfortable atmosphere here.
Meet Our Experts
Request a quote
Please make sure your email is correct.