Lan Ha Bay - the most attractive resort paradise on the occasion of the 30/4 holiday
Lan Ha Bay is rated by tourists as one of the most attractive destinations in the summer. Because Lan Ha Bay has a wild beauty, very own and has a unique and strange attraction with sandy shores located between 2 massifs, gentle sand slopes with clear blue sea to the bottom. This is a resort paradise that promises many interesting experiences that you should visit at least once in your life.
Introduction to Lan Ha Bay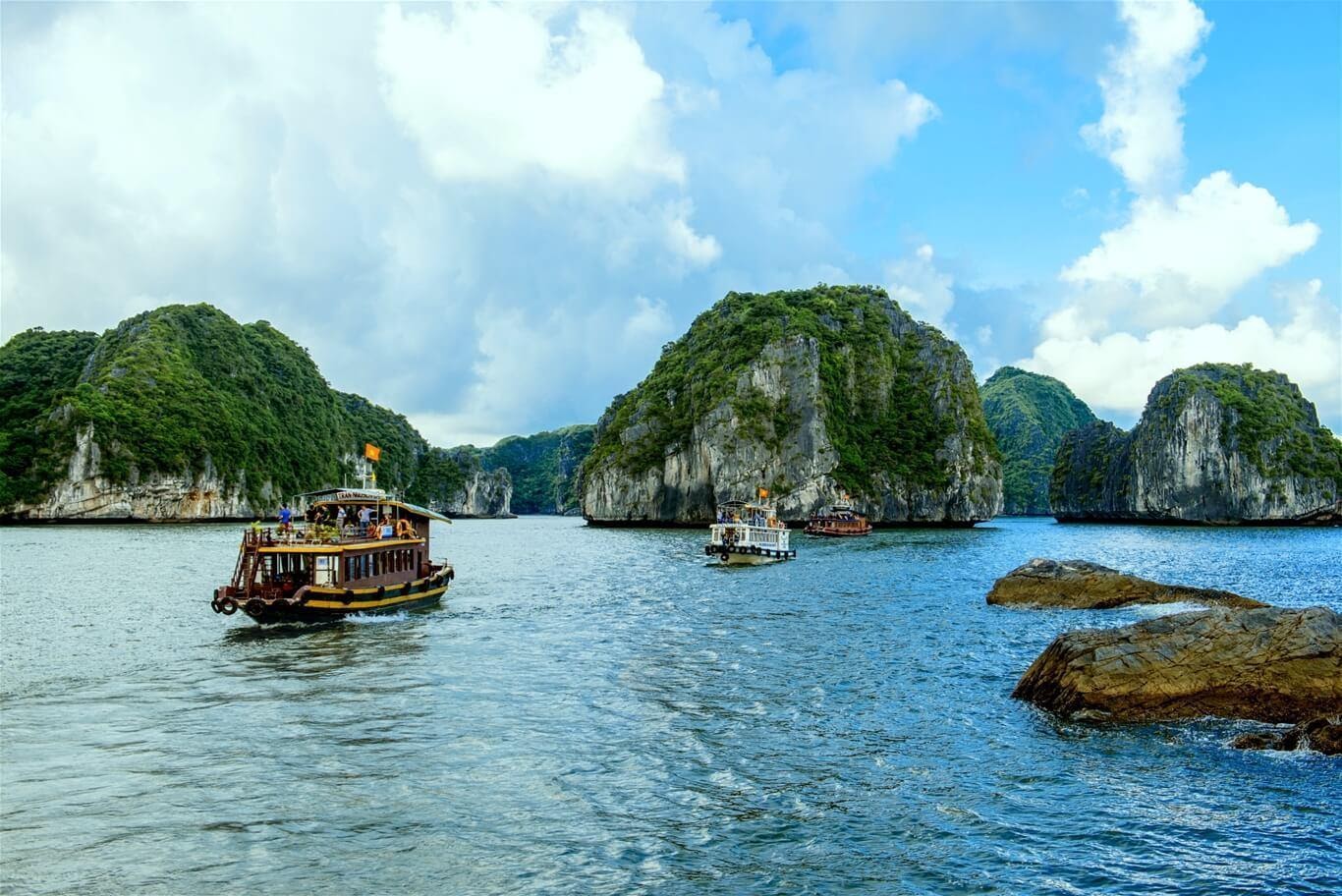 Lan Ha Bay is located off the coast of the beautiful coastal city of Hai Phong, about 30km from the city center. Lan Ha Bay is located in the East of Cat Ba Island and is an adjacent bridge between Cat Ba Island and the world wonder of Ha Long Bay. From the jetty of Cat Ba Island, it takes about 30 minutes to take a cruise with Lan Ha Bay.
Like a lovely silk strip woven by clear sea water to the bottom and green vegetation with an area of over 7000 hectares, Lan Ha Bay has a curved shape like an arc, surrounded by 400 large and small islands. Different areas are covered with vegetation, creating a giant natural picture like a fairyland.
The best time to travel to Lan Ha Bay
The average temperature in Lan Ha Bay is about 25-28 degrees Celsius, the atmosphere is very pleasant. In summer, the temperature can be up to 30 degrees and in winter about 15-20 degrees.
The most reasonable time to visit Lan Ha Bay is from April to July, the weather is quite nice, not too hot but not too cold, suitable for swimming and entertainment activities on the sea. You should avoid traveling in the late summer months, because this is the stormy season that will not be safe for your trip.
Means of transportation to Lan Ha Bay
To get to Lan Ha Bay, you have to move to Ben Beo from the center of Cat Ba Island, here buy tickets to visit the bay and then hire a boat to go to the tourist destination you want.
If you just go around the bay without going far, you should rent a motorboat from the locals. If you go in a group, you can actively rent a boat at the wharf. 
Tourist attractions in Lan Ha Bay
Hang Luồn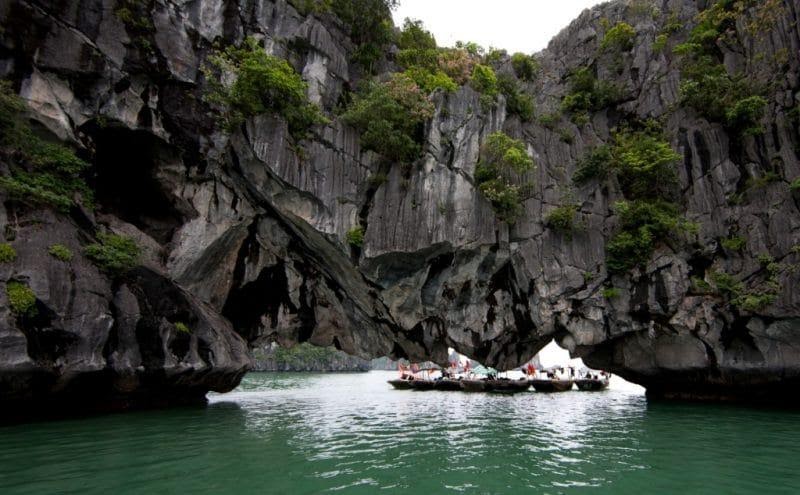 Photo: @hangluon
Luon Cave - located on Bo Hon island, the mouth of the cave is 3m high, about 4m wide, the scenery here is very wild, magnificent, steep cliffs, four seasons of blue water, as calm as a mirror. Close to the water's edge is a bow-shaped gate that opens at the foot of the island, which is Luon cave.
At the end of the cave is a lake and there are more yellow monkeys residing, adding more beauty and curiosity to visitors when coming here. Especially the shape of Luon cave, in front of the cave there is an archway that looks like a very strange and mysterious tunnel. At the entrance of the cave leading to the sea with a jade-green water color that blends with clouds, trees, and mountains, creating a water-color painting that has "cut the heart" of many visitors.
Above the cliffs are ten thousand years old, ferns, orchids and many green trees covering the water surface, making the scene more poetic, lyrical and shimmering than ever..
Nam Cat Island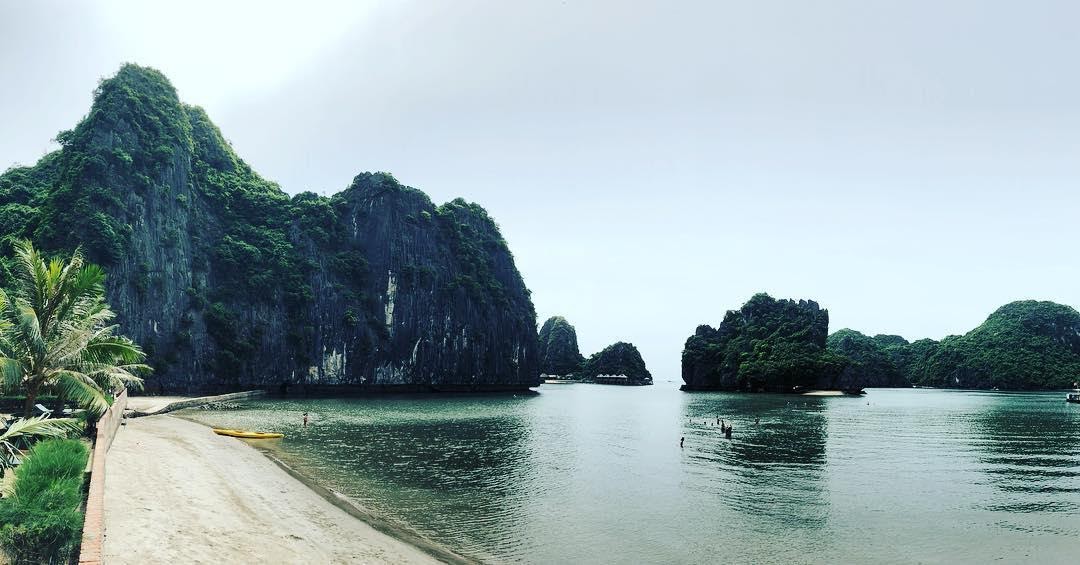 Photo: @cybier
Nam Cat Island is a small island in Lan Ha Bay, about 5km from Ben Beo of Cat Ba town. Nam Cat Island owns a beach about 500m long, has a wide slope and is surrounded by many small islands creating a beautiful natural scenery of the sea and islands.
Nam Cat Island will be a great choice for tourists, especially for nature lovers. With pristine beaches will be a place for visitors to relax in the sun, soak in the cool blue water. Unlike other beaches, this place has small sandy beaches that create a private space for you.
Monkey Island
Photo: @satoshi0040
Monkey Island is located about 2km from the center of Cat Ba town, to get to Monkey Island, tourists usually take a boat from Beo wharf, take about 10 minutes, go through Cai Beo fishing village, pass a few small islands and then go straight to Monkey Island. . The reason it's called Monkey Island is because there are many monkeys that are released freely, they often play with tourists, so it can be called an attraction not to be missed on Cat Ba Island.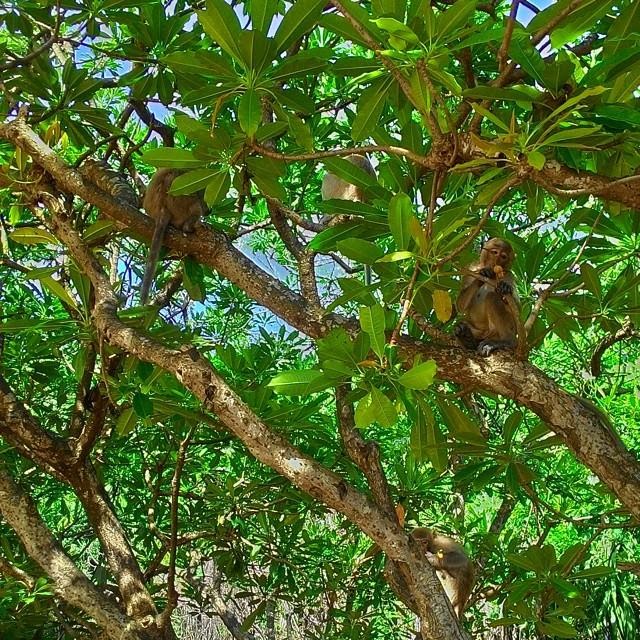 Photo: @dthanh.thanh
This is an island with a mountain structure with a sandy beach formed over millions of years with all kinds of sand, rocks, coral, marine life shells such as shells, shrimps and crabs washed up at the foot of the mountain to form a sandy beach. stretches for kilometers. In the summer, the beaches in Cat Ba become crowded, Monkey Island is the ideal choice for travelers who want to fully enjoy their vacation with peace and full of meaning.
Van Boi Beach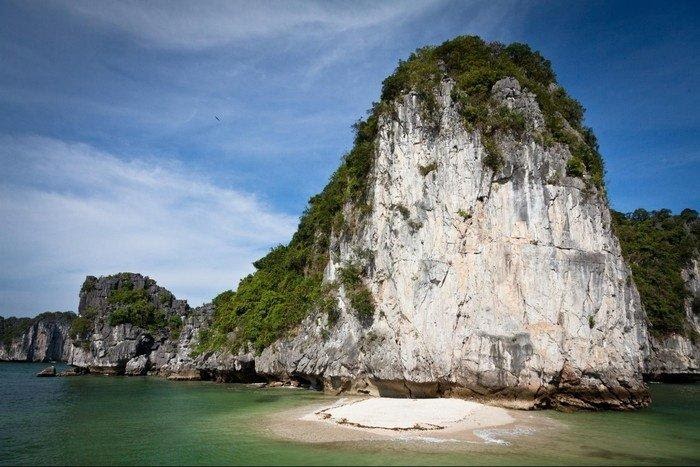 Photo: @baitamvanboi
Located in the quietest part of Lan Ha Bay, the clear blue sea and charming scenery make Van Boi beach famous for tourists. When traveling here, anyone will be conquered by the shy, restrained, wild beauty that still retains the inherent natural beauty.
You can rent bamboo boats, kayaks to move through the small islands of the bay, to Lan Ha Bay, do not miss Van Boi beach.
Turtle Island
Turtle Island is located in the population of Lan Ha Bay, close to the Ben Beo route to Viet Hai village. This is a small island that attracts tourists because of its unique shape, very similar to a giant turtle swimming on the water.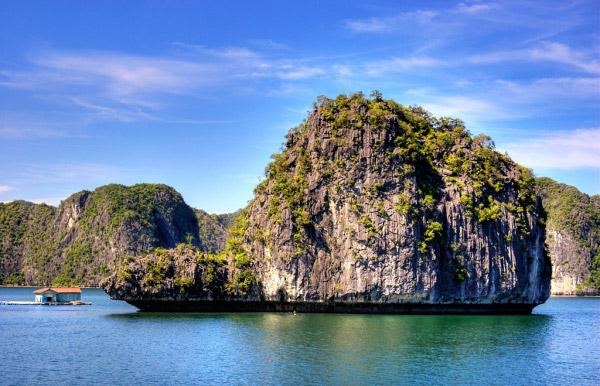 Photo: @vinhlanha
Notes when traveling to Lan Ha Bay
Prepare all the necessary luggage for a trip: sports shoes or soft cardboard to go sightseeing and play more comfortably. Swimwear, sunglasses, sunscreen, light and comfortable clothes…
Prepare your camera, battery and power bank to capture beautiful moments on the bay.
The prices of services in Lan Ha Bay, Cat Ba are expensive, so you need to find out and consider carefully before renting or buying anything.
The night in Lan Ha Bay is a bit cold, you should bring a light jacket with you.
Book a room or cruise 3-7 days in advance to guarantee room availability.
Meet Our Experts
Request a quote
Please make sure your email is correct.