Peony Cruise
Tuan Chau Pier, Halong, Quang Ninh, Vietnam
Show map
Price from: 4,650,000đ (Save 22%)
3,620,000 đ/pax
Booked 3 times in the last 24 hours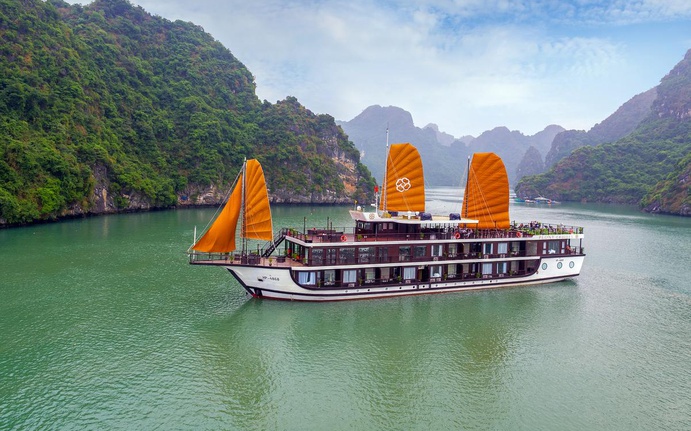 View all 45 photos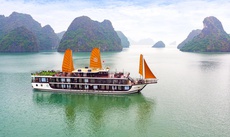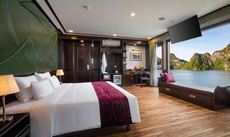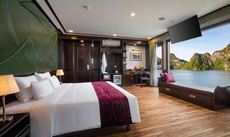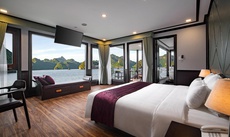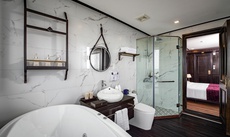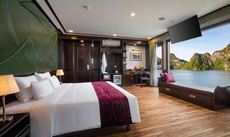 Peony Cruise belongs to the luxury cruise segment, providing high-quality accommodation and services.
Enjoy a sumptuous lunch and admire the charming scenery around Lan Ha Bay.
The program goes through the famous spots that make up the brand name of Lan Ha Bay. Various activities suitable for different travelers.
Outdoor jacuzzi pool, spa, gym
Rooms & rates
Select date and package options
Clear all
Accommodation Type
Deluxe Balcony - 2 Days 1 Night
25 m², Max:
Family Deluxe Balcony For 4 pax - 2 Days 1 Night
50 m², Max:
Premium Deluxe Balcony - 2 Days 1 Night
25 m², Max:
Suite Exclusive Peony - 2 Days 1 Night
45 m², Max:
Complete all required fields to continue
(Child Policy & Extra Bed Charge) )
About Peony Cruise
Owned by Big Bay Group, one of the largest overnight cruise brands on Ha Long Bay, Peony Cruise launched at the end of 2018 offers visitors the opportunity to explore Lan Ha Bay with its unspoiled natural beauty.
20 cabins on board have a delicate, elegant and modern design. A mini bar with ready-to-eat drinks is available to guests. From the large window and private balcony area, guests can direct a 180-degree view of the bay. Spending time relaxing with facilities such as Jacuzzi, sauna, gym, spa & massage is also a memorable experience for you.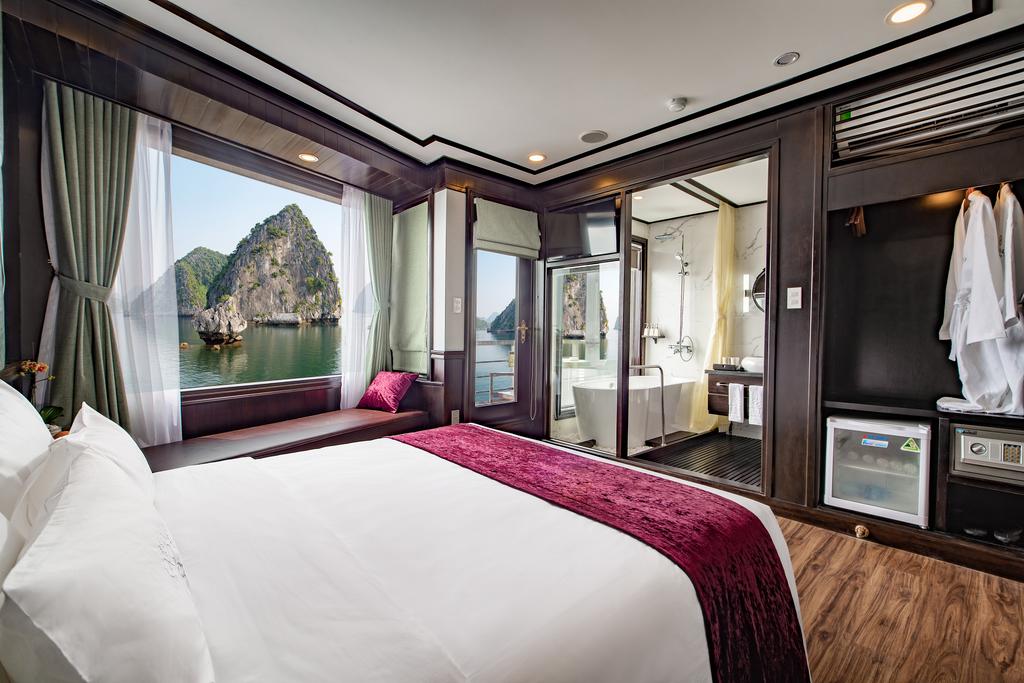 Rooms on Peony Cruise
A cruise 2 days 1 night and 3 days 2 nights on Lan Ha Bay are experiences extremely attractive such as kayaking in Frog Pond area and Dark - Light cave.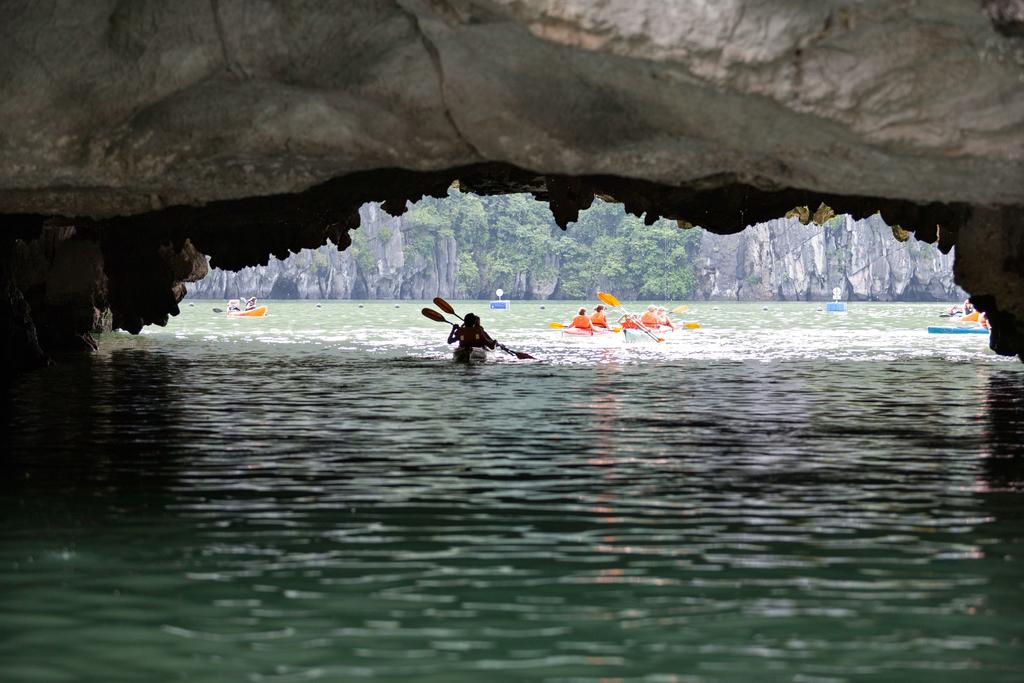 Interesting experiences are waiting for visitors during the journey
Things to know
Check-in time
Check-in time is from 12:15-12:30. If you are traveling by yourself, please be at the pier no later than 11:45 am to check in before boarding.
Check-out time
Check out time is from 9:30am to 10:30am depending on the schedule of each cruise. After check-out, you will be served lunch on board before the ship docked.
Check-in policy
Please send a photo of the passenger's ID card or birth certificate at least 5 days before the tour departure and bring these identification documents when checking in.
Rates include
One night aboard Peony Cruise
Welcome drink, cold towel
Deluxe rooms with air conditioning and private balconies
Four-season Mini Pool, Outdoor Jacuzzi
Sightseeing tickets in the program
Guides on board
4 meals on the program: 01 Lunch, 01 Dinner, 01 Breakfast, 01 Brunch
Kayaking; Night squid fishing;
Service fees and travel insurance
Price not included
Shuttle Service to the Ferry Terminal: $30/person (adults and children round trip). Pick up point: at hotel in Hanoi Old Quarter or in front of Hanoi Opera House
VAT tax
Drinks and personal expenses
Tips and other services not mentioned in the "Inclusion" section
Children, extra bed and weekend surcharge
Each cruise has its own rules regarding child surcharges and weekend surcharges. Please refer to the child surcharge information in the room rate section.
Cancellation of reservation
The above prices are subject to general conditions of non-refundable/cancellation and date change is allowed. In case you want to change the date, please refer to the regulations on changing the date.
Cancellation due to weather conditions
The cancellation of trip due to weather conditions will be specified directly by the Bay Management Board. Please refer to Halong Cruise's delay/cancellation policy due to weather conditions.
Frequently asked questions
From which port does Peony Cruise depart?
Peony Cruise departs from Tuan Chau International Port, Halong City, Quang Ninh Province.
Does Peony Cruise have massage services?
Yes. Peony Cruise has massage service starting after lunch time. Travelers can book directly with the cruise manager.
Does Peony Cruise have a surcharge on Public Holidays and New Year's Eve?
There is a surcharge for the cruise on occasions such as Christmas, New Year and Lunar New Year.
What activities are on board?
Onboard activities include sunset party, four-season mini pool, outdoor Jacuzzi, night squid fishing, movie watching.
Does Peony Cruise go to Cat Ba Island?
If you book a 2-night trip, you will have a chance to visit Cat Ba island by a day boat. The day boat will bring you to Viet Hai Village and Ba Trai Dao area to swim.
Can I choose a high floor room?
Peony Cruise has 3 main room categories: Deluxe, Premium and Exclusive Suite. If you want to book a room on the upper floor, you can refer to Premium or Suite Exclusive.
Is Tuan Chau Marina near Cat Ba? How to move to Cat Ba?
From Tuan Chau Marina, you can go to Cat Ba Island by ferry. The ferry station is located right in the port. You can ask the staff to show you the way to get there.
How many caves does the Peony Cruise visit?
Peony Cruise visits Dark-Bright Cave on the first day only. It is a flooded cave so you can't walk or hike but you can sit on a bamboo boat rowed by a local or kayak through the cave to see a lagoon and the stalactites.
Does the cruise have a vegetarian menu?
Peony Cruise offers vegetarian meals. Please notify the customer service staff in advance before booking so that the cruise can prepare carefully.
Maps and Itineraries
Peony Cruise departs from Tuan Chau International Marina, lot 16.
You can see the 2 day /1 night itinerary here.
Reviews (6)
| | | |
| --- | --- | --- |
| 5 star | | 6 reviews |
| 4 star | | 0 reviews |
| 3 star | | 0 reviews |
| 2 star | | 0 reviews |
| 1 star | | 0 reviews |
Tammy
If you like Lan Ha Bay, Peony Cruise should not be missed. My family with 2 kids has booked a 2 nights trip to enjoy the best of the bay. We kayaked, swam, cycled, and enjoyed the food so much. Our kids caught some squids at night and they were really excited. Highly recommend Peony to everyone!
helpful (0)
1 year, 9 months ago
Audrey Siah
Peony Cruise looks elegant and luxurious. The cabin with a balcony and bathtub is perfect for us. We love sitting at the balcony and enjoy the scenery. Lan Ha bay is very beautiful and calm. Food and service is excellent!
helpful (5)
1 year, 9 months ago
Charlie
The bay was super calm. We love the trip to Dark and Bright Cave. More time for kayaking please!
helpful (2)
1 year, 10 months ago
Barrie
Just want to say thank you to the crew team and Cruisehalongbay for being so helpful. The trip was smooth from the beginning to the end. We would come back and stay 2 nights next time.
helpful (0)
1 year, 10 months ago
Jenny
Nice boat. The staff is a huge plus for the cruise. They always made us feel like at home and enjoy the trip. Thank you so much.
helpful (2)
1 year, 10 months ago
Hana Dao
Chúng tôi đã có một chuyến đi ý nghĩa trên du thuyền Peony. Tàu khá mới và được trang bị đầy đủ tiện nghi, có một chiếc bể bơi nhỏ cho trẻ con. Các con tôi đã rất thích thú với câu mực. Đáng để thử!
helpful (5)
1 year, 11 months ago
0 Comments
Be the first to comment on this page
Cruise information
Itinerary:
Lan Ha Bay - Frog Pond Area - Tra Bau Area - Trung Trang Cave
Meet Our Experts
Request a quote
Please make sure your email is correct.
Why choose us?
Better price than walk-in booking
Best price guaranteed
Highly experienced travel consultant
More than 80 cruises on offer
Exclusive seasonal deals
Easy and safe payment
Customer reviews

I am very satisfied with this trip. Thank you cruisehalongbay.com for booking the tour, helping me have a happy and …
Tuyet Bui

Thu Huong advises very enthusiastic and thoughtful, I am very satisfied with you and cruisehalongbay.com company. The quality of the …
Tran Trung

Great experience and beautiful surroundings. Beautiful train, professional staff, very attentive.
An Nhiên
You might also like...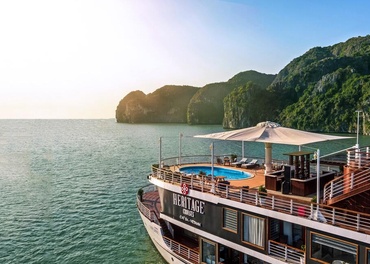 23% OFF
Lan Ha Bay
Launched 2019 - Metal ship - 20 cabins
Top cruise brand
Outdoor swimming pool
Free kayaking
Summer offer 2022
Booked 4 times in the last 24 hours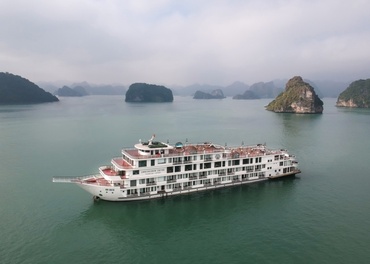 31% OFF
Ha Long Bay
Launching 2018 - Metal ship - 46 cabins
6 star cruise
Outdoor swimming pool
The only cruise with elevator
Lobster dinner
Booked 6 times in the last 24 hours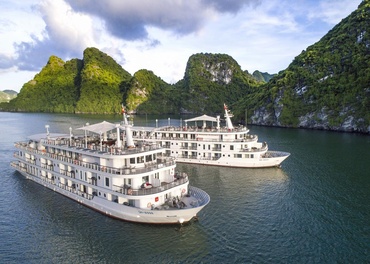 29% OFF
Ha Long Bay
Launching 2016 - Metal Vessel - 31 rooms
Top 5 star cruise
Special cuisine
No weekend surcharge
Booked 3 times in the last 24 hours