Le Theatre Cruise
Tuan Chau Wharf, Ha Long, Quang Ninh, Vietnam
Show map
Price from: 4,500,000đ (Save 31%)
3,080,000 đ/pax
Booked 3 times in the last 24 hours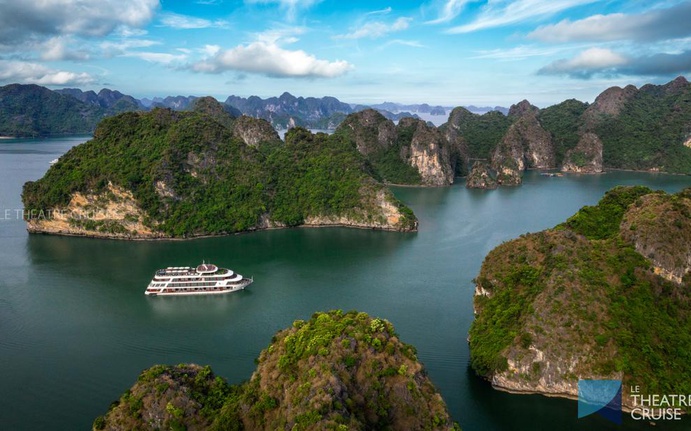 View all 42 photos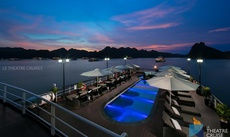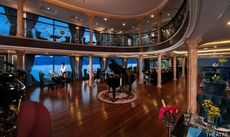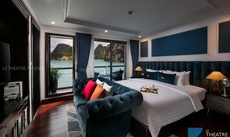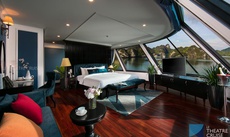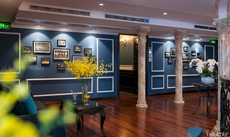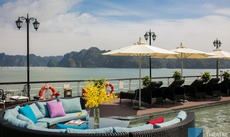 A luxury cruise offering a wonderful space with state-of-the-art amenities.
Enjoy the feeling of relaxation with a foot bath on board.
Guests will enjoy the quintessence of Vietnamese cuisine, creative dishes, and excellent cocktails at the restaurant and bar.
The overnight cruise program is an opportunity for you to find a balance between experience and relaxation as well as fully enjoy the natural beauty of Lan Ha Bay.
Rooms & rates
Select date and package options
Clear all
Accommodation Type
Junior Suite - 2 Days 1 Night
25 m², Max:
Executive Suite - 2 Days 1 Night
30 m², Max:
Family Suite - 2 Days 1 Night
35 m², Max:
Suite Panorama - 2 Days 1 Night
40 m², Max:
Suite Le Theater - 2 Days 1 Night
40 m², Max:
Complete all required fields to continue
(Child Policy & Extra Bed Charge) )
About Le Theatre Cruise
Launched in 2019, Le Theatre Cruise is a high-quality steel boat wtih a modern machinery system, promising high safety and comfort for passengers. Coming to Le Theater cruise, you feel like you are lost in a resort paradise with many convenient services such as spa & massage system for great relaxation, restaurant, bar, ocean-view pool, etc.
The 5-star Le Theatre Cruise features a minimalist, sophisticated design. The ship includes 21 luxurious cabins with the main white and brown colors, with a private balcony overlooking the bay. The large bathroom is equipped with a bathtub.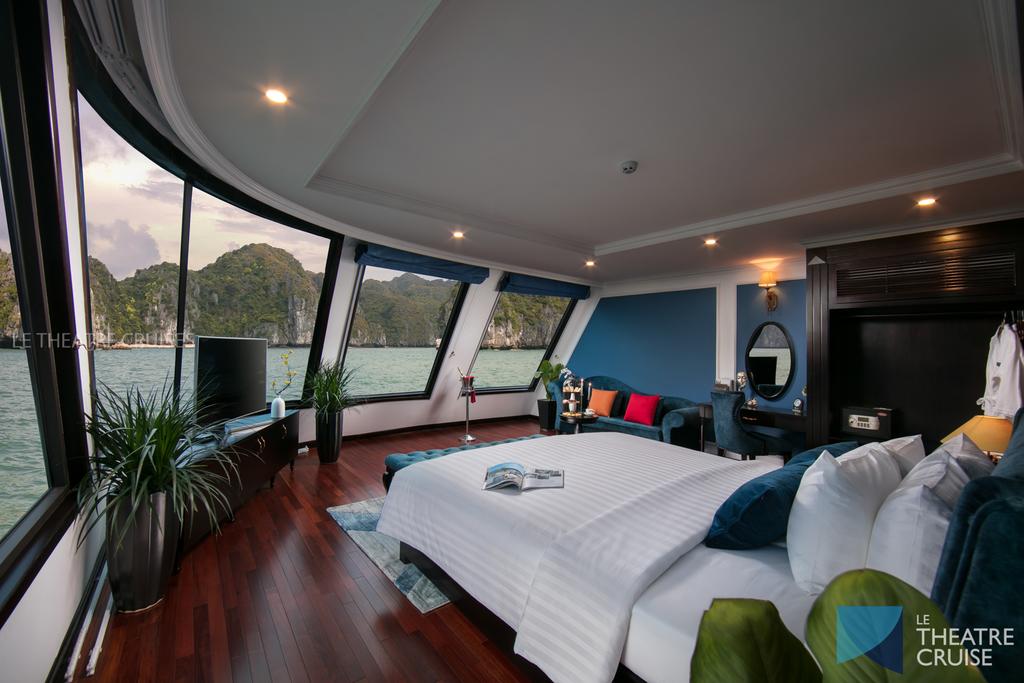 Inside a suite on Le Theatre Cruise
On the journey to visit Lan Ha Bay, Le Theatre cruise visits Bright Dark Cave with beautiful stalactites and Frog Pond area. You will be able to try your hand at kayaking or sit on a bamboo boat paddled by a local and enjoy the beautiful views of the bay.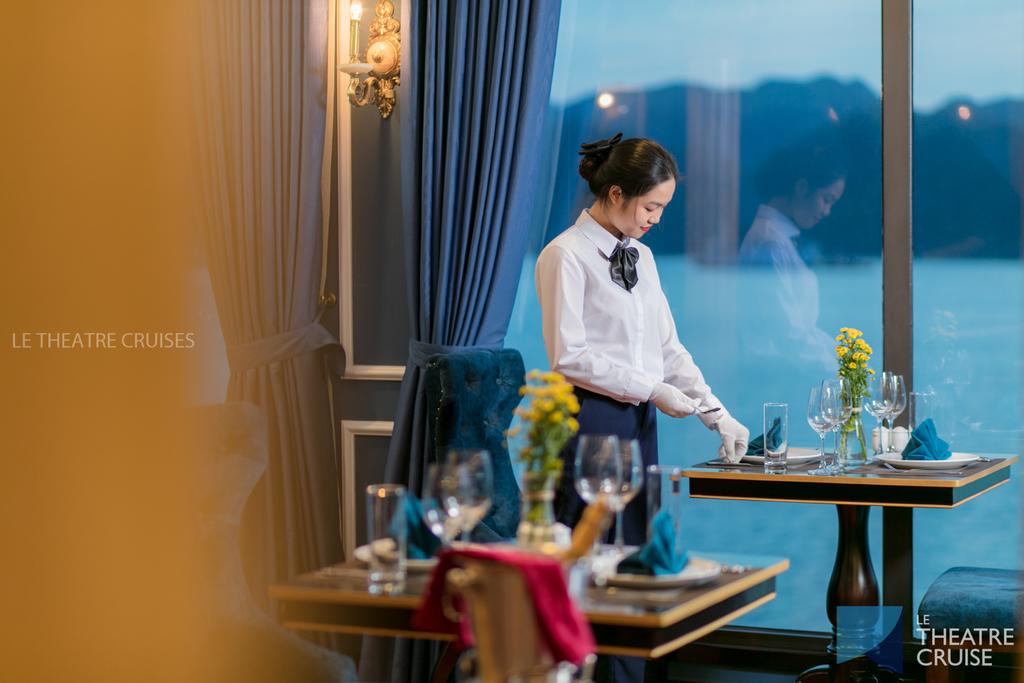 With a professional and dedicated staff, you will have a perfect vacation!
Things to know
Check-in time
Check-in time is from 12:15-12:30. If you are traveling by yourself, please be at the pier no later than 11:45 am to check in before boarding.
Check-out time
Check out time is from 9:30am to 10:30am depending on the schedule of each cruise. After check-out, you will be served lunch on board before the ship docked.
Check-in policy
Please send a photo of the passenger's ID card or birth certificate at least 5 days before the tour departure and bring these identification documents when checking in.
Rates include
· Entrance and sightseeing fees.
· Welcome drinks with warm/cold tissues
· In-house English speaking guide
· Kayaking, local rowing boat.
· Full equipped luxury en-suite cabins with multi A/C, wifi, satellite - HD LED Tivi .
· All meals on cruise ( 01 lunch, 01 dinner, 01 light breakfast, 01 brunch ).
· Seasonal fruits plate&bottled wine ( Fruits basket ONLY in Junior suite/connecting room)
· 02 bottles of water in each cabin daily.
· Cooking demonstration, night squid fishing, Tai Chi session
· Onboard insurance
Price not included
· Transfer Hanoi – Halong – Hanoi
· Airfare, hotel, visa arrangements, airport transfer
· Beauty Spa Services & Massage.
· Beverages, tips, gratuities, and other personal expenses.
· Surcharge for Xmas, New Year's Day & Lunar New Year's day
· All other services not clearly mentioned above
Children, extra bed and weekend surcharge
Each cruise has its own rules regarding child surcharges and weekend surcharges. Please refer to the child surcharge information in the room rate section.
Cancellation of reservation
The above good prices are subject to general conditions of non-refundable/cancellation and date change is allowed. In case you want to change the date, please refer to the regulations on changing the date.
Cancellation due to weather conditions
The cancellation of trip due to weather conditions will be specified directly by the Bay Management Board. Please refer to Halong Cruise's delay/cancellation policy due to weather conditions.
Frequently asked questions
What style of food does Le Theatre Cruise serve?
The restaurant on the cruise serves a variety of Vietnamese and European dishes.
Which room categories are available at Le Theatre Cruise, do the cabins have a balcony?
Le Theatre Cruise has 5 room types: Junior Suite, Executive Suite, Le Theater Suite, Panorama Suite and Family Suite. All rooms have a balcony / terrace overlooking the sea.
How many people can the family room accommodate?
Family room with an area of 35m2 is suitable for a family of 3 adults and 1 child under 5 years old.
Is there an extra bed on board?
The boat has an extra bed, but there will be an extra charge if used.
Is there a surcharge for Le Theatre Cruises for public holidays?
The cruise applies a surcharge for weekends, Christmas Eve, New Year and Lunar New Year.
Where does the shuttle bus pick up?
The shuttle bus picks you up from your hotel in Hanoi Old Quarter.
Is there a private bathtub in the room?
Except for the Junior Suite, which only has a walk-in shower, the other room types on Le Theatre cruise are equipped with a private bathtub.
If I land at Van Don airport, can I arrange a free shuttle to the pier?
Le Theatre Cruise only has a shuttle bus service from Hanoi Old Quarter. If you go from Van Don airport, you can take a taxi or private car to the pier at Tuan Chau. Travel time from Van Don airport to the pier is about 1 hour.
Is there a bar on board?
The cruise has a bar serving a variety of drinks. You can order drinks and pay directly on board.
Maps and Itineraries
Le Theater Cruise departs from Tuan Chau Port, Quang Ninh.
You can see the detailed itinerary for 2 days 1 night here.
Reviews (35)
| | | |
| --- | --- | --- |
| 5 star | | 32 reviews |
| 4 star | | 3 reviews |
| 3 star | | 0 reviews |
| 2 star | | 0 reviews |
| 1 star | | 0 reviews |
Jackson Nguyen
Nice cruise, good service. Our team had a lot of fun doing team building and gala dinner on the ship.
helpful (3)
1 year, 6 months ago
Grant
My family and I took the Le Theatre cruise, the children really liked the swimming pool, the food was also suitable for the family's taste.
helpful (3)
1 year, 6 months ago
Low Jie
Le Theatre is very impressive from the design to the facilities. The interior is nicely decorated, especially the cabins. We book the Panorama Suite and it was absolutely amazing. The service was excellent, too.
helpful (4)
1 year, 6 months ago
Andy Lee
Thanks to Le Theatre cruise, we totally got peace in mind after a long time. Would come back and stay for 2 nights at least.
helpful (3)
1 year, 5 months ago
Angelo Guo
The ideal trip for those with small children. The room has a bathtub, children can play in the bathtub or use the rooftop swimming pool. In the afternoon, the whole family went up to the restaurant area to eat snacks that the cruise had prepared. Meals are adequate, our family had a safe and happy journey on Le Theatre cruise.
helpful (6)
1 year, 6 months ago
Melisa Coy
Classic luxury cruise, enthusiastic and friendly staff. Will recommend to family and friends.
helpful (0)
1 year, 6 months ago
Elizabeth
Well-planned schedules for activities on board and off-board. The trip to the cave by kayaking was very peaceful. Highly recommended!
helpful (4)
1 year, 6 months ago
Faith
Choosing Le Theatre cruise for our event. Cruisehalongbay and Le Theatre's crew were very supportive and helpful. The sundeck is suitable for a cocktail party. Everyone in our group has a great time. Thank you very much!
helpful (6)
1 year, 6 months ago
Vân Anh
Tàu đẹp, bể bơi rộng, thích hợp cho gia đình có trẻ con. Nhà mình ở phòng thông nhau khá tiện mà rộng rãi. Đồ ăn khá ngon và tươi. 5 sao
helpful (3)
1 year, 6 months ago
Kim Thanh
My boyfriend and I had a memorable trip on the Le Theater cruise. We have been able to see and visit many beautiful and unspoiled places of Lan Ha Bay. The staff is attentive and dedicated to taking care of us throughout the journey, always ready to help 24/24
helpful (4)
3 years, 3 months ago
Tuấn Thành
Everything on board is great. The staff is very friendly, the food is delicious, the activities are really rewarding and let you experience the culture. The layout of the cruise is also very perfect with a large rooftop and the stairs going between floors are also quite spacious and sturdy
helpful (2)
3 years, 2 months ago
Chu Quyên
My kids really enjoyed the cooking class on the boat and the kayaking. Good rooms, attentive staff. My child does not eat onions and coriander so his food has been omitted these 2 vegetables.
helpful (2)
3 years, 4 months ago
Khánh Mai
Professional staff on board, arrange a standard and flexible schedule. If you don't want to participate in any tour activities, you can relax right in the balcony of your room or on the terrace of the ship and enjoy delicious drinks at a reasonable price
helpful (1)
3 years, 3 months ago
Bùi Thu
First time experiencing a 5-star cruise at sea. It sounded epic and when on tour it was true to the rumors. New ship, synchronous design, modern with full equipment. There is also a Spa on board, but you have to pay if you use the service. The food is absolutely delicious and the service attitude is above all excellent. I feel like I've been raised to a human level.
helpful (2)
3 years, 3 months ago
Hoàng Thế Vinh
My favorite part is the bathtub overlooking the sea. We took so many beautiful pictures. The room is also airy and has a private balcony, enjoying coffee and watching the sea. The food is fresh and delicious with lots of options, especially the lunch buffet. It's really worth the money
helpful (2)
3 years, 3 months ago
Quốc Uy
My family has 6 people, including 1 doctor who has to use a wheelchair and is not convenient to travel. At first, I was a bit worried because I didn't know if it was difficult to get on and off the cruise. From the moment he got in the car, the driver was very supportive. Arriving at the cruise, the staff was warmly welcomed and there was a friend who was always there to help us help us with a wheelchair every time we go up and down the restaurant to eat. Thank you fleet for your dedication
helpful (1)
3 years, 3 months ago
Bùi Việt
I've never been on a cruise because the price is quite high. This year alone, the price of cruises for Vietnamese tourists is cheap due to the post-Covid tourism stimulus, so I chose to try it out. After experiencing it, I find it really worthy of 5 stars like a hotel on the mainland. The cruise is fully equipped with modern equipment, delicious food and polite and attentive staff. I will definitely choose this ship again
helpful (1)
3 years, 2 months ago
Hoàng Lan
The ship has a luxurious, beautiful and airy design. The ship's food is also quite suitable for Vietnamese taste. My family is full of adults, no children, so there are no special requirements. I like quiet and comfortable. Le Theater Cruise has a very professional staff. The quality of service as I see it is very good. You probably serve a lot of foreign customers, so the service style is very prompt and professional.
helpful (1)
3 years, 4 months ago
Hà My
Initially, I did not intend to book Le Theater cruise, but after listening to your advice about the quality of service, I decided to book. I am very satisfied with the service of the cruise from shuttle bus, schedule as well as food. The cruise has a beautiful and cozy design, and a reasonable tour schedule.
helpful (2)
3 years, 3 months ago
Mrs. Hiên
The cruise is designed in a deep brown color of wood, so I like it very much. I like the quiet, luxury of the Theater boat. I can lie down to rest or relax in a private balcony chair and still have a panoramic view of the sea. The staff on board are very enthusiastic and attentive. The ship's food is also delicious. Next time, I will invite a few friends to take the boat with me. Thank you to the staff of the ship!
helpful (1)
3 years, 3 months ago
Sơn Tuấn
I was recommended by a friend who recently went to Le Theater cruise, so I also wanted to try it. I also booked the shuttle bus service of the cruise station. Right from the moment I was picked up by the bus, I found the cruise's service very good. Enthusiastic and thoughtful driver to carry things for your home. Because I have children at home, I have a lot of things. Arriving at the pier, the entrance is a bit small, but the waiting room is very clean and airy. Our kids were able to ride a boat for the first time and have a swimming pool, so they were very excited. Everything on the cruise from the room to the food, the staff make me very satisfied
helpful (3)
3 years, 4 months ago
Gia Quỳnh
My wife and I booked a Panorama room. Beautiful view with windows surrounding the room but no balcony, so I couldn't sit outside on the balcony to enjoy a drink. The bathroom was great, my wife especially liked the heated seat installed in the toilet. Attentive and friendly staff. Nice to chat with new friends on board, including Vietnamese and foreigners.
helpful (2)
3 years, 4 months ago
Hoàng Phúc
I appreciate the efforts of the ship's staff, they always ask questions and make sure the crew gets the best treatment. I went on the tour on a rainy day, so I couldn't participate in many activities, seeing that the staff here also had a hard time carrying things or leading guests one by one to the boat so that they wouldn't slip while they were not alone. have a raincoat on. You must be very passionate about your job to have such enthusiasm
helpful (1)
3 years, 2 months ago
Thanh Uy
I really like this cruise because the design style, food and especially the experienced, funny and leading guide make me very excited about the destinations.
helpful (1)
3 years, 2 months ago
Diễm Thư
New ship with synchronous equipment, the furniture in the room and restaurant are all embossed with the ship's logo. The tour program has many useful activities. I am especially impressed with the service staff on board, from the Manager to the staff who are always welcoming and try to bring us the best services
helpful (1)
3 years, 3 months ago
Hoàng Vinh
All the rooms are quite large and have panoramic views. Food on board is hearty with a variety of delicacies and plenty of choice. The tour activities are also great especially the kayaking. The rooftop bar is a place for guests to relax in the evening with delicious drinks and make new friends
helpful (1)
3 years, 5 months ago
Diễm Phương
We did a two-day, one-night cruise on the Le Theatre. From start to finish we felt very well taken care of and the staff were very attentive. We were picked up and dropped off at Hanoi in an air-conditioned vehicle. Due to bad weather we had to delay our trip by a day and were lucky to be upgraded to a better room. This is probably the most unforgettable trip ever
helpful (1)
3 years, 4 months ago
Diễm Hạnh
Modern Limousine shuttle from Hanoi. My room has a balcony and large window right next to the bed, fortunately I was placed in a room far from the engine compartment so there was no noise and the smell of oil. Courteous staff with extensive knowledge of the destination.
helpful (1)
3 years, 4 months ago
Minh Phong
I heard that Lan Ha Bay is also beautiful and less crowded than Ha Long, so I decided to choose a 5-star boat for my kids' summer vacation. It is true that a hundred sounds are not as good as one to see, a luxury ship with high-class furniture, a beautifully designed room with many glass doors and a balcony to enjoy the view of the bay. There is also a swimming pool on the boat and a large deck for my wife to check in. The tour schedule was not very special, but we were also immersed in the beauty of the sea. The food and staff are also very good. My family really had a meaningful and fulfilling trip
helpful (1)
3 years, 3 months ago
Trương Bảo Hân
Train Le Theater is new, luxurious, modern design with full equipment like a 5-star hotel on the mainland. The room has a balcony, large windows to enjoy the majestic beauty of Lan Ha Bay. My room has a bathtub next to the window, it really delights me. This ship deserves a 5-star standard in terms of facilities and services
helpful (1)
3 years, 4 months ago
Miss Ánh Dương
I really like the meals at Opera restaurant, the food is fresh, the staff is quick to serve. I also saw them prepare vegetarian food for guests. The bus from Hanoi is also luxurious and the driver is knowledgeable and careful on the road. The ship did not dock at the wharf, but it took more than 10 minutes by speedboat to get to the main ship. Most of the ships in Ha Long are like that, so I don't pay much attention to this problem
helpful (1)
3 years, 3 months ago
Lê Việt Long
Everything on board Le Theater is perfect, exceeding expectations. Extensive menu, polite staff, know how to listen to customers' opinions. The schedule to visit the Frog Pond and the Dark and Bright cave, but I prefer the Dark and Bright cave area.
helpful (1)
3 years, 4 months ago
Nguyễn Anh Chi
Interesting trip, beautiful scenery of Lan Ha Bay, luxury cruise with delicious meals suitable for Vietnamese people, quiet and romantic space, comfortable rooms with large balconies. Great experience and not too crowded because the cruise only has 21 rooms
helpful (1)
3 years, 3 months ago
Quang Hiếu
The cruise is very beautiful and luxurious, the space is very comfortable, worthy of the cost. Delicious and appetizing food, spacious room with large balcony overlooking the bay with full modern equipment and very surprised to still have cable TV at sea. The ship's architecture in the style of Opera house is suitable for Check in beautiful photos. We will come back and recommend to friends and family!!!
helpful (1)
3 years, 2 months ago
Minh Bảo
I booked a Family Suite room on the 3rd floor with a large sundeck, my baby is very interested in the swimming pool on the boat because he is afraid to go to the sea to bathe. New ship, luxurious design, restaurant is available on the 2nd floor with large space. Delicious food and variety of dishes. My family really had a memorable vacation
helpful (2)
3 years, 3 months ago
View all reviews
0 Comments
Be the first to comment on this page
Cruise information
Itinerary:
Lan Ha Bay - Dark and Bright Cave - Frog Pond Area
Operator:
HMT . Tourism Joint Stock Company
Meet Our Experts
Request a quote
Please make sure your email is correct.
Why choose us?
Better price than walk-in booking
Best price guaranteed
Highly experienced travel consultant
More than 80 cruises on offer
Exclusive seasonal deals
Easy and safe payment
Customer reviews

I am very satisfied with this trip. Thank you cruisehalongbay.com for booking the tour, helping me have a happy and …
Tuyet Bui

Thu Huong advises very enthusiastic and thoughtful, I am very satisfied with you and cruisehalongbay.com company. The quality of the …
Tran Trung

Great experience and beautiful surroundings. Beautiful train, professional staff, very attentive.
An Nhiên
You might also like...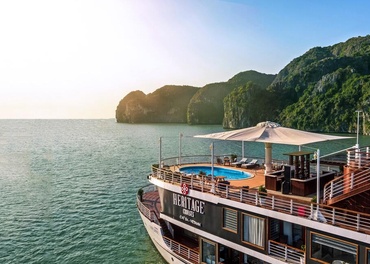 23% OFF
Lan Ha Bay
Launched 2019 - Metal ship - 20 cabins
Top cruise brand
Outdoor swimming pool
Free kayaking
Summer offer 2022
Booked 4 times in the last 24 hours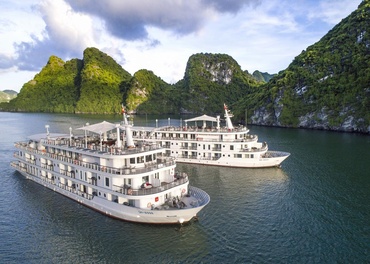 29% OFF
Ha Long Bay
Launching 2016 - Metal Vessel - 31 rooms
Top 5 star cruise
Special cuisine
No weekend surcharge
Booked 3 times in the last 24 hours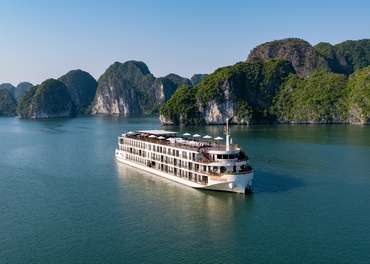 19% OFF
Lan Ha Bay
Launching 2019 - Metal Vessel - 43 rooms
Top 5 Star Cruises
Asian style
Free kayaking
Booked 2 times in the last 24 hours