Indochine Cruises
No. 22, Wharf 2, Tuan Chau Port, Ha Long, Quang Ninh, Vietnam
Show map
Price from: 4,850,000đ (Save 19%)
3,920,000 đ/pax
Booked 2 times in the last 24 hours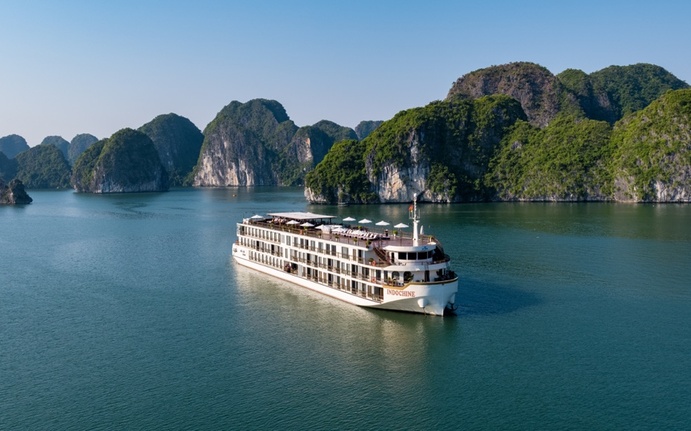 View all 45 photos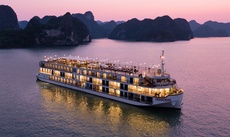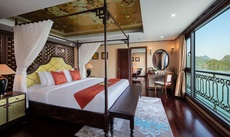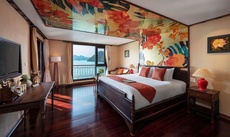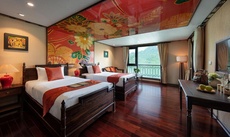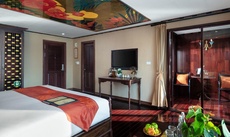 Indochine Cruise offers a traditional Lan Ha Bay tour with famous destinations such as Trung Trang Cave on Cat Ba Island and Bright Dark Cave.
International standard buffet lunch while the Indochine Cruise moves into the tranquil Lan Ha Bay.
The menu on board is a combination of Vietnamese and European dishes, suitable for all types of guests.
Meeting and event facilities for group charters.
Rooms & rates
Select date and package options
Clear all
Accommodation Type
Junior Suite - 2 Days 1 Night
32 m², Max:
Sea View Suite - 2 Days 1 Night
42 m², Max:
Executive Suite - 2 Days 1 Night
54 m², Max:
Complete all required fields to continue
(Child Policy & Extra Bed Charge) )
About Indochine Cruises
Thanks to the classic Indochine style, Indochine Cruise is the perfect stopover for traditional-minded travelers when looking for a Halong Bay trip. With 43 spacious rooms measuring from 32m2 to 80m2, the cruise promises a bright, airy and full-of-bay-view accommodation during your stay.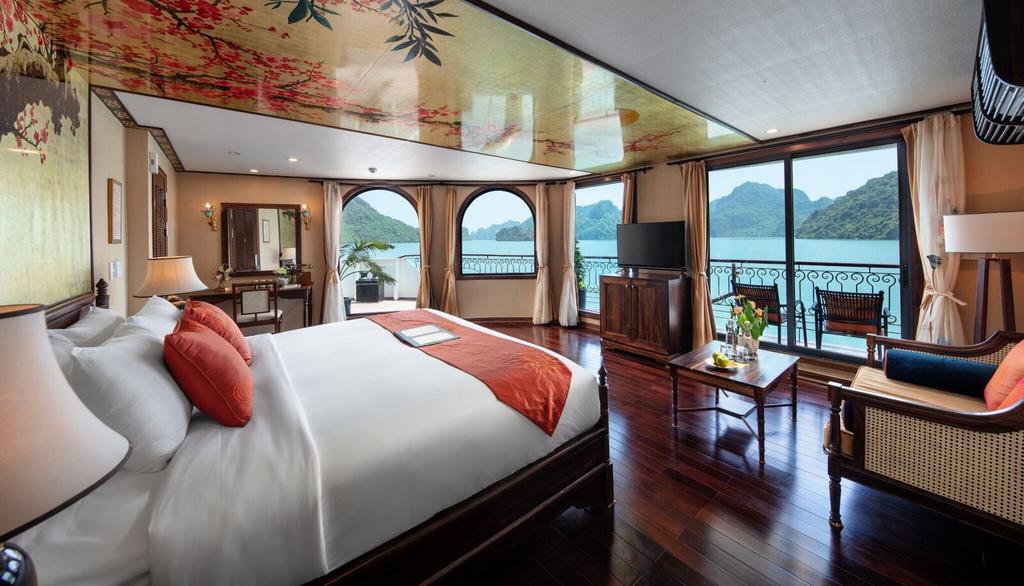 Spacious rooms on Indochine Cruise
The waiting area Cochinechine Lounge is beautifully and sophisticated designed so that passengers can chill and listen to melodious music. Meanwhile, Tonkin and Anam restaurants serve a bunch of unique Vietnamese - European dishes and a diversified drink list. Other recreational facilities you should not miss include a spa room, gym, and extra-large sundeck with an exciting sunset party.
You will have a visit to Trung Trang Cave on Cat Ba Island and don't miss the opportunity to kayak and explore the most beautiful Bright Dark Cave on the bay.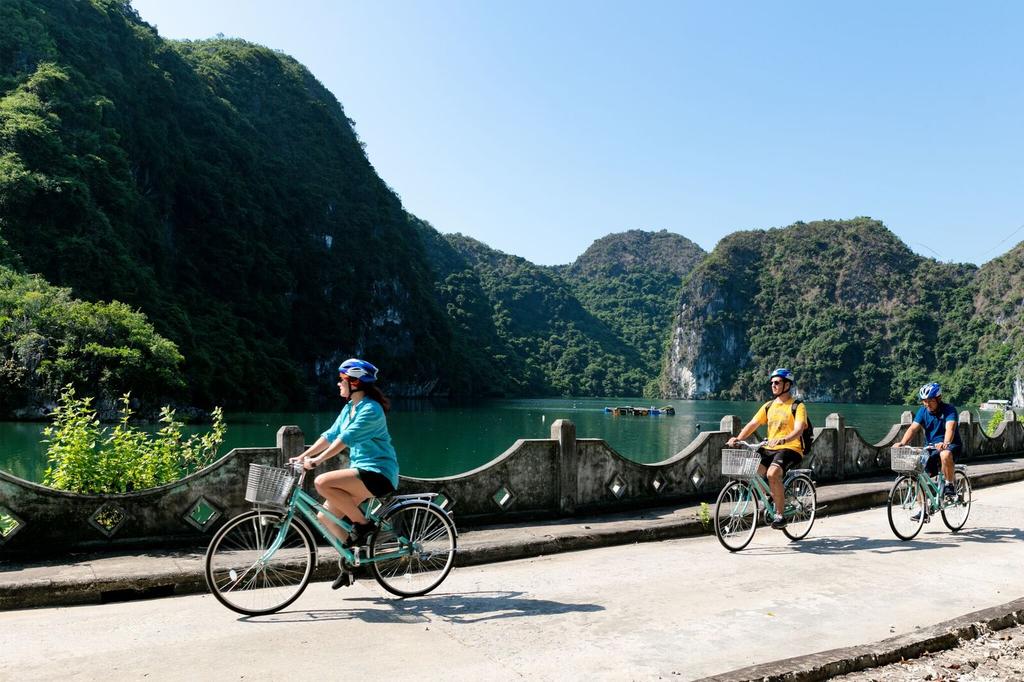 Bike to discover beauty and the life of fishermen on the bay
Things to know
Check-in time
Check-in time is from 12:15-12:30. If you are traveling by yourself, please be at the pier no later than 11:45 am to check in before boarding.
Check-out time
Check out time is from 9:30am to 10:30am depending on the schedule of each cruise. After check-out, you will be served lunch on board before the ship docked.
Check-in policy
Please send a photo of the passenger's ID card or birth certificate at least 5 days before the tour departure and bring these identification documents when checking in.
Rates include
Welcome Drink
Cruise Itinerary and Program
Kayaking
Entrance and Sightseeing Fees
In-house English-speaking Tour Guide
Luxurious Cabins and Suites with A/C and en-suite Bathrooms
Deluxe Vietnamese and International Lunch and Dinner
Vietnamese and International Breakfast
Conference Equipment (Charter only)
Insurance, Service Charges
Price not included
Round-trip bus Hanoi - Halong: $30/person (adults and children round trip). Pick up point: at hotel in Hanoi Old Quarter or in front of Hanoi Opera House
Airfares and Hotels
Visa Arrangements
Massage Services (please see massage menu in cabin)
Beverages, Tips and Personal Expenses
All other services not clearly mentioned above
Children, extra bed and weekend surcharge
Each cruise has its own rules regarding child surcharges and weekend surcharges. Please refer to the child surcharge information in the room rate section.
Cancellation of reservation
The above prices are subject to general conditions of non-refundable/cancellation and date change is allowed. In case you want to change the date, please refer to the regulations on changing the date.
Cancellation due to weather conditions
The cancellation of trip due to weather conditions will be specified directly by the Bay Management Board. Please refer to Halong Cruise's delay/cancellation policy due to weather conditions.
Frequently asked questions
What room categories does Indochine Cruise have?
Indochine Cruise includes 5 room categories: Junior suite, Duite, Executive suite, President suite and Family triple.
Is there wifi in the room?
Each room has WIFI but the signal may be unstable when passing through some areas in the bay.
Does Indochine Cruises have event services?
Yes. Birthday events, weddings, gala dinners can all be held on board.
Is shuttle service included in the tour price?
Transportation service is not included in the tour price.
What tour schedules does Indochine Cruise have?
The cruise offers 2 days 1 night and 3 days 2 nights tour schedule on Lan Ha Bay.
Does the 2-day program include cycling?
Cycling is only included in the 3 days 2 nights program. If you have a need to participate in cycling activities, please contact our Customer Care staff for detailed advice.
Does Indochine Cruise cater for vegetarians?
Indochine Cruise has a separate menu for vegetarian guests. Please inform the Customer Service staff of the vegetarian requirement when booking.
If I rent a private boat, can I bring drinks on board?
There is also a bar on the cruise that serves drinks to all guests, so please do not bring drinks on board. If you bring drinks, the staff on board will charge a high service fee for each respective drink.
Is there a swimming pool on board? Is the swimming pool usable in winter?
Indochine Cruise is equipped with an indoor jacuzzi and provides hot water in winter so you can use it completely.
Where does the cruise depart from?
Indochine Cruise departs at box number 22 Tuan Chau international port, Ha Long, Quang Ninh. The cruise has a round-trip pick-up/drop-off service from Hanoi (charges apply) or you can travel by your own vehicle to the wharf to join the program.
Maps and Itineraries
Indochine Cruise departs from Tuan Chau harbor, Halong, Quang Ninh
You can see the itinerary for 2 days 1 night here.
Reviews (38)
| | | |
| --- | --- | --- |
| 5 star | | 34 reviews |
| 4 star | | 4 reviews |
| 3 star | | 0 reviews |
| 2 star | | 0 reviews |
| 1 star | | 0 reviews |
Anna Nguyễn
Excellent service! Most memorable experience. I have traveled in the country quite a lot, abroad also a number of times but have never written a review or review for a travel service at all. But the 1-night experience on Indochine Cruise without writing a review is really a mistake. I'm really impressed with the service that Indochine brings, it's really satisfying, check-in, meals, excursions, and onboard activities, everything was smooth. Delicious food and drinks. Referring to the staff here, everyone is nice and kind. I will recommend it to my friends and family. Thank you for the trip!
helpful (4)
1 year, 2 months ago
Khun
Love the style of Indochine cruise. Our Junior Suite is on the first deck. The room has a private clean bathroom and nice balcony. The restaurant is spacious and serve plenty of good food.
helpful (4)
1 year, 2 months ago
Karla
Among the best cabins we have stayed. Indochine Cruise pays attention to any single details from the furnishing to the service they provide. My family and I had a great time. Thank you!
helpful (3)
1 year, 2 months ago
Sương Trần
Tàu rộng và đẹp. Phong cách nhìn rất xa hoa và đặc biệt. Gia đình tôi gồm bà, 2 vợ chồng và 2 đứa con nhỏ ở 2 phòng. Nhân viên thân thiện và chăm sóc tốt cho cả mẹ và các con tôi. Rất lịch sự và thân thiện. Cảm ơn rất nhiều.
helpful (4)
1 year, 2 months ago
Nolan
My family has experienced a 1-night tour on Indochine cruise. Nothing was too much trouble and we had a pleasant stay in a well-furnished cabin and enjoyed so much food. Thanks a lot.
helpful (4)
1 year, 2 months ago
Thúy Nguyễn
The ship is beautiful, luxurious and delicate. Excellent staff. Worthy of a 5-star luxury cruise.
helpful (3)
1 year, 2 months ago
Thu Trang
Lan Ha Bay was breathtaking. Indochine Cruise is highly recommended.
helpful (2)
1 year, 2 months ago
Tuart
Good for a weekend getaway. Calm bay with majestic islands and islets. Dark-Bright Cave was nice to see by a kayak.
helpful (3)
1 year, 2 months ago
Kim Jun Hee
Luxury cruise, lovely staff. We enjoyed kayaking and swimming
helpful (2)
1 year, 2 months ago
Crystal
Cabin was nice. Food was okay. Lan Ha Bay was stunning.
helpful (4)
1 year, 2 months ago
Hạ Linh
Great service, very enthusiastic staff. The cruise has many activities and rich experiences, so you should participate in all of these activities. My family will definitely come back again in the near future.
helpful (3)
1 year, 3 months ago
Thiện
Good service on board, I am impressed with the design and decor of the room, the sundeck is quite large.
Thiên Hà
Except for the cloudy weather on the day of the tour, everything was very good. This cruise is big and well-furnished.
helpful (0)
3 years, 1 month ago
Hoàng Ngân
All rooms on this ship have air conditioning, balcony and large windows overlooking the sea, large room area. Everything on the cruise is good, wifi is a bit weak
helpful (1)
2 years, 12 months ago
Lan Lan
At first, when I booked the cruise, I didn't research carefully, thinking that I was going to visit Ha Long, but the cruise went to Lan Ha route, so it was a bit sad. But when I went on the tour, I found that the wrong choice at first turned into the right one because this bay is sometimes more beautiful and cleaner than Ha Long, and not crowded anymore. Those who have not had the opportunity to go should try it once
helpful (0)
3 years, 2 months ago
Mộc Miên
I booked a room on the 2nd floor with a bathtub of the ship. New cruise so nice rooms, modern equipment. I like the food of Tonkin restaurant, the decoration is beautiful and the food is also very satisfying.
helpful (1)
2 years, 11 months ago
Dương Đức Khanh
The price of the cruise is a bit high, but the service you get in return is really worth what you pay. I like teaching flower pruning or cooking on the cruise.
helpful (3)
2 years, 11 months ago
Phương Vũ
The new cruise has a 5-star standard in terms of both ship quality and service. Will definitely recommend to friends and family
Nguyễn Công Thành
The tour to visit Lan Ha Bay on the Indochine boat took us through many beautiful places, the water in the bay is very clear and clean, not as crowded as Ha Long Bay. I like it very much
helpful (3)
3 years, 1 month ago
Minh Nhật
My family has just traveled to Ha Long in early August. I found the staff here to be very patient and polite when my children ran around during the meal, but they still didn't show any discomfort but also played with and told the children to be gentle. Minh appreciates this
helpful (1)
2 years, 11 months ago
Hoàng Pro
I have chartered the whole Indochine cruise for the company's summer trip. We are self-sufficient to move to the wharf. Arriving at the place, the staff will show you where to park the car, warmly welcome you and assist with luggage. Because of the large group, the ship has contacted in advance to ask for a list of rooms, so the check-in procedure is quite quick. In addition, the food and tour activities are also very good. Everyone in the group felt happy after the trip.
helpful (3)
2 years, 11 months ago
Trịnh Diên
The Indochine is new, big and all rooms have balconies. I booked a room on the 2nd floor so I have a wider view. The deck is very clean and has sun loungers so that guests can sunbathe or watch haongf kiss and enjoy colorful cocktails
helpful (1)
2 years, 12 months ago
Lan
My family booked a cruise station car to pick me up at the Opera House, but the driver arrived a bit late and said the reason was that walking streets were banned on weekends, so I drove around. Apart from this problem, everything on the cruise as well as the tour makes me satisfied
helpful (1)
3 years, 1 month ago
Nhã
After a period of consultation and research, I booked an Indochine cruise for my parents' vacation to receive their 30th wedding anniversary. Grandparents and grandparents love the cruise and food, the staff is also dedicated to taking care of their parents like family, making them feel very warm, however, my parents cannot participate in many activities due to health conditions
helpful (0)
2 years, 11 months ago
Nguyệt Trần
Thank you Indochine cruise staff for giving me a meaningful trip and having the opportunity to get to know many friends from many different places. Hope to have a chance to take the cruise again
Văn Chương
The tour program is quite interesting with many interesting attractions and activities such as visiting caves, boating, swimming, cooking classes.... The ship visits Lan Ha Bay but comes from Tuan Chau, so you can see Ha Long Bay too. Only thing is that the check-out time is a bit early
helpful (1)
3 years, 1 month ago
Nguyễn Thị Chiên
The ship is big, new, beautifully decorated with the name of the ship. Friendly staff, dedicated service. The boat has a jacuzzi suitable for children to play.
helpful (2)
2 years, 11 months ago
Bảo Khánh
Me and my friends just finished a 2 day 1 night cruise on Indochine cruise with many memorable things. We enjoyed most the evening going on deck and enjoying a variety of delicious drinks, but the prices were a bit expensive.
Trần Khôi
Indochine's cruise to Lan Ha Bay took my family through and visited many majestic landscapes of the bay. The service staff on board is also quite professional and polite. Thanks to the ship's jacuzzi for our kids to enjoy, we can participate in all activities
Anh Trâm
I like the design of this ship, the curtains, ceiling and walls in the room are decorated with textured items that give a feeling of freshness to the room. I had some great photos after the trip.
Big Girl
Memorable trip to celebrate the couple's wedding anniversary. The cruise is big and new, the facilities in the room and common area are all modern. Fresh seafood, attentive and professional service staff. Hope to come back again
Văn Đông
First time experience, service, food, scenery and staff are all great. Very satisfied.
helpful (2)
3 years, 1 month ago
Lê Thanh Thuý
Choose to go on a sunny day, so you can check in on the cruise. It must be said that the sky is cloudy, the scenery is too supportive. Meaningful trip.
helpful (2)
2 years, 11 months ago
Hải Đông
I booked a cruise that does not include a car. Before the departure date, the staff called to inform the time and documents to bring when boarding. The room has a private balcony, modern design, so I feel very satisfied. Delicious food with lots of choices. I personally like Tai Chi and cooking classes
helpful (2)
2 years, 11 months ago
Bùi Gia Hưng
First time experiencing a cruise. In general everything is fine. From food, room space, tour schedule and service staff. But if the boat has a bigger jacuzzi and is outdoors, it will be much better.
Dương Minh
New, big ship with modern interior. The room has a balcony, so it feels more spacious and airy, with a full view of the bay. Limousine shuttle is fast, on time. I like the interesting night squid fishing activity. Kayaking is also my first time experiencing. Very satisfied with this trip.
Nguyễn Khôi Nguyên
I was introduced by friends and found DuthuyenHaLong.com. There is also a wide selection of cruises here and there are different prices so everyone can choose according to their budget. My family chooses Indochine cruise. Pick up and drop off passengers in the old town to the waiting area, then move by boat to the cruise. In general, everything is good, the food is plentiful, the staff is also very enthusiastic. I like the jacuzzi because it feels like an underwater massage.
helpful (1)
3 years, 1 month ago
Bảo Ngọc
For the second time experiencing Lan Ha Bay cruise, my family chose Indochine cruise. Honestly, I didn't expect too much because I personally think that the first experience will be more impressive. However, even the second time still made me admire. The ship is big and has many room classes to choose from. The service staff here are also very enthusiastic and attentive. There is also a massage service on board but not included in the tour price.
helpful (2)
3 years, 1 month ago
View all reviews
0 Comments
Be the first to comment on this page
Cruise information
Itinerary:
Lan Ha Bay - Trung Trang Cave - Bright and Dark Cave
Operator:
Huong Hai Tourism Group
Meet Our Experts
Request a quote
Please make sure your email is correct.
Why choose us?
Better price than walk-in booking
Best price guaranteed
Highly experienced travel consultant
More than 80 cruises on offer
Exclusive seasonal deals
Easy and safe payment
Customer reviews

I am very satisfied with this trip. Thank you cruisehalongbay.com for booking the tour, helping me have a happy and …
Tuyet Bui

Thu Huong advises very enthusiastic and thoughtful, I am very satisfied with you and cruisehalongbay.com company. The quality of the …
Tran Trung

Great experience and beautiful surroundings. Beautiful train, professional staff, very attentive.
An Nhiên
You might also like...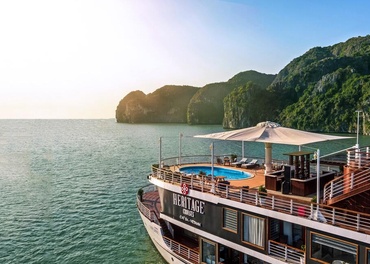 23% OFF
Lan Ha Bay
Launched 2019 - Metal ship - 20 cabins
Top cruise brand
Outdoor swimming pool
Free kayaking
Summer offer 2022
Booked 4 times in the last 24 hours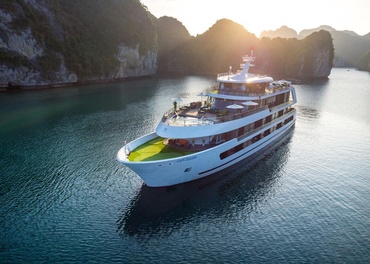 18% OFF
Lan Ha Bay
Launched 2018 - Metal ship - 22 cabins
Top brand cruise
Summer offer 2022
Outdoor swimming pool
Free shuttle bus
Booked 2 times in the last 24 hours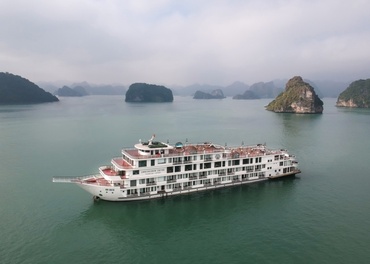 31% OFF
Ha Long Bay
Launching 2018 - Metal ship - 46 cabins
6 star cruise
Outdoor swimming pool
The only cruise with elevator
Lobster dinner
Booked 6 times in the last 24 hours