Athena Luxury Cruise
Sun World Port, Ha Long, Vietnam
Show map
Price from: 5,400,000đ (Save 19%)
4,340,000 đ/pax
Booked 5 times in the last 24 hours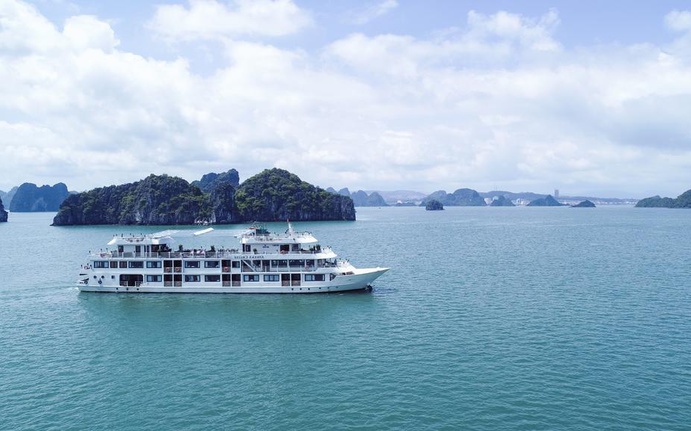 View all 44 photos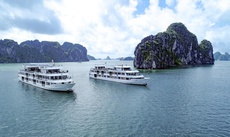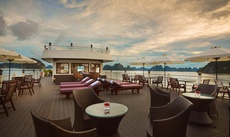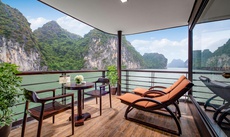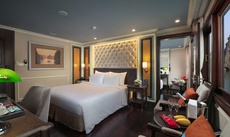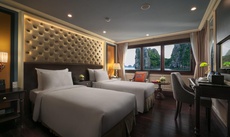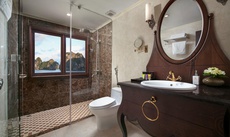 A luxurious design and international standard interior.
The ship anchors in a quiet area and you will rest in a luxurious cabin with a private balcony.
Athena Terrace Suite also has a Jacuzzi in the bathroom.
Unique route with the most famous attractions on Ha Long Bay such as Sung Sot Cave, Titop Island, Luon Cave.
Rooms & rates
Select date and package options
Clear all
Accommodation Type
Executive Suite - 2 Days 1 Night
25 m², Max:
Elegant Suite Balcony - 2 Days 1 Night
28 m², Max:
Family Suite - 2 Days 1 Night
30 m², Max:
Complete all required fields to continue
(Child Policy & Extra Bed Charge) )
About Athena Luxury Cruise
Ha Long Bay has always been one of the most attractive destinations for all visitors. Halong Athena Cruise brings visitors to admire the majestic beauty of Ha Long Bay and have unforgettable experiences.
The ship includes 21 luxury cabins with private balconies, wooden furniture, and comfy beds. Besides watching the magnificent bay view, enjoying featured dishes from Vietnam and Europe at the restaurant and sipping cocktails from the open bar could not be missed. This is not to mention the airy space on the top deck where you can laze on the loungers and chill with friends and loved ones.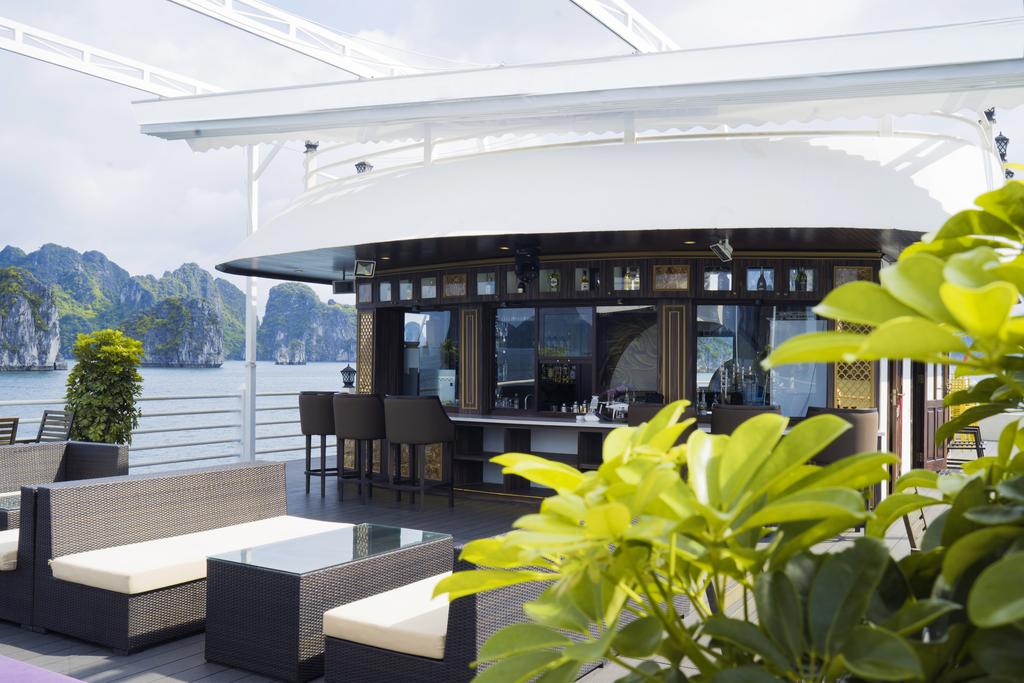 Bar on the roof of the cruise.
The interesting journey takes visitors Go to Sung Sot cave to admire the majesty of stalactites and Titop island, where you can freely swim and participate in many games. In addition, activities on board such as cooking class and night squid fishing, taichi class.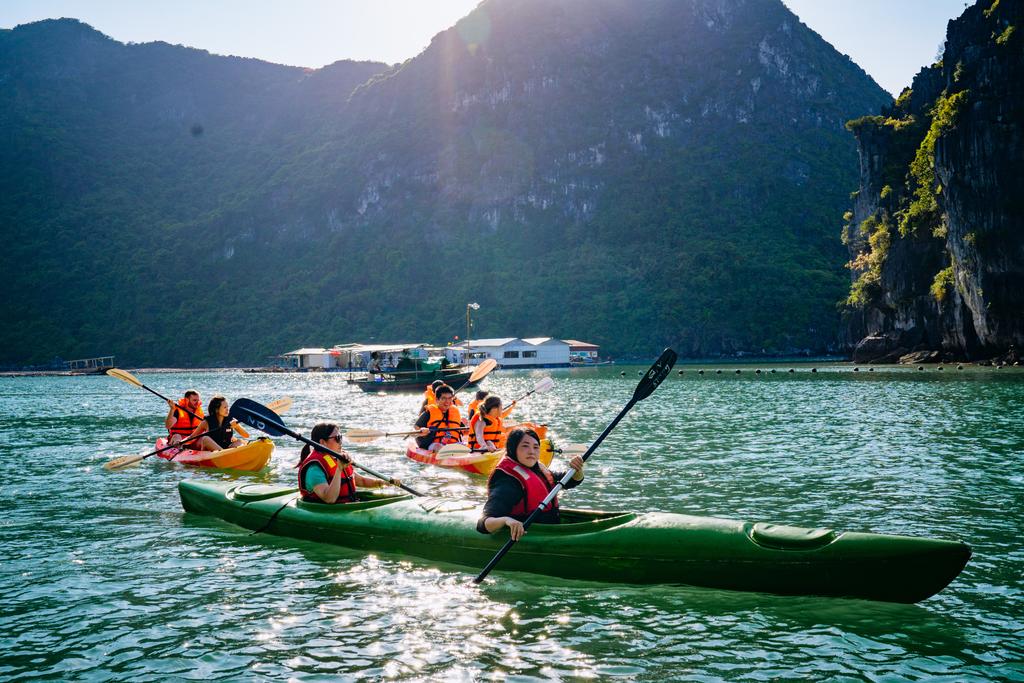 Travelers have the opportunity to experience a variety of interesting activities during the journey
Things to know
Check-in time
Check-in time is from 12:15-12:30. If you are traveling by yourself, please be at the pier no later than 11:45 am to check in before boarding.
Check-out time
Check out time is from 9:30am to 10:30am depending on the schedule of each cruise. After check-out, you will be served lunch on board before the ship docked.
Check-in policy
Please send a photo of the passenger's ID card or birth certificate at least 5 days before the tour departure and bring these identification documents when checking in.
Rates include
04 meals in the program (02 lunches, 01 dinner, 01 light breakfast)
Tea, coffee, 02 bottles of water in the room
Kayak activities at Titop Island, Tai chi practice on the deck, cooking class on board, night squid fishing…
Insurance on board.
Entrance and sightseeing fees
Insurance on board
Price not included
Athena Shuttle Bus from Hanoi
Hotels staying on the mainland
Spa services
Beverages on trains and cigarettes
Peak season surcharge
Tips and other expenses not included in the inclusion
Children, extra bed and weekend surcharge
Each cruise has its own rules regarding child surcharges and weekend surcharges. Please refer to the child surcharge information in the room rate section.
Cancellation of reservation
The above good prices are subject to general conditions of non-refundable/cancellation and date change is allowed. In case you want to change the date, please refer to the regulations on changing the date.
Cancellation due to weather conditions
The cancellation of trip due to weather conditions will be specified directly by the Bay Management Board. Please refer to Halong Cruise's delay/cancellation policy due to weather conditions.
Frequently asked questions
Which cabins on Halong Athena cruise ship have a private balcony?
All cabins on Halong Athena cruise have private balconies.
How many people can the family connecting cabin accommodate?
Family connecting cabins can accommodate 4 adults and 4 children under 12 years old.
Is there a fee for the sauna?
Yes. Sauna service is charged on board.
Is there a fee for kayaking?
Kayaking is included in the tour price.
Are children under 5 years old for free?
Children under 5 years old sharing room with parents are free of charge.
Does the cruise have a vegetarian menu?
Athena Luxury Cruise offers vegetarian meals. Please notify the customer service staff in advance before booking so that the cruise can prepare accordingly.
Maps and Itineraries
Athena Luxury Cruise departs from Sunworld Pier, Bai Chay, Quang Ninh
You can see the detailed itinerary for 2 days 1 night here
Reviews (35)
| | | |
| --- | --- | --- |
| 5 star | | 21 reviews |
| 4 star | | 14 reviews |
| 3 star | | 0 reviews |
| 2 star | | 0 reviews |
| 1 star | | 0 reviews |
Alex Brisbourne
The cruise is pretty and well-organized. The trips to the cave and island were crowded but the scenery was stunning. Love kayaking trip. Friendly staff.
helpful (2)
1 year, 6 months ago
Madeline
We book the Executive Suite on the first floor. The cabin is well-furnished and tidy. Although there is no balcony, we can watch the bay from the lovely window. The staff is so helpful and paid attention to details. We would come back.
helpful (3)
1 year, 6 months ago
Minh Giang
Tàu hiện đại. Chúng tôi đặt phòng gia đình với 1 giường to và 1 giường nhỏ. Giường khá thoải mái. Đồ ăn ngon và đa dạng. Muốn có nhiều món cho trẻ con hơn.
helpful (3)
1 year, 6 months ago
Tushar
Thank you Athena Luxury cruise for giving me a wonderful experience. We loved the trip.
helpful (4)
1 year, 6 months ago
Clarissa
Excellent service, interesting program, delicious food,...new and modern cruise.
helpful (2)
1 year, 6 months ago
Mandric
Halong bay's landscape is gorgeous, especially from the top of Titop island. The beach is not so big but enough to take a quick soak. Surprising Cave was really surprising. Highly recommend this trip!
helpful (3)
1 year, 6 months ago
Thanh Xuân
We had a wonderful night on the Athena cruise. The cruise is very new, the equipment is luxurious, the staff on board are happy, friendly and always help when needed. The room, especially the bathroom, is very clean, spacious, and bright. Delicious and diverse dishes, including Vietnamese and European dishes.
helpful (3)
1 year, 6 months ago
Hoàng Hải
An unforgettable experience on Athena Royal cruise with beautiful rooms, balconies, bathtubs and outdoor swimming pools. I like night squid fishing and watching the beauty of the sea at night on the deck.
helpful (3)
3 years, 2 months ago
Văn Long
In general, the trip was not bad, it was just that my group went to 5 rooms, but they were not placed close to each other because there were not enough types of rooms on the same floor, so we had to take 2 rooms on another floor
helpful (1)
3 years, 2 months ago
Thanh Liêm
I appreciate the manager's leadership and communication skills. He is the one who leads the staff to serve customers well and always listens and meets the needs of customers within his ability
helpful (2)
3 years, 4 months ago
Nguyễn Thành Công
The boat is clean, beautiful and quite large. all services from shuttle, lounge and onboard are excellent. The staff always try to give their customers the best services, luckily the trip was complete, there were no mistakes and everyone was safe
helpful (0)
3 years, 4 months ago
Hiền Minh
I have a fatty liver, so I have to abstain from certain foods. This is my biggest concern when I get on the cruise because I think the food is cooked for the whole group. But the tour agent friend told me very well on the cruise and they prepared some special dishes for me. You guys made my trip more meaningful
helpful (1)
3 years, 3 months ago
Ninh
2 days 1 night tour on board Athena Royal has brought me many unforgettable memories. Nice room, with free 2 bottles of mineral water in the room. Good food, drinks also have a variety but not included in the price. The staff is very friendly and enthusiastic to help during the tour
helpful (1)
3 years, 3 months ago
Nguyễn Chiến Thắng
I really like the tour schedule of this cruise. Although the tour route is a bit crowded, it is quite interesting and has many activities. It's only a pity that I booked for 2 days and 1 night
helpful (1)
3 years, 4 months ago
Ly Châu
The room is clean and nice, with a private balcony, but it looks bigger in the picture than it really is. I am fortunate to meet a staff of friendly, knowledgeable and caring people like family.
helpful (2)
3 years, 2 months ago
Mít Moon
My family self-sufficient car moved to the station and was directed by the staff to park the car. My children burst with joy because there is a swimming pool on board, a large, beautiful room and a balcony. The menu has a variety of dishes. My mother enjoyed the natural herbal foot bath. An unforgettable family trip
helpful (0)
3 years, 3 months ago
Lê Hạ Châm
I really like this cruise, from the design, the layout of the equipment in the room, the food, the service staff as well as the tour program. Only thing is in the sea, so the phone signal and wifi are a bit weak.
helpful (2)
3 years, 4 months ago
Toàn Thắng
The experience of spending the night on the cruise really made me very hard to forget. The cruise is quite new and beautiful, has a shuttle service from Hanoi, good food and service staff. There is a buffet of fried rice that is a bit cold
helpful (0)
3 years, 3 months ago
Tuấn Dũng
Perfect itinerary, great food and service, no complaints at all. The cruise manager is very cute, he is always welcoming to customers, gentle with subordinates and handles customer complaints well
helpful (1)
3 years, 2 months ago
Phúc Lâm
The room is clean, comfortable and quite large with a lovely, small balcony. The food is excellent both in taste and presentation. I and everyone in the group were treated very kindly from the moment we left to the time we left. There are many cruises to choose from, but don't miss them
helpful (1)
3 years, 4 months ago
Hương Hóng Hớt
I'm quite satisfied with the trip from transportation, people, food and tour schedule. It can be said that my first life experience of a cruise on the sea did not disappoint me.
helpful (0)
3 years, 4 months ago
Vàng Anh
All rooms have a balcony, bathtub, large area with neat layout and warm colors to create a cozy feeling. From the ship manager to the staff, they are all warm and enthusiastic to serve customers. The guide is funny, funny and always makes us feel excited, forget about fatigue during the journey
helpful (0)
3 years, 4 months ago
Diệp Bích
My husband and I booked a Royal Suite for our 5th wedding anniversary trip. Beautiful room with private balcony, wooden bathtub with sea view makes my wife admiring forever. After an afternoon of sightseeing, it is very relaxing to soak your feet in a wooden tub or you can use Spa services for a fee. We also get a free cake and room decoration from the staff. I will definitely come back again
helpful (1)
3 years, 3 months ago
Gió
The bed is wide and comfortable, nice room with private balcony but a bit narrow. Interesting tour schedule with attractions like Ti Top, Surprise with many useful activities such as kayaking, cooking lessons, squid fishing
helpful (2)
3 years, 4 months ago
Mộc Lan
After much deliberation between several options, I chose Athena Royal for my family trip this past weekend. The ship is quite new, beautiful interior, has a private balcony to enjoy the view of the bay. Our kids love the swimming pool, soaking their feet in a wooden tub with natural herbs is a special feature of this boat that many other ships do not have. I was not disappointed when I chose this ship
helpful (0)
3 years, 3 months ago
Dương Tr Quốc
Our group was wondering whether to choose a hotel in Ha Long or an overnight cruise when met a consultant from duthuyenhalong.com who introduced the Athenal Royal overnight cruise ship and this was really a new experience. completely with my team. The cruise is beautiful, the staff is friendly, the food is relatively good, the schedule has many interesting activities. Although the price is slightly higher than the hotel on the mainland, it is worth the money
helpful (2)
3 years, 2 months ago
Nguyễn Sơn
The feeling of being in a room overlooking Ha Long Bay through the large window is wonderful. The cruise has a luxurious design. The schedule is not too rushed. Especially love kayaking
helpful (1)
3 years, 1 month ago
Hoàng Hải
Sleeping on a cruise is really a new experience. Beautiful rooms are no different from 5 star hotels on the mainland. Delicious food, suitable for Vietnamese taste.
helpful (1)
3 years, 3 months ago
Dương Lệ Thanh
If you need a beautiful space to live virtual, choose Athena Royal cruise. Our group was very surprised because the cruise was so beautiful, impressed with the service of the brothers and sisters on board. I will be back next year.
helpful (0)
3 years, 4 months ago
Liên Nguyễn
I had the opportunity to go on a 5-day cruise in Austria, but I didn't expect that there would be such a good cruise in Ha Long Bay. It really surprised me, because in addition to not being as modern as foreign cruises, the food and service on board Athena Royal deserves 5 international stars.
helpful (2)
3 years, 3 months ago
Hoàng Phong
This is my first time going on a cruise overnight. I am very pleased with your service. Luxury cruise, lovely staff. Delicious food. I especially like the cooking class.
helpful (0)
3 years, 4 months ago
LAm Giang
Last month I booked the Athena Royal cruise to organize a vacation for my son's class. About the children are very happy, and look forward to next year. Hopefully next year will have even better prices. Thank you consultant.
helpful (0)
3 years, 4 months ago
Diệu Tú
Professional service staff, especially the ship manager, is very friendly. Unique and varied dishes. Nice room, clean. Only 1 minus point, wifi is almost unusable.
helpful (2)
3 years, 3 months ago
Duy Bao
Located in the middle of the Bay, watching the sunset on the deck feels really relaxing. My wife and I had a wonderful vacation. Thank you for your advice.
helpful (1)
3 years, 4 months ago
Long Nguyễn
I really like Athena Royal cruise, especially I love night squid fishing and kayaking on the Bay. Staff is quite friendly and enthusiastic.
helpful (2)
3 years, 4 months ago
View all reviews
0 Comments
Be the first to comment on this page
Cruise information
Itinerary:
Ha Long Bay - Luon Cave - Titop Island- Surprise Cave
Operator:
Athena Cruise International Travel Joint Stock Company
Meet Our Experts
Request a quote
Please make sure your email is correct.
Why choose us?
Better price than walk-in booking
Best price guaranteed
Highly experienced travel consultant
More than 80 cruises on offer
Exclusive seasonal deals
Easy and safe payment
Customer reviews

I am very satisfied with this trip. Thank you cruisehalongbay.com for booking the tour, helping me have a happy and …
Tuyet Bui

Thu Huong advises very enthusiastic and thoughtful, I am very satisfied with you and cruisehalongbay.com company. The quality of the …
Tran Trung

Great experience and beautiful surroundings. Beautiful train, professional staff, very attentive.
An Nhiên
You might also like...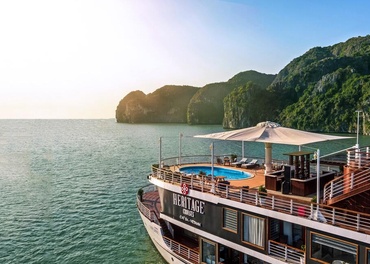 23% OFF
Lan Ha Bay
Launched 2019 - Metal ship - 20 cabins
Top cruise brand
Outdoor swimming pool
Free kayaking
Summer offer 2022
Booked 4 times in the last 24 hours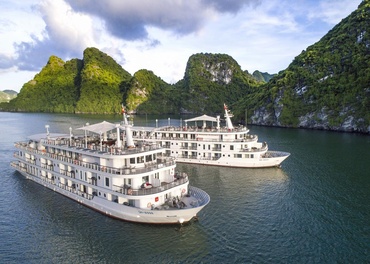 29% OFF
Ha Long Bay
Launching 2016 - Metal Vessel - 31 rooms
Top 5 star cruise
Special cuisine
No weekend surcharge
Booked 3 times in the last 24 hours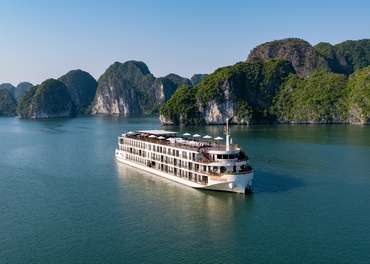 19% OFF
Lan Ha Bay
Launching 2019 - Metal Vessel - 43 rooms
Top 5 Star Cruises
Asian style
Free kayaking
Booked 2 times in the last 24 hours