Orchid Trendy Cruise
Tuan Chau International Cruise Port
Show map
Price from: 5,000,000đ (Save 19%)
4,050,000 đ/pax
Booked 6 times in the last 24 hours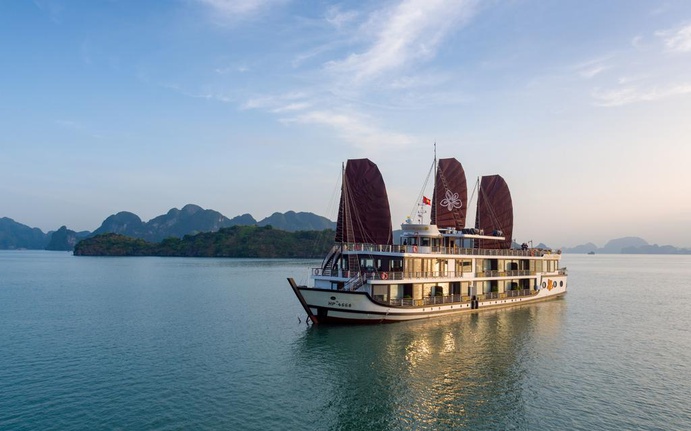 View all 13 photos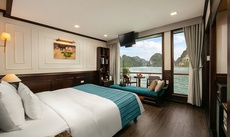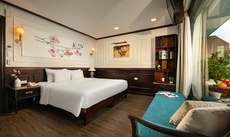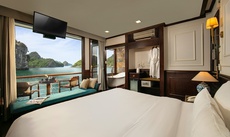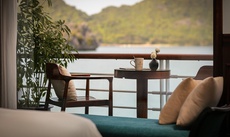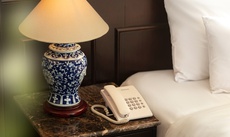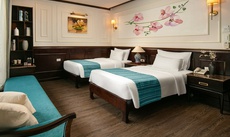 Orchid Trendy Cruise offers luxurious and modern accommodation like a 5-star floating
Fusion Vietnamese and European cuisine.
Attractive itinerary with highlights of Lan Ha Bay such as Dark-Bright Cave Frog Pond.
Suitable for couples and families with young children with its own play area.
Conference and MICE services available upon request.
Rooms & rates
Select date and package options
Clear all
Accommodation Type
Premium Deluxe Balcony - 2 Days 1 Night
28 m², Max:
Exclusive Suite - 2 Days 1 Night
45 m², Max:
Family Deluxe Balcony 4 Pax- 2 Days 1 Night
56 m², Max:
Family Premium Deluxe Balcony 4 Pax - 2 Days 1 Night
56 m², Max:
Deluxe Balcony - 2 Days 1 Night
28 m², Max:
Complete all required fields to continue
(Child Policy & Extra Bed Charge) )
About Orchid Trendy Cruise
Inspired by the azalea flower, a symbol of love and fidelity, Orchid Trendy Cruise (formerly Azalea Cruise) stands out among the dreamlike scenery of Lan Ha Bay and Cat Ba Island. With a unique and romantic design, this is a choice not to be missed by couples.
Orchid Trendy fleet has 2 ships which possess a total of 20 rooms in each. The ship is a harmonious combination of Modern style and nostalgic touches. Rooms in Orchid Trendy are luxurious with dark brown furniture and elegantly designed with azalea flower paintings. From the bedroom, guests can enjoy a private moment from the same beauty of the bay through glass windows and private balconies.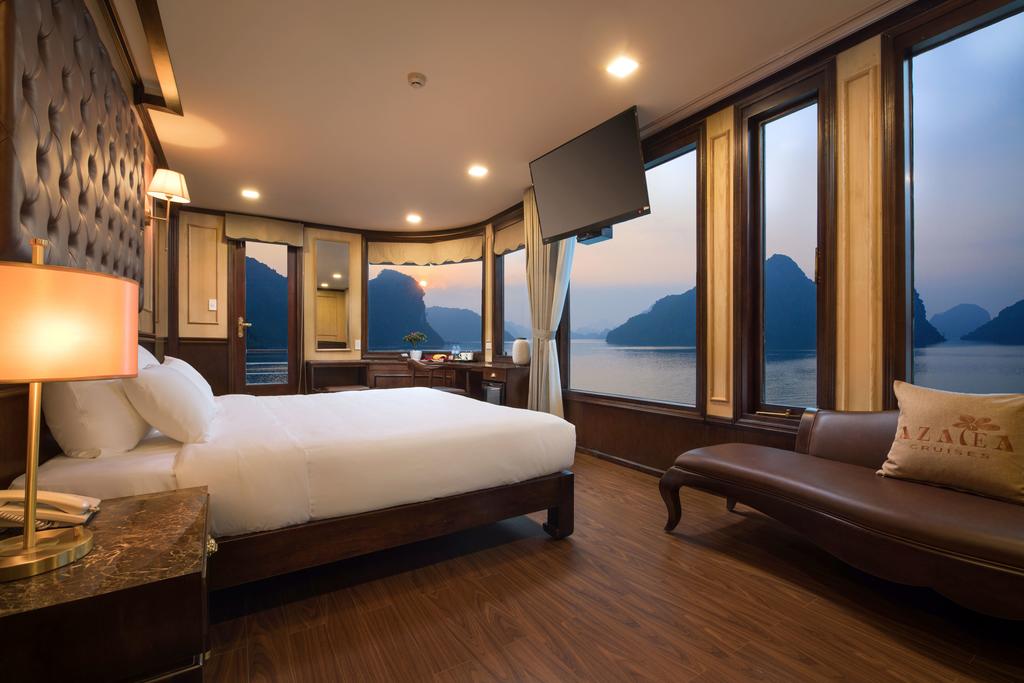 Luxury rooms on Orchid Trendy Cruise
Dark-Bright Cave and Frog Pond Area are the highlights of Orchid Trendy's journey. You can feel free to immerse yourself in the blue water and experience kayaking or swimming in the gorgeous Lan Ha Bay.
Kayaking on Lan Ha Bay
Things to know
Check-in time
Check-in time is from 12:15-12:30. If you are traveling by yourself, please be at the pier no later than 11:45 am to check in before boarding.
Check-out time
Check out time is from 9:30am to 10:30am depending on the schedule of each cruise. After check-out, you will be served lunch on board before the ship docked.
Check-in policy
Please send a photo of the passenger's ID card or birth certificate at least 5 days before the tour departure and bring these identification documents when checking in.
Rates include
Luxury room and facilities as ordered.
All onboard meals as mentioned in the itinerary.
Kayaking, cooking demonstration, Tai chi session, bamboo boating, beach (if the weather permits), movies, squid fishing, music entertainment.
English-speaking tour guide and onboard service fee.
Welcoming drink, two bottles of water in the cabin.
Onboard insurance, sightseeing fees and value added tax.
Price not included
Hanoi – Ha Long transportation (luxury van is available to be booked): $36/person (adults and children round trip). Pick up point: at hotel in Hanoi Old Quarter or in front of Hanoi Opera House
Massage treatment (available to be booked in advance).
Personal expenses and services not included in the service include.
Children, extra bed and weekend surcharge
Each cruise has its own rules regarding child surcharges and weekend surcharges. Please refer to the child surcharge information in the room rate section.
Cancellation of reservation
The above good prices are subject to general conditions of non-refundable/cancellation and date change is allowed. In case you want to change the date, please refer to the regulations on changing the date.
Cancellation due to weather conditions
The cancellation of trip due to weather conditions will be specified directly by the Bay Management Board. Please refer to Halong Cruise's delay/cancellation policy due to weather conditions.
Frequently asked questions
Does Orchid Trendy Cruise have a pool?
Yes, Orchid Trendy Cruise has a jacuzzi pool at the bow of the ship.
Can I bring my pet on board?
Pets are not allowed on board Orchid Trendy.
What style of food does the restaurant serve?
Orchid Trendy restaurant serves Vietnamese and European dishes. If you have special dietary, feel free to ask us in advance for better preparation.
Does Orchid Trendy Cruise have massage services?
Yes. Orchid Trendy Cruise provides professional massage services using herbal products.
Does Orchid Trendy Cruise have a children's play area?
Yes. Orchid Trendy Cruise has a separate play area for children.
Is there any discount if I book a cruise to celebrate my birthday?
If the cruise date coincides with your birthday, the cruise ship will prepare a small cake for you for complimentary. The ship can also prepare other services such as preparing a separate dining table, decorating the room (charges apply) if you require it, please contact Customer Service for more details.
Is there a charge if my child is 4?
Orchid Trendy Cruise is free for children under 5 years old and surcharge 75% of adult price for children from 5 to under 12 years old. Children from 12 years old will be charged the same price as adults.
Is there a private bathroom in the room?
All rooms on Orchid Trendt Cruise has a private ensuite bathroom with modern equipment and a bathtub overlooking the bay.
Maps and Itineraries
Orchid Trendy Cruise departs from Tuan Chau International Cruise Port.
You can see the details of the 2 day 1 night itinerary here.
Reviews (35)
| | | |
| --- | --- | --- |
| 5 star | | 27 reviews |
| 4 star | | 8 reviews |
| 3 star | | 0 reviews |
| 2 star | | 0 reviews |
| 1 star | | 0 reviews |
Carlotta
Thank you Orchid Trendy for giving us a great experience. Staff is helpful and kind. Food was delicious.
helpful (2)
1 year, 3 months ago
Alejandro
The scenery of Ha Long is extremely beautiful, the food is delicious. The staff and the manager are extremely enthusiastic.
helpful (5)
1 year, 3 months ago
Trung Tuấn
The service on the boat is great with 2 days 1 night on the cruise. The food here is very good. I went swimming and had many comfortable activities, feeling so refreshed with this trip.
helpful (3)
1 year, 2 months ago
Mira Han
Orchid Trendy Cruise is great. There are activities such as swimming and kayaking to visit the cave in the morning and cooking class and sunset party in the afternoon, squid fishing in the evening,...
helpful (3)
1 year, 3 months ago
Quỳnh Như
Orchid Trendy has comfortable and modern rooms, nice experience.
helpful (0)
1 year, 1 month ago
Ashkan
A wonderful vacation at the Orchid Trendy 5-star cruise, with enthusiastic and attentive staff. We would love to spend more time kayaking.
helpful (0)
1 year, 1 month ago
Matthew
Orchid Trendy looks elegant. Everything is well organized.
helpful (1)
1 year, 3 months ago
Malisa
Orchid Trendy Cruise is number one! Nice room, delicious food, enthusiastic staff. Thanks!
helpful (0)
1 year, 2 months ago
Thu Hà
The trip was interesting with colleagues on the cruise. Very good service, attentive service.
helpful (0)
1 year, 2 months ago
Long Nguyễn
We had 1 night on Orchid Cruise with enthusiastic and attentive crew members. We met new people who are very nice. Delicious and diverse food.
helpful (2)
1 year, 3 months ago
Mr. Blue
Excellent experience on Orchid Trendy cruise ship during the 2 days 1 night trip last weekend. The boat is quite new, the interior is exquisite, the food is delicious and the waiters are very cute, giving visitors an impressive stay. Would definitely recommend
helpful (3)
2 years, 10 months ago
Nguyễn Hoài Anh
A great experience with beautiful ships, reasonable prices, attentive and dedicated service staff. Fresh and delicious food
helpful (2)
3 years, 1 month ago
Bùi Dịu
Nice to have an enthusiastic and funny tour guide, nice and clean bedroom, nice view, good food, good service staff on board
Lê Hoài An
A very relaxing and fun vacation, I feel how much pressure in the daily work disappears. If I have a chance, I will go again
Hoàng Thuỳ
Delicious food, room with balcony with panoramic view, attentive, polite and very professional staff. Entertainment in the evening is quite interesting. I had a very fun and relaxing time on the cruise
helpful (0)
3 years, 1 month ago
Xuân Hương
The driver picked us up from the old town quite on time, was very polite and carried our bags for us. I booked the Exculsve room with 1 double bed and quite large area, this room is suitable for those who have a honeymoon or a wedding anniversary. Overall, I am quite satisfied with the trip, there is only one point that the road to the waiting room is crowded, so the car does not go to the place, but we have to walk a bit, again on a hot sunny day
helpful (0)
2 years, 11 months ago
Ngọc Anh
Perhaps due to the weather, high tide, the tour program has been changed to another location, so I feel a bit sad. But in return, the warm welcome and attentive service of the staff as well as the humor and considerate customer care of the tour guide make me feel somewhat comforted.
Cát Tường
First time visiting Lan Ha Bay on Orchid Trendy cruise. Good service, friendly service staff, and especially Mr. Dien, a funny tour guide, makes the journey shorter, the trip more fun. This is truly a memorable experience
helpful (0)
2 years, 11 months ago
Bảo Châm
<3 Professionally solving problems arising on board makes me feel very happy.
helpful (0)
2 years, 12 months ago
Hoàng Liên
Orchid Trendy cruise departs from durable GOT, Hai Phong with 2 hours by car. Lismousine car with comfortable seats, water and wifi in the car. The room is quite large, with a private balcony and large windows to have a panoramic view of the bay. I had a bit of trouble sleeping, so the staff arranged a room far from the engine compartment to reduce noise.
helpful (1)
2 years, 11 months ago
Đăng Khoa
The cruise is a bit old, but the furniture in the room is still beautiful, for sure. The food is fresh and delicious, the staff is welcoming and always tries to give you and all guests in the group the best service. I met a girlfriend on the cruise
hương lan
I had a wonderful time with the Orchid Trendy cruise. Everything is filled with emotions.
helpful (0)
2 years, 12 months ago
Minh Nghĩa
This is my 2nd time experiencing Orchid Trendy cruise. This time the price is much cheaper than last time due to the tourism demand in the Covid season, so the food is also somewhat reduced but also very delicious, delicious and beautiful. Will support this ship for a long time
Kim Chi
I chose the Azalea ship for a 3 year anniversary with my girlfriend. The whole cruise became special with such a beautiful cruise, excellent food quality and really professional staff. Thank you for giving us a wonderful vacation
helpful (1)
2 years, 11 months ago
Minh Dương
For the first time, I was able to take an overnight cruise in Lan Ha Bay. My impression could not have been better. Me and my husband had a very romantic vacation, catching the sunrise and sunset right on the bay. Delicious food, elegant space. I like cooking class and night squid fishing on the boat
helpful (1)
2 years, 11 months ago
Biển Nhớ
After much deliberation, I decided to choose Hoa Do Quyen cruise for my family. Reasonable prices, nice cruise, good food but a bit poor. Staff are very enthusiastic, were always willing to help us and always available when we needed. There is also a Spa on board which makes me feel more relaxed after a day of sightseeing but it is not included in the tour price.
helpful (2)
3 years, 1 month ago
Nguyễn Minh Khang
Everything is perfect. The cruise interior is beautiful, all the staff are very friendly, making sure all our needs are met. The tour schedule is a bit boring but I still like kayaking. The food is served quickly and is delicious. This journey was definitely one of the highlights of our group trip across Vietnam.
Min Kiu
My husband and I enjoyed a 2 night cruise with Orchid Trendy Cruise in Lan Ha Bay. The staff here are very friendly and attentive to our every need. The meals were plentiful and very good. During the trip, the guide was always asking questions, taking good care of everyone. If I have a chance to come back, I will definitely go for 3 days so I can participate in more activities.
Minh Lê
Enjoy life with a luxury travel experience, Beautiful memories. We will be back in the future. It's amazing
Nguyễn Ngọc Long
The cruise is beautiful, the food is delicious and the dedication to care for customers is number 1 for me. I'm really touched (Seeing the knock on the door, I suddenly saw you guys. hugged a bouquet of flowers and a cake with sparkling candlelight and played a happy birthday song with very sweet wishes. A beautiful memory that I will remember forever. I introduced my friends right away about the perfect service. good of the ship
helpful (2)
3 years, 1 month ago
Quang Khải
The room is nice and spacious. The decoration is quite sophisticated and careful. The food is very delicious. Staff is very professional and enthusiastic. Especially very impressed and satisfied with Mai and the other staff who are also very enthusiastic.
helpful (5)
3 years, 1 month ago
Thanh Long
This is a cruise with Asian style. The beauty and sophistication of the cruise lies from the exterior design to the interior. I was impressed with the excellently prepared baked goods. The activities on board are very interesting and I enjoyed the evening space when I could see the sea at night and drink a variety of delicious drinks at the bar! Thank you to the friendly staff for giving us a great experience!
helpful (0)
3 years, 1 month ago
Trang A
I chose Azalea after researching many places and being recommended by friends. I booked 2 connecting rooms because I have small children, my kids really like the kidclub area. Activities for 2 days and 1 night are many for the children to have new experiences. Special thanks to the staff for taking good care of our family's trip
Tuấn Đen
Hoa Do Quyen Cruise gives me a special sense of luxury and class. The layout of the ship has its own story,
My family especially enjoyed the food on board, as well as the excellent service
helpful (5)
3 years, 4 months ago
Khôi Nguyên
Great service, friendly staff. The young, dynamic staff have the ability to observe and take care of customers very well, very professionally. My family has 1 person who is allergic to many things and is given special attention, cooking a separate portion to ensure each meal. The space is clean, very beautiful and comfortable.
helpful (3)
2 years, 12 months ago
View all reviews
0 Comments
Be the first to comment on this page
Cruise information
Itinerary:
Lan Ha Bay - Bright Cave - Frog Pond Area
Meet Our Experts
Request a quote
Please make sure your email is correct.
Why choose us?
Better price than walk-in booking
Best price guaranteed
Highly experienced travel consultant
More than 80 cruises on offer
Exclusive seasonal deals
Easy and safe payment
Customer reviews

I am very satisfied with this trip. Thank you cruisehalongbay.com for booking the tour, helping me have a happy and …
Tuyet Bui

Thu Huong advises very enthusiastic and thoughtful, I am very satisfied with you and cruisehalongbay.com company. The quality of the …
Tran Trung

Great experience and beautiful surroundings. Beautiful train, professional staff, very attentive.
An Nhiên
You might also like...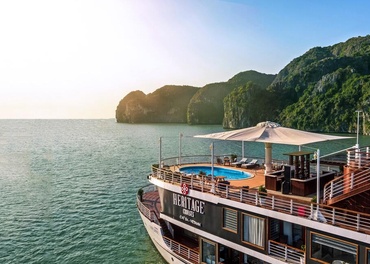 23% OFF
Lan Ha Bay
Launched 2019 - Metal ship - 20 cabins
Top cruise brand
Outdoor swimming pool
Free kayaking
Summer offer 2022
Booked 4 times in the last 24 hours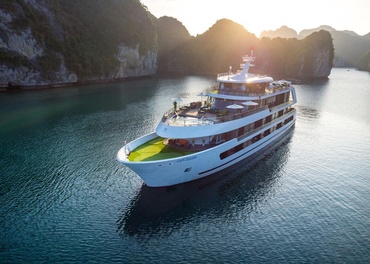 18% OFF
Lan Ha Bay
Launched 2018 - Metal ship - 22 cabins
Top brand cruise
Summer offer 2022
Outdoor swimming pool
Free shuttle bus
Booked 2 times in the last 24 hours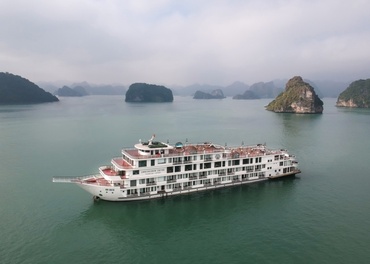 31% OFF
Ha Long Bay
Launching 2018 - Metal ship - 46 cabins
6 star cruise
Outdoor swimming pool
The only cruise with elevator
Lobster dinner
Booked 6 times in the last 24 hours