Alisa Luxury Cruise
Pier 16 Tuan Chau, Ha Long, Quang Ninh, Vietnam
Show map
Price from: 4,200,000đ (Save 25%)
3,150,000 đ/pax
Booked 5 times in the last 24 hours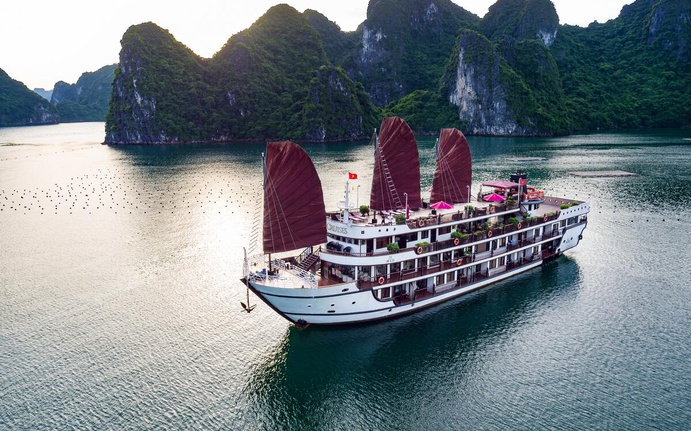 View all 43 photos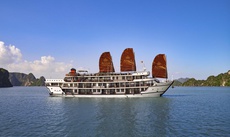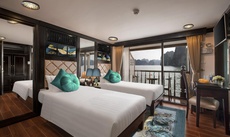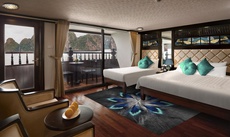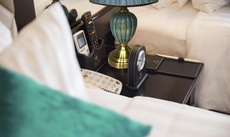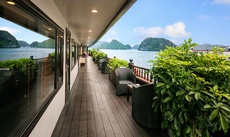 Thoughtful-appointed rooms with balconies. VIP room is equipped with a Jacuzzi bath.
Suitable for families with Families Suites.
Visiting Sung Sot Cave and Titop Island - landmarks in Halong Bay.
Admire the romantic sunset and enjoy fresh fruits and cocktails on Panorama Roof Bar.
Rooms & rates
Select date and package options
Clear all
Accommodation Type
Junior Suite - 2 Days 1 Night
22 m², Max:
Senior Suite - 2 Days 1 Night
23 m², Max:
Family Suite - 2 Days 1 Night
45 m², Max:
Complete all required fields to continue
(Child Policy & Extra Bed Charge) )
About Alisa Luxury Cruise
While hunting for a luxury cruise on Halong Bay heritage site, Alisa Luxury Cruise should never be underestimated. From the first moment you step on board, you will be overwhelmed by the exquisite design, combined with high-class amenities. The cruise offers 22 spacious rooms with mini bar, private bathroom, coffee maker, and especially Jacuzzi tub in VIP room.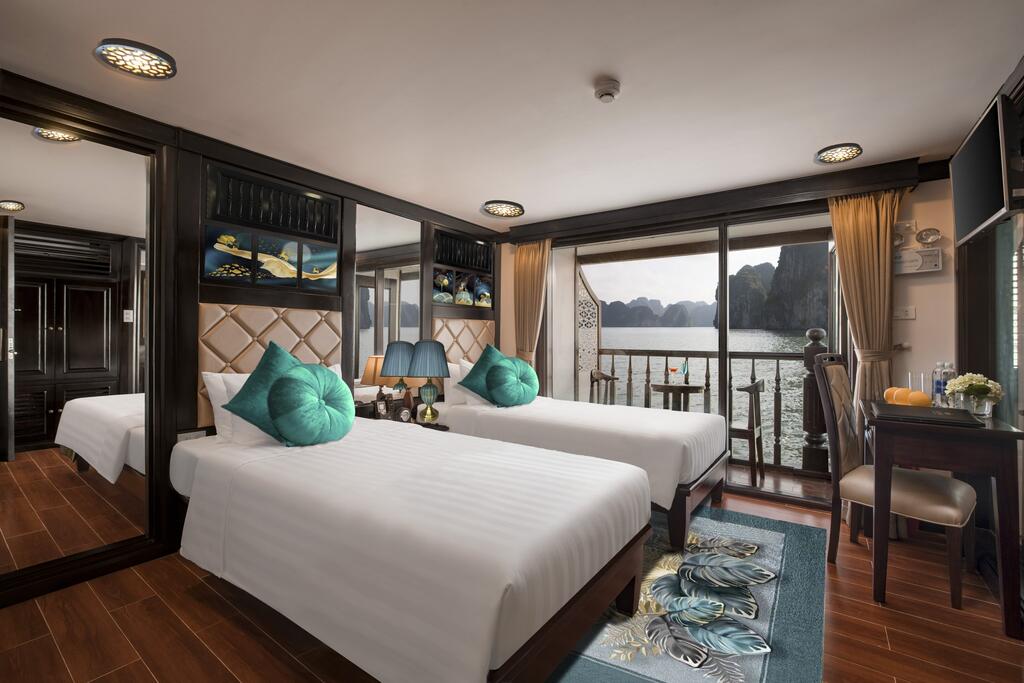 Spacious and luxurious rooms
The restaurant serves Vietnamese and European specialties. After lunch, guests can book a massage treatment at the spa or simply gather for a drink at the bar and watch the cruise running through the beautiful rocky wonders.
Alisa Cruise offers a 2-day and 3-day tour to Ha Long Bay, which is so famous for places like Titop Island and Sung Sot Cave.
Things to know
Check-in time
Check-in time is from 12:15-12:30. If you are traveling by yourself, please be at the pier no later than 11:45 am to check in before boarding.
Check-out time
Check out time is from 9:30am to 10:30am depending on the schedule of each cruise. After check-out, you will be served lunch on board before the ship docked.
Check-in policy
Please send a photo of the passenger's ID card or birth certificate at least 5 days before the tour departure and bring these identification documents when checking in.
Rates include
2 days 1 night itinerary to visit Ha Long Bay on luxury cruise
1 night in air-conditioned room with a private bathroom
Meals on board: 1 Lunch and 1 Dinner on the first day, 1 Light breakfast and 1 Lunch on the 2nd day
Two free bottles of mineral water per day in the room
Cooking class, Tai Chi class
Kayaking
Insurance on board
Entrance and sightseeing fees
Price not included
Round-trip bus Hanoi - Halong
Hotels on the mainland
Spa services
Beverages on board and cigarettes
Tips and other expenses not included in the inclusion
Children, extra bed and weekend surcharge
Each cruise has its own rules regarding child surcharges and weekend surcharges. Please refer to the child surcharge information in the room rate section.
Cancellation of reservation
The above good prices are subject to general conditions of non-refundable/cancellation and date change is allowed. In case you want to change the date, please refer to the regulations on changing the date.
Cancellation due to weather conditions
The cancellation of trip due to weather conditions will be specified directly by the Bay Management Board. Please refer to Halong Cruise's delay/cancellation policy due to weather conditions.
Frequently asked questions
What does the tour price include?
The tour price on Alisa cruise includes welcome drink, luxury accommodation, meals on board, tea & coffee, in-room drinking water, cooking class, tai chi, entrance fee, kayaking, tour guide.
Is round trip shuttle service included in the tour?
No. Tour price does not include shuttle bus.
How old will children be for free?
Alisa Cruise is free for one child under 4 years old sharing a room with 2 adults.
Is there a surcharge for Alisa Cruises for Holidays and Tet?
Yes. Alisa Cruise has an extra charge for Christmas, New Year and New Year's Day.
Does Alisa Cruise have WIFI?
There is WIFI on board, but the signal will be unstable when passing through some areas.
Maps and Itineraries
Alisa Luxury Cruise departs from Tuan Chau Wharf, Halong, Quang Ninh
You can see the detailed itinerary of 2 days 1 night here.
Reviews (10)
| | | |
| --- | --- | --- |
| 5 star | | 8 reviews |
| 4 star | | 2 reviews |
| 3 star | | 0 reviews |
| 2 star | | 0 reviews |
| 1 star | | 0 reviews |
Charlie
Nice cruise, yummy food, many interesting activities. I like kayaking and fishing squids at night.
helpful (5)
1 year, 6 months ago
Thanh Thanh
Nice ship, enthusiastic staff, delicious food
helpful (2)
1 year, 5 months ago
Julie
Halong Bay is a must in Vietnam. My husband and I stayed 1 night on board and things went smoothly. Thank you for arranging the tour for us!
helpful (3)
1 year, 6 months ago
Cindy
Watching the bay from the sundeck is amazing. Taichi in the morning is interesting.
helpful (2)
1 year, 6 months ago
Thu Hằng
Tàu hơi cũ những vẫn đầy đủ tiện nghi. Đặt cuối tuần nên các điểm du lịch khá đông. Đồ ăn ngon.
helpful (3)
1 year, 6 months ago
Bảo Ngọc
Nhân viên tàu thân thiện và cẩn thận. Chúng tôi đi cùng 1 cặp song sinh và mọi nhân viên trên tàu đều rất thân thiện với 2 bé. Đồ ăn cho trẻ con cũng khá ngon.
helpful (3)
1 year, 6 months ago
Pierre
We almost miss the trip due to some troubles but Cruisehalongbay was very supportive and helpful. Alisa Cruise is big and well maintained. The crew is a big plus for this cruise. Thank you very much!
helpful (2)
1 year, 6 months ago
Danny
Sungsot Cave was amazing. The view inside and from the top is unbeatable. Food onboard was plentiful and delicious.
helpful (3)
1 year, 6 months ago
Hoài Thu
Tàu đẹp, nhân viên nhiệt tình và tốt bụng.
helpful (2)
1 year, 5 months ago
Út Hằng
It was a great experience, thank you Alisa Luxury, I am satisfied with the service as well as the itinerary, the staff is very hospitable.
helpful (1)
1 year, 6 months ago
0 Comments
Be the first to comment on this page
Cruise information
Itinerary:
Ha Long Bay – Surprise Cave - Ti Top Island
Operator:
Alisa Transport Co., Ltd
Meet Our Experts
Request a quote
Please make sure your email is correct.
Why choose us?
Better price than walk-in booking
Best price guaranteed
Highly experienced travel consultant
More than 80 cruises on offer
Exclusive seasonal deals
Easy and safe payment
Customer reviews

I am very satisfied with this trip. Thank you cruisehalongbay.com for booking the tour, helping me have a happy and …
Tuyet Bui

Thu Huong advises very enthusiastic and thoughtful, I am very satisfied with you and cruisehalongbay.com company. The quality of the …
Tran Trung

Great experience and beautiful surroundings. Beautiful train, professional staff, very attentive.
An Nhiên
You might also like...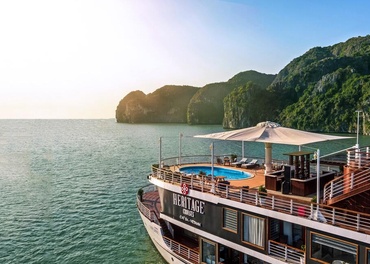 23% OFF
Lan Ha Bay
Launched 2019 - Metal ship - 20 cabins
Top cruise brand
Outdoor swimming pool
Free kayaking
Summer offer 2022
Booked 4 times in the last 24 hours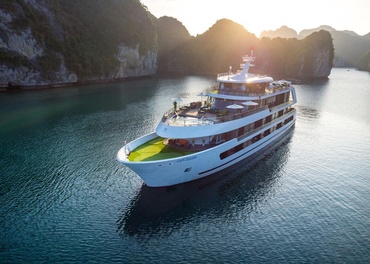 18% OFF
Lan Ha Bay
Launched 2018 - Metal ship - 22 cabins
Top brand cruise
Summer offer 2022
Outdoor swimming pool
Free shuttle bus
Booked 2 times in the last 24 hours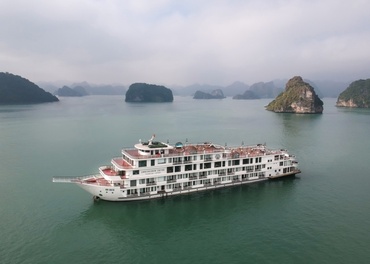 31% OFF
Ha Long Bay
Launching 2018 - Metal ship - 46 cabins
6 star cruise
Outdoor swimming pool
The only cruise with elevator
Lobster dinner
Booked 6 times in the last 24 hours